We've done the shopping for you to make style easy.
Traditionally the market teaches us that there are four seasons and our wardrobes magically switch from summer shorts to fall flannels from one day to the next. But in real life, of course, our wardrobes are always in a constant state of transition – both from one season to the next – but also in evolving our personal styles from where we are to where we're going. That may be because of our style needs changing due to life or work circumstances, or our aesthetic preferences shifting as we age and trends progressing.
Whatever the reason, the most important part of a changing wardrobe is finding resources to serve as thought-starters and inspiration and are shoppable for one-and-done ease for the guy on the go. For that reason, we've "gone shopping for you" as the season – and our personal styles – transition.
Garment Dyed Surplus Jacket
One of our favorite types of jackets, the field jacket is an easy way to (surprisingly) elevate both casual and smart casual outfits. See how to wear a field jacket in our full guide. This one from Madewell is lightweight, a perfect update to the one I picked up from J.Crew Mercantile several years ago, still wear, but is now out of stock.
Advantage Eco Sneaker
Adidas, $48.50 $70
A visual child of the classics Adidas Stan Smith and Nike Killshot, this vegan offering from Adidas adds detail in the marled sole.
Sierra Dobb Chambray Shirt
Pendleton, $39.75 $79.50
A simple, refined pattern in a handsome muted red/pink, easily worn with shorts or under layers for a more put-together look.
Slim Fit 5-Pocket Stretch Twill Pant
Amazon Essentials, $21.10 $24.90
A slim, 5 pocket twill pant in charcoal is easily the most versatile pair of pants you can own. Throw in some stretch and they'll be your favorite too.
5.5″ Cotton Casual Shorts
For the man who likes shorts to actually be short, these grayish-blue steretch waist shorts are an easy pick for the end of summer.
Lambswool Crewneck Sweater
Fair Isle sweaters have a long, storied heritage, and pair well with most aesthetics, from preppy to streetwear and everything in between.
Cotton Unstructured Sport Coat
The unstructured cotton sportcoat is probably the most useful blazer a modern man can own. It can be easily worn in place of a regular jacket with casual outfits made up of jeans and t-shirts, or can be worn in smart casual outfits for work or dates with a dress shirt, trousers, and boots.
Floral Print Short Sleeve Shirt
There's no question that floral shirts are both modern and historical and are a sharp option for any guy: The trouble is finding a gentlemanly pattern that can be worn casually or more put-together. This one from Spier & Mackay (one of our 32 best clothing brands for men) nails it with the muted color palette and moderately-sized pattern.
Denim Western Shirt
This denim shirt shares some of the upscale details with our grail-worthy Taylor Stitch western shirt but at about half the price. See how to wear a denim shirt here and here and here.
Linen Cotton Oxford Shirt
I've got my eye on brown striped dress shirts: It seems like lots of well-dressed guys in my digital orbit are rocking them with great effect.
Moisture Wicking Performance Zip Polo
Generally hate polos because you feel like a guy wearing a retail uniform? Break out of the ordinary with a bold stripe.
Sweater Polo
The knit polo is one of my favorite ways to dress casually while still looking like I have my -ish together. This option from Bonobos has a subtle and varying pattern for look that seems right out of The Rock's playbook.
All Week Flex Pant
Bonobos, $49 $119
For the man who has to wear pants BUT ISN't HAPPY ABOUT IT.
The Quilted Jacket
Bonobos, $69 $229
I've owned several quilted jackets over the years and they always elevate a fall outfit. Classically rugged but more polished than your typical nylon winter jacket.
Stretch Cotton Chino
How do you keep the comfort of chinos while giving them a rakish European vibe for more dressed up outfits? Suit Supply's Porto Chino features premium fabric with details like the extended tab closure for that effortless no-belt look.
Merino Wool & Mongolian Cashmere Shirt
What do you get when you add a Johnny collar and raglan sleeves to a cashmere sweater? A drool-worthy pull you can wear anywhere except for the most formal of events.
Canvas Workwear Pants
Old Navy, $30.80 $49.99
A budget-friendly take on the OG-107 pant.
Slub Knit Curved Hem Shirt
Old Navy, $8.40 $14.99
Generally we have to sacrifice detail when shopping frugally, but Old Navy is offering a curved hem t-shirt with textured slub knit for less than $10.
Rugby Polo Shirt
Old Navy, $30 $39.99
The 90s are back – the rugby shirt is one of the few things I have no complaints about.
For a more wallet-saving option than the Bonobos and Suit Supply polos, this merino wool knit polo is the smart way to test the waters on the look.
Bonfire Fleece Baja Hoodie
A hoodie with detail.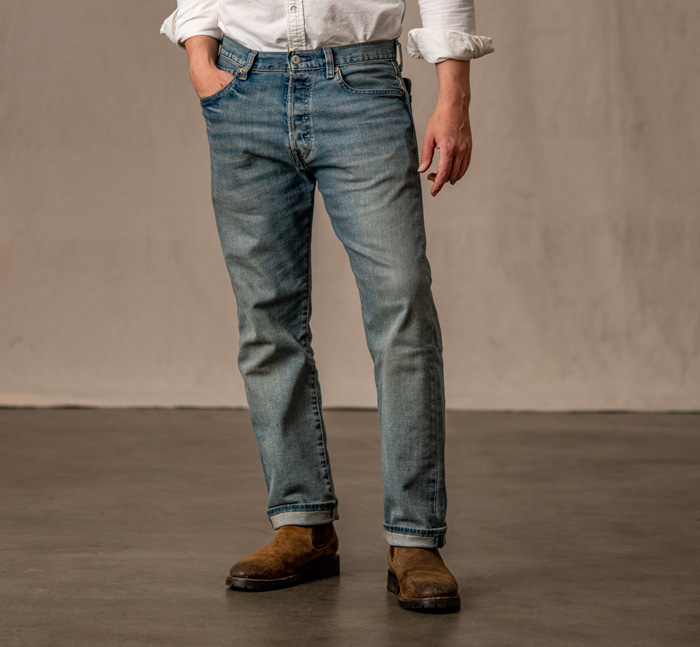 Levi's 501 Jeans
For a guy who needs a straighter fit jean because he's got that leg routine on lock or for the rest of us experimenting with a looser fit.
Linen-Blend Button Up Shirt
Abercrombie & Fitch, $33.60 $60
The camp collar shirt and the white linen shirt are two of our favorite summer styles.
Johnny Collar Geometric Sweater Polo
Like the Chris Evans/The Gray Man retro polo style but not ready for vibrant patterns or colors? Here's one that will fit right in with your work wardrobe capsule.
Madras Plaid Mill Shirt
Alex Mill is the next step up if you love a classic J.Crew style.
Made in California Super Stretch 5-Pocket Denim Pant
Investing in quality clothing that supports American jobs doesn't have to cost you hundreds of dollars. These deep black 5 pocket pants will look great in smart casual outfits and will look killer in casual outfits for years if they fade.
Cotton Twill Blanket Shirt
Equal parts your favorite flannel and shirt jacket, the beach-inspired blanket shirt from surf brand Outerknown will be your go-to this fall.
How to wear a shirt jacket:
Slub Curved Hem Tee
Buck Mason is a brand that pays attention to the details in its reviving of classic and long-standing men's essentials. Their "Venice Wash" combines a natural enzyme rinse with small batch dying to create distinctive but subtle color variations.
Bruiser PCH Jacket
Buck Mason's new PCH jacket has a design reminiscent of my 1940s California motorcycle jacket.
The Easy Pant
The Easy Pant features a charcoal herringbone pattern and an elastic waistband – the result is a refined but still mega-comfortable pant that can easily cross casual-dressy boundaries.
The Jack Oxford Shirt
A subtle brick-red organic oxford cotton with a tailored armhole and shorter fit to be worn untucked, Taylor Stitch's Jack Oxford is an upgrade that makes perfect sense.
Checker Stitch Shawl Cardigan Sweater
Branch out of neutrals with this deep red shawl collar collar cardigan. It'll be a sharp layer for the end of summer and be your favorite hoodie alternative all of fall.
Birkenstock Boston clogs
One of our top summer shoes for guys who don't wear sandals, the Birkenstock Boston also works surpassingly well in cooler weather also, with many-a-well-dressed guys wearing them with intricately patterned, textured socks.
Corduroy Baseball Cap
J.Crew, $39.99 $49.50
Those who say baseball caps have no place in a well-dressed man's wardrobe have over-corrected. A refined pull like this emerald green corduroy cap is a simple piece with a lot of sharp details.
Organic Cotton Oxford Shirt
J.Crew, $44.99 $79.50
Multiple widths on the stripes give this OCBD unique character.
Camp Collar Harbor Shirt
J.Crew, $48.99 $69.50
Take a t-shirt, give it buttons and pockets, and equip it with a camp collar, and what've you got? The lazy man's secret style weapon.
Cuisse de Grenouille Corduroy Overshirt
Made in Portugal and designed in Paris, this corduroy overshirt is like a light light jacket.
The Royale Knit
These are one of my go-tos when I don't want to think about what to wear. They're machine washable, and their minimalist design works with refined summer or fall outfits effortlessly.
Classic Nylon Sneakers
Paired with some cuffed Levi's 501, these classic Reeboks are as comfortable as they intentional.
Era Pig Suede Sneakers
Upgrade your favorite Vans to pig suede for a look that is more startup boardroom than beach boardwalk.
Chuck 70 Tonal Leather Sneaker
An all-white leather version of my fav parchment Converse Chuck 70s.
Diplomat Moc Toe Shoe
I've had my eye on the Dipolmats for years – they're a lower profile version of the classic moc toe work boot, making them easier to wear in more smart casual outfits.
Scarsdale Slip On Loafer
A sap brown suede version of the loafer we featured in our What to Wear to Work When It's Hot Capsule Wardrobe – and now it's on sale.