The trench coat not only boasts a military and luxury heritage but is also designed to be incredibly practical, making it the perfect addition to any man's spring wardrobe, no PI license required.
Picture this: You're walking down the street, the mist is rolling in, and you feel like you're being watched. You glance around and see a figure in a trench coat, collar turned up, hat pulled low. Is it a friend? A foe? It's hard to tell.
That's the thing about trench coats, isn't it? They have a certain mystique, a certain menace. Maybe that's why they've become so iconic in pop culture. You've got your Humphrey Bogarts and your Dick Tracy's and your…well, you get the idea.
However, the trench coat is an incredibly practical piece of outerwear designed for soldiers in the harshest situations.
But the question is, can the average Joe pull off a trench coat today without looking like a private eye or a serial killer? The answer, of course, is yes, with a little bit of know-how, you can make a trench coat work for you.
So let's talk about how to do just that. With the help of style expert and Primer contributor Daniel Z. Baraka, I promise, it won't be that much of a mystery.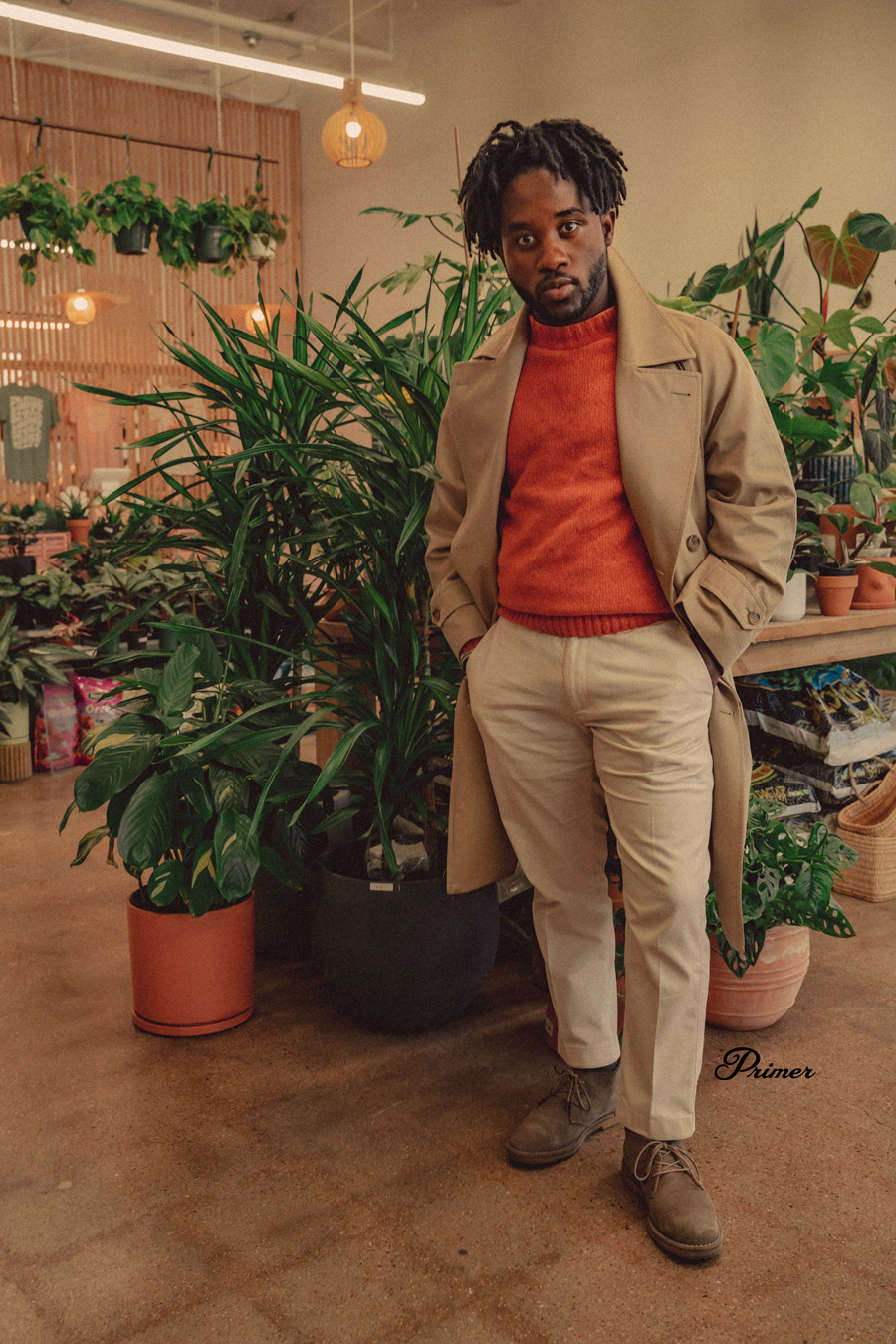 Waging War in Burberry: The Trench Coat's History
If when you think of trench coats you don't immediately think of a gumshoe, you might picture trench warfare. And you wouldn't be wrong – the trench coat was originally designed for soldiers in World War I, to protect them from the rain and mud of the trenches.
It was Burberry who popularized the trench coat as we know it today, but the trench was an evolution of a 19th century waterproof raincoat created by Charles Macintosh and Thomas Hancock. These rain-repellent garments were known as Mackintosh or 'mac' for short and were originally made from rubberized material.
But the trench coat's popularity during the war was due in large part to the efforts of two men: John Emary and Thomas Burberry. Emary had developed an improved raincoat in 1853, which he produced under the name Aquascutum, while Burberry founded his company in 1856 and pioneered the more breathable "gabardine" fabric in 1879.
While waxed canvas is canvas coated with wax after it is knit, gaberdine is a finely knit wool or twill knit from waxed threads.
But the trench coat was more than just a raincoat like a Mackintosh. It was a functional piece of military apparel, designed to help soldiers carry their equipment: It included epaulettes for showing military rank, large lapels that could be flipped up in inclement weather, D-rings, and a gun-flap (also known as a storm flap), all carefully crafted to meet the needs of soldiers on the front lines. And the buttoned wedge tail, with its pleat at the lower back, allowed for easy movement while retaining warmth. Even the buckled cuff straps on the sleeves served a purpose, they can be tightened to keep rain and cold out.
Officers of higher rank were the primary wearers of the trench coat during World War I, and they purchased the coats themselves as an optional part of their uniform, while lower ranks were not allowed to wear them. It was a marker of social distinction and class, even on the battlefield.
The Modern Trench Coat
As it became a symbol of higher ranked military members, it should come as no surprise that after the war the trench coat really became a fashion statement.
And then there are the trench coat's pop culture appearances. Like I said earlier, you've got your Bogarts and your Tracys, but the trench coat has also been worn by everyone from David Tennant's Doctor Who to Keanu Reeves' John Wick to the Teenage Mutant Ninja Turtles' Raphael. Not to mention all the detectives, spies, and assassins who have made the trench coat their go-to outerwear.
So what does all this history mean for a modern guy? It means that when you incorporate a trench coat into your personal style, you're not just wearing a piece of fabric. You're wearing a piece of history, a piece of culture, and that's something to be proud of.
But now, we come to the real heart of the matter – how do you wear a trench coat without feeling like you're playing dress-up?
When it comes to styling the trench coat, there are a few key things to keep in mind. For one, you don't have to dress up to wear a trench coat. As Daniel tells me, "I put this trench coat outfit together with a bright, colorful sweater, and some neutral colors." The pop of the sweater alone clears any connotations with the coat's noir history, and steering away from a suit, and of course, no fedora, instantly changes up the entire aesthetic of the coat.
But there are aspects of this specific coat that also help. "What makes this trench coat modern?" Daniel says, "The traditional military trench coat, comes with epaulets, a storm flap, and other details, making it very structured. That makes it a harder outfit to pull off without looking like a detective from the 1930s."
One particular aspect of Daniel's sold-out Uniqlo trench coat, proving advanced style is seeing the details, are the raglan sleeves. Raglan sleeves, whether on a coat or a henley, connect to the shirt at the neck, instead of the shoulder, which can noticeably alter the silhouette and drape of a garment.
As Daniel tells it, "Raglan sleeves generally soften the silhouettes of any coat they're on. They add a modern aspect and coolness to an outfit where the shoulders fall naturally, and they're very elegant. They also reduce the formality of the outfit and work really well on this coat."
Still not convinced it's something you could incorporate? Fear not, encourages Daniel.
"For guys who are trying to get into trench coats, my advice would be to, first of all, go with a classic color like tan, or go dark like a navy, if it's too bright for your wardrobe. Secondly, mind the fit. If you're going oversized or slightly oversized like I have here, things like the sleeves will need to be altered. For guys who are short like me, that generally means going to the tailor to get sleeves shortened on many things I own, and that has always been a worthy investment."
Creating a Modern Outfit with a Trench Coat
In many ways, wearing a trench coat in a modern way is no different than wearing other classic outerwear pieces. Just as you can wear a pea coat without looking like a 19th century sailor, or a leather motorcycle jacket without looking like a Grease costume, you can wear a trench coat without looking like a 1930s detective. It's all about finding the right fit and pairing it with modern elements to create a look that feels fresh and contemporary.
For Daniel's outfit color is key.
"Menswear these days, for me, has become a little too earth-toned, and there is a lot of color missing. Probably a lot of guys these days hardly have anything with a vibrant color in their wardrobe, and I think that is rather sad. For me, adding color to an outfit is very fun, and knitwear is the best way to play with color." He says, "It's a pop of color that is not too overwhelming and also makes it so the trench coat is not too intimidating."
For an added touch of rakish sprezzaturra, Daniel shares his favorite trench coat style tip. "When you're trying to protect yourself against the elements, don't use the buckle on the belt, tie it up like a bathrobe instead. And whenever you're inside and dry, tie the belt behind you, and just roll with it open."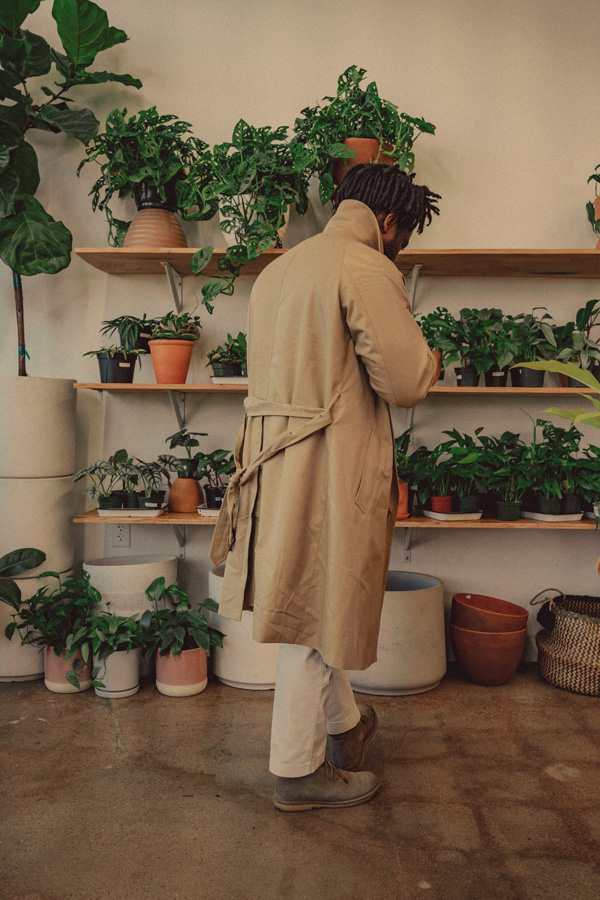 And finally, remember that loving your personal style is key. If you're comfortable in what you're wearing, you'll look great no matter what. So don't be afraid to experiment with different styles and outfits. Just because the trench coat has a reputation for being a gumshoe's go-to garment doesn't mean you have to look like one.
By incorporating modern elements with the classic long-tail aesthetic of the trench coat, you can create a look that's both timeless and contemporary. With a little bit of fresh perspective you can make a trench coat work for you – and look damn good doing it. Here's looking at you, kid.