My continued pursuit of the ideal chino.
I purchased these pants on my own.
As I've gotten older, my relationship with style has evolved, and I've come to appreciate the art of simplicity. It's in those early mornings, one eye still closed, hastily piecing together an outfit before rushing out the door, or during evenings when I'm trying to assemble a cool ensemble for a night out, that I find myself reaching for the same few items over and over. One of those beloved staples is my trusty Buck Mason henley, a versatile and timeless piece that I've had for over five years and featured in countless outfits (here, here, here, etc.). So much so, I eventually bought a second in white.
Over time, I grew increasingly frustrated with other elements of my wardrobe that didn't seem to offer the same level of satisfaction and reliability as my go-to henley. It was then that I made a conscious decision to slowly start investing in upgrading the key pieces I found myself wearing most frequently. My mission was clear: find garments that would make me feel the same way about them as I did about my never-lets-me-down henley, and elevate my wardrobe with high-quality, enduring essentials.
And so, my quest began to find a go-to pair of casual olive chinos – a journey that ultimately led me back to Buck Mason with their Slub Twill Ford Standard Officer Pant.
I live near a Buck Mason store and always like popping in to see what's new. The stores all have a great design style so I enjoy just poking around and browsing. I've always had my eye on the officer pant, in person the look and feel is noticeably different from anything available from more budget-friendly stores. I finally tried the slim fit on in store, and ultimately decided to purchase my own pair from the website in their fuller cut "Ford" fit.
A Brief History of Officer Chinos
Let's take a trip down memory lane, back to those high school days in 1999 when our favorite heavy cargo shorts were all the rage. The texture, the weight, the worn-in feel. Now, imagine those cherished shorts reincarnated as a pair of straight fit flat front (no cargo pocket) chino pants – et voilà, you've got yourself a pair of officer chinos.
These pants are a far cry from dress khakis you may be accustomed to. You see, officer chinos were originally crafted for military officers, featuring a heavier, coarser fabric, wider legs, and a higher rise – a nod to mid-century tailoring.
Fast forward to today, the term "officer chinos" has evolved to encompass any chino pants sporting a military-style design and heavy fabric, regardless of their original intended audience. What makes these chinos stand out in a sea of modern tech pant options is their unapologetic antithesis to the contemporary norms. While tech pants are known for their synthetic fabrics, multiple pockets, and stretchy materials, officer chinos remain steadfast in their commitment to heavier, natural fabrics, fewer pockets, and a more structured fit. The result? A classic, vintage look that serves as an alternative to the techy, futuristic aesthetic of today's pants.
The beauty of officer chinos lies in their compatibility with other simple style pieces. These pants are like the social butterflies of the fashion world, effortlessly mingling with slub pocket T-shirts, knit sweaters, leather jackets, and tweed jackets to create a timeless, well-coordinated look.
The Buck Mason Brand Aesthetic
Living in close proximity to a Buck Mason store, I often find myself drawn to their unique approach to men's style. It's as if they've taken the rugged and simple elements of J.Crew's style, left behind the preppy undertones and New York-inspired sophistication, and embraced a distinctly Californian aesthetic. This alchemy results in a brand that offers minimalist wardrobe essentials that are anything but ordinary – they refine and evolve the details of these style staples, maintaining their simplicity but elevating them beyond the realm of basic through an emphasis of cut, fabric, texture, and modern, subdued colors. They long ago secured a place on our best men's clothing brand recommendations.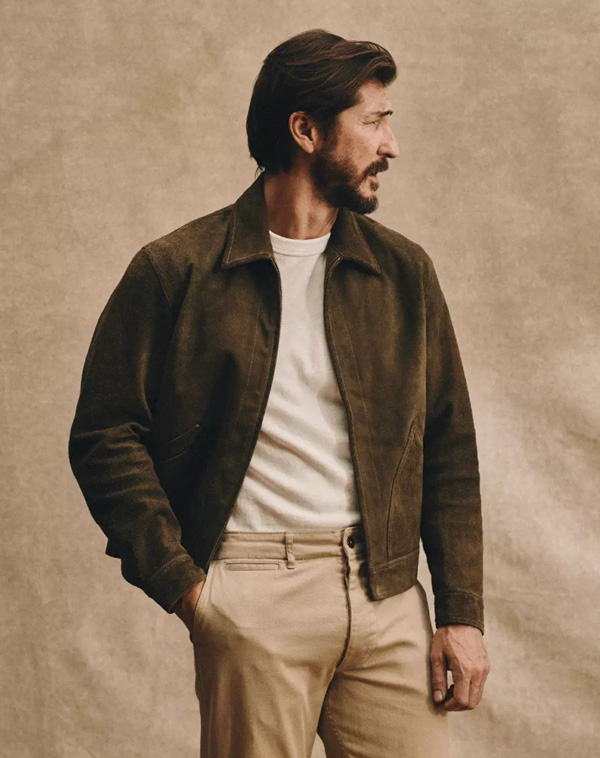 Now, I must admit, I have quite the fondness for chinos. My collection includes several pairs of stretch chinos from beloved budget-friendly brands like Dockers. But there's always been something undeniably alluring about officer chinos that's caught my eye when browsing in store. It's the drape and texture of the fabric that sets them apart. Heavier and more casual, they exude a rugged charm that contrasts sharply with the refined business casual appearance of their lighter-weight counterparts.
It's this marriage of rugged simplicity and casual sophistication that has made me a Buck Mason fan, always eager to see what new twists they'll put on simple classics. And with the discovery of the Slub Twill Ford Standard Officer Pant, I've found yet another reason to sing their praises – a garment that, much like my trusty henley, embodies the essence of my evolving personal style.
The Buck Mason Slub Twill Ford Standard Officer Pant
Constructed from 8.9 oz. cotton twill with a light slub texture, the Buck Mason Ford Standard Officer Pant has been brushed for softness and garment washed with enzymes for a lived-in feel. These pants are mid-rise, straight through the thighs, and tapered below the knee, with a button fly offering a comfortable fit that's perfect for casual or smart casual occasions.
At $118, the price may seem steep compared to other chino options, but the quality and style of these pants make them well worth the investment. With regards to officer chinos specifically, they're about as price conscious as you'll get without going vintage or thrifted. With competitors like Ralph Lauren selling officer chinos at double the price and even J.Crew's version being about $50 more, Buck Mason's definitely punch above their weight class.
My Experience with the Ford Standard Officer Pant
The Maverick Slim version, which they sell in stores and online was a smidge slim on my legs for comfort and the style I was going for. So I ordered the straighter Ford fit which they also offer in their jeans and has a design similar to Levi's 501s, but only sell the Officer Pant in the Ford fit online. I purchased the Ford Standard Officer Pant in size 32, and found the fit to be true to size. The waist measures 34.5 inches, with a front rise of 11.5 inches, a thigh width of 25.5 inches, an inseam of 32.25 inches, and a leg opening of 15.75 inches.
The pants do not come with an inseam length option, but you can bring them into any store and they will hem them. After receiving mine, I washed and dried them to knock out any shrinkage, and took them to my local store to be pinned and hemmed. They let me know they were ready for pick up a few days later. If you don't have a store nearby, getting them altered at a tailor or dry cleaner should be less than $20.
What I Like About the Pants
The structured drape and fit of the Ford Standard Officer Pant is fantastic, providing a comfortable and stylish option for a variety of occasions. The texture of the material adds a unique element to the design, and the vintage military-esque look is a subtle nod to the pant's origins without being overtly vintage-inspired.
These pants can be dressed up or down, pairing perfectly with a simple t-shirt and Converse or a more rugged business casual outfit. They're also easy to pack for trips and don't wrinkle badly when rolled, making them a go-to option for travel.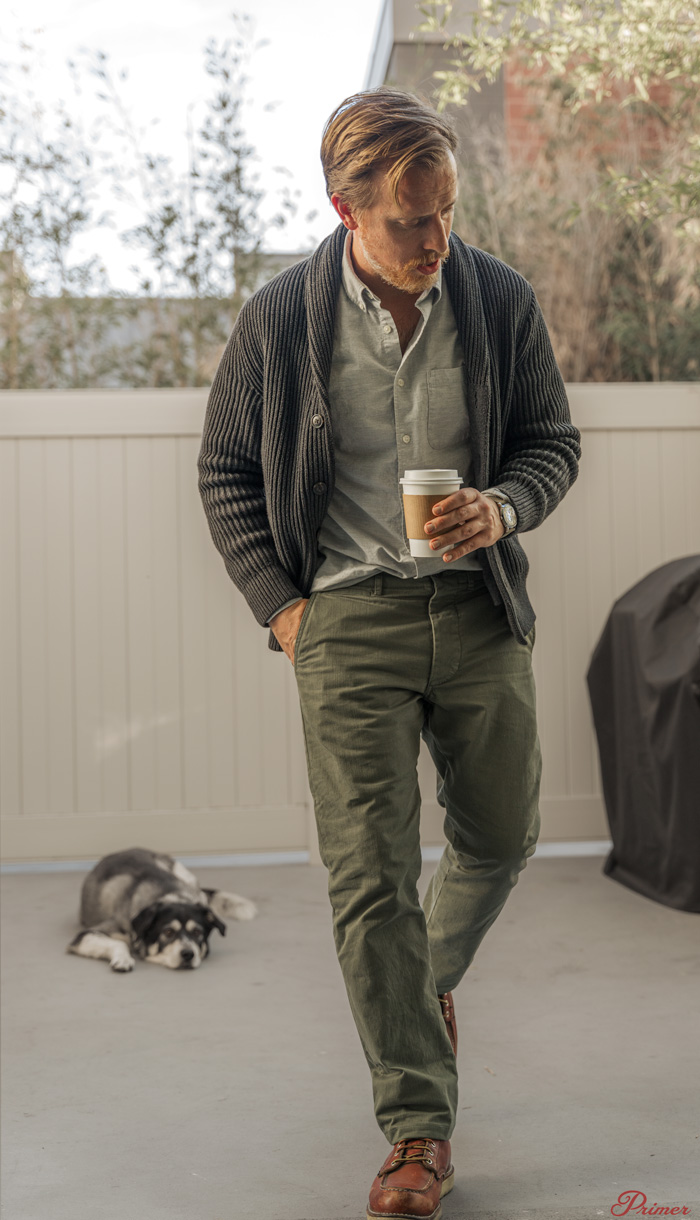 What I Don't Like About the Pants
While the heavy cotton fabric is a feature rather than a bug, those readers used to extremely stretchy jeans or pants may find these less comfortable. However, it's worth noting that the pants are not uncomfortable – they simply offer a different feel than stretchier options.
I do wish the Ford fit was available in stores. I like the aesthetics of the flap pockets on the back pockets offered by some other officer chino makers like Ralph Lauren. However, though it would work for me, this design choice would limit the versatility of the pants for many guys, making them more suitable for casual outfits only.
The Verdict
In conclusion, the Buck Mason Slub Twill Ford Standard Officer Pant is an excellent addition to any wardrobe, offering versatility, style, and quality. The vintage military-inspired design adds a unique touch to the pants, while the high-quality materials and craftsmanship ensure that they will last for years to come.
They've proven to be the perfect addition to my collection, offering the same details that initially drew me to the Buck Mason brand. If you're on the hunt for a pair of casual chinos, I highly recommend giving these pants a try.
While the price point may be higher than other chino options, the Ford Standard Officer Pant offers a level of quality and style that is hard to find elsewhere. For those looking to invest in their wardrobe, these pants are a solid choice that will quickly become a go-to staple.