Private credit is an alternative investment that grew from $500 million under management in 2015 to $1.4 trillion at the end of 2022 globally. For businesses and individuals who aren't able to obtain financing from traditional sources (such as banks), private credit can help. 
With private credit becoming a more mainstream source of both financing and investment opportunities, Percent is currently the only online marketplace specifically focused on private credit,  helping investors diversify their portfolios for almost five years now. 
If you're curious about how to invest in private credit with Percent, our guide includes everything you need to know. In addition to explaining all the features of a Percent investment account, we'll also compare the marketplace to others so you can make the best choice. 
When it comes to any kind of investing, knowing what's out there can help you make a more informed decision. The more you know about what Percent offers, the more informed your investment strategy can be for the future. 
Are you ready to find out more in our in-depth Percent review? Let's get started! 
What is Percent
Formerly known as Cadence and founded in 2018, Percent is based out of New York City. It provides a private credit marketplace for accredited investors only. 
Accredited investors must meet specific requirements to earn this status. For example, if you earn more than $200,000 a year (or $300,000 if you're married) or have a net worth of $1 million or more (excluding your primary residence), you are considered an accredited investor. 
Percent offers private credit opportunities exclusively, so if you're trying to figure out how to start investing for beginners, it might not be the platform for you. If you're looking for alternative ways to invest, however, Percent can help you find qualified corporate borrowers to diversify your portfolio and build generational wealth. 
As with any other investment, private credit opportunities come with corresponding risks and rewards. 
If you've got a question about Percent, you can contact their Investor Relations team via phone or email. There is also an online chatbot that can help you. 
What is Private Credit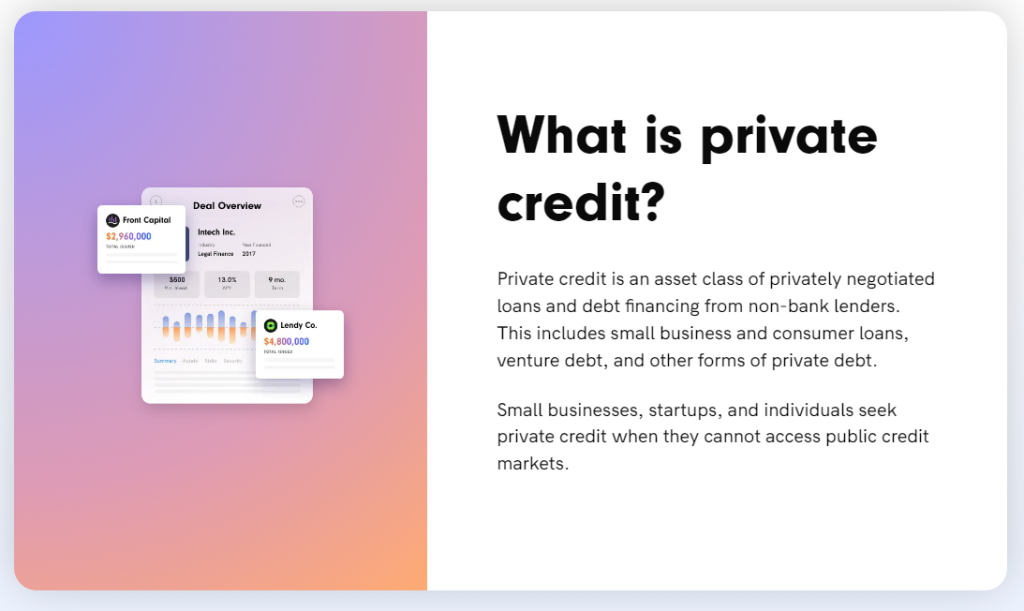 Though private credit might sound intimidating, the concept is rather simple. Investors provide loan opportunities (known as private credit) to businesses who may not qualify for traditional financing, either directly or through a third party like Percent. 
In addition to real estate crowdfunding for nonaccredited investors, private credit is an attractive short-term investment you can make if you need to add some diversity to your portfolio. Private credit offers many opportunities to choose from and align with your investing goals, even if you start investing with little money. 
Private credit can help investors increase their returns in a short period. Some investment opportunities can return principal in as little as one month, while others provide the opportunity to invest for periods of several years for those looking for long-term investment strategies. 
How Does Percent Work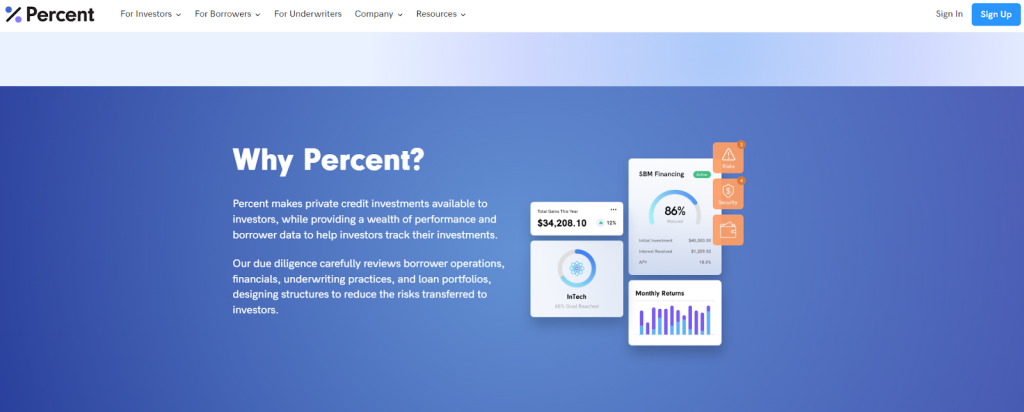 When you create an account with Percent, you'll choose from several different types of private credit opportunities. These include loans backed by merchant cash advances, venture debt, mortgage financing, and other consumer loans. 
If you're looking for free stocks or free bitcoin, you'll have to look elsewhere. While Percent is great for alternative investing, it doesn't offer mutual funds or real estate investing. 
Creating an Account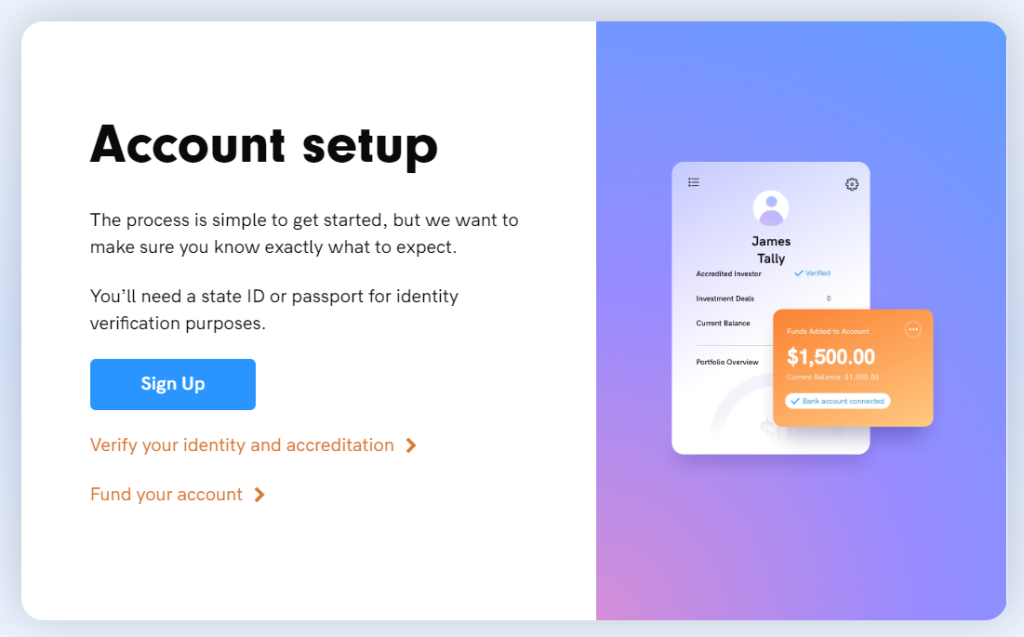 Opening an account with Percent requires a driver's license or passport, in addition to certifying that you're an accredited investor. Non-invested funds at Percent are insured by the FDIC so you can rest assured they're secure. 
As long as you're an accredited investor, all you need to invest in private credit with Percent is $500. Loan terms vary from a single month to several years, though the average lifespan of a private credit loan is around nine months. 
Each private credit investment opportunity stands as its own entity, giving you the chance to evaluate risk and reward on a case-by-case basis. Percent allows you to research and contribute to the opportunities you're most interested in. 
Account Types
When you open your Percent account, you'll be able to specify from several account types including  taxable account, self-directed IRA, or custodial IRA. Many investors choose this type of IRA to supplement their retirement.  
Standard Percent account holders receive a 1099-INT each year to file with their taxes, as long as they made income from interest payments. With a custodial IRA account, investors must meet the $2,500 minimum investment requirement. 
Available Investments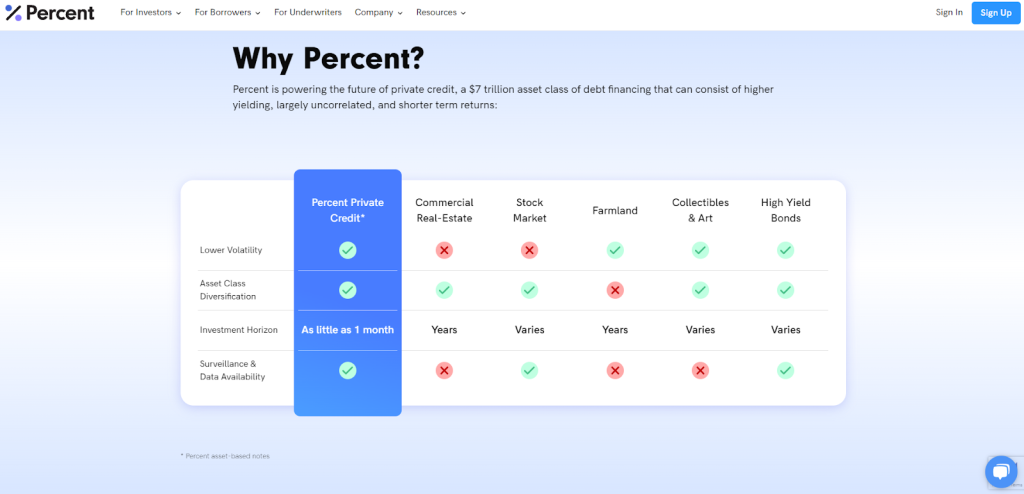 With over 40 corporate borrowers on the platform, Percent offers several types of private credit financing, including 1) asset-backed notes, 2) corporate loans, and 3) Percent Blended Notes (PBNs) all offered through special purpose vehicles (SPVs). These SPVs are an industry-standard layer of protection – bankruptcy-remote legal entities that are solely created to service every investment on the Percent platform. 
Asset-backed notes are notes backed by financial assets, such as consumer or small business loan portfolios, whereas corporate loans are often backed by corporate debt. PBNs are similar to mutual funds in that investors can get exposure to multiple notes across different asset classes and geographies with a single investment, but are different in that they only provide exposure to eligible deals on the Percent platform. 
Percent's Blended Notes require a $5,000 minimum investment and come with a 1% management fee, as we've discussed. Investors earn variable monthly interest with PBNs and have the opportunity to invest in several private credit opportunities at once to maximize potential while minimizing risk.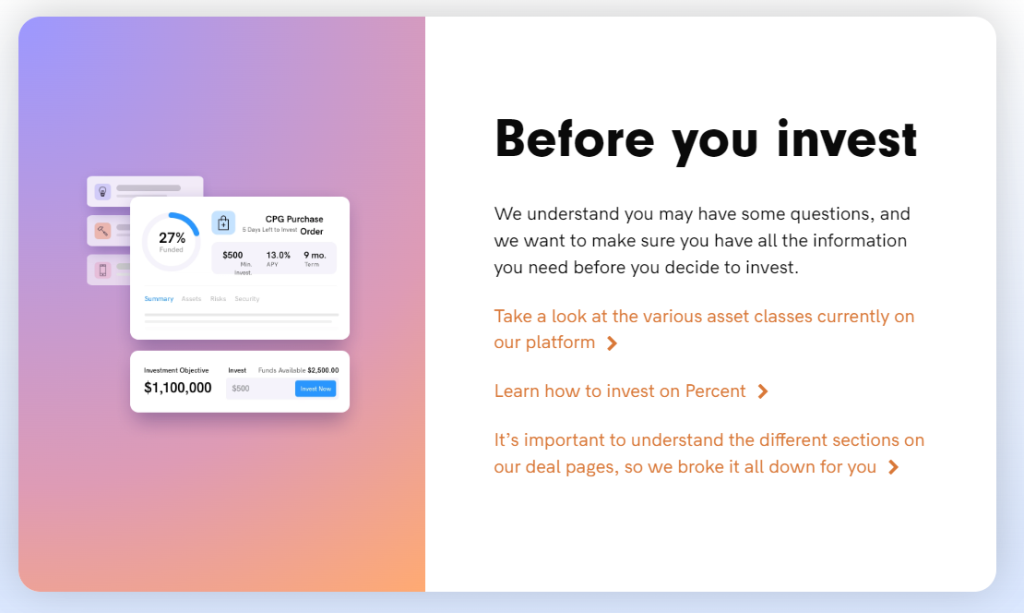 Fees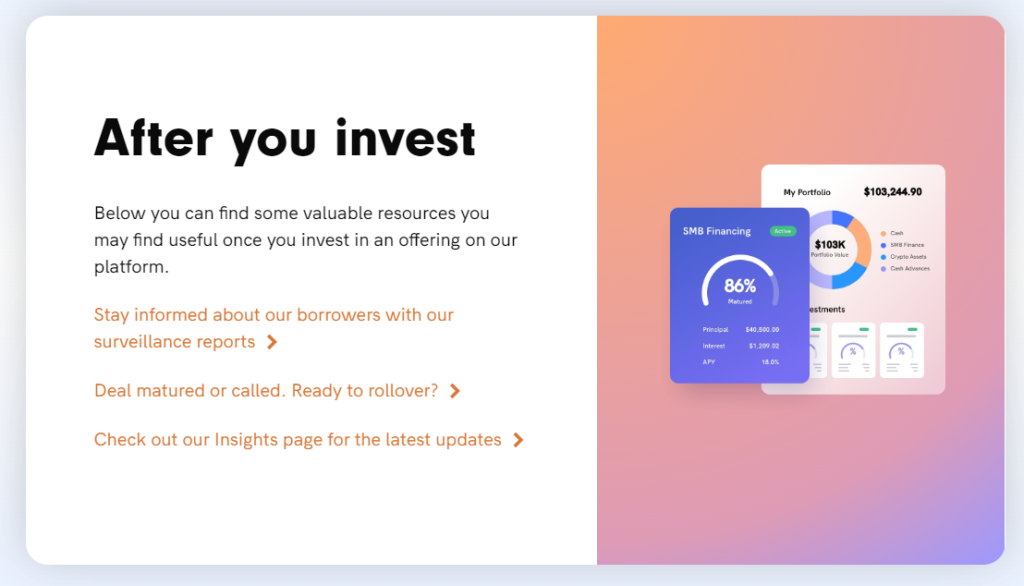 In the past, Percent didn't charge fees for investing in most private credit opportunities. Those fees instead were passed on to corporate borrowers.  
However, upcoming changes will introduce a 10% fee on interest made from distributed interest. The 1% management fee for invested Blended Notes, however, remains. 
Performance
Since its founding in 2018 and as of March 31, 2023, Percent has funded 396 deals and returned more than $670 million to investors. The current default rate is 1.99%, which is respectable for this type of alternative investment platform. 
While investment opportunities change and risks increase and decrease with market conditions, private credit remains a popular alternative to traditional financing. Percent continues to bring accredited investors qualified opportunities to earn interest income in an alternative way. 
Advantages and Disadvantages of Percent
Percent is not the only private credit platform out there. Here are a few things to consider about Percent before you decide to open an account. 
Pros:
Short-term opportunities available
Start investing with as little as $500 ($2,500 for self-directed IRAs)
Many deals are 100% backed by assets 
Default rate of under 2% as of March 31, 2023
Low management fee on Percent Blended Notes
$Up to $500 bonus with your first investment
Cons:
Fierce competition in funding available deals
No secondary market to offload investments early
Accredited investors only
Can require large amounts of investment funds to maximize potential 
Long-term investments come with better terms elsewhere 
The good news is that you can easily compare and contrast investment platforms these days. Keep reading to see how Percent compares to other alternative investment platforms on the market. 
Percent Alternatives
Even if Percent isn't for you, there are many other alternatives to choose from. Some of them offer private credit investment opportunities, while others specialize in other alternative investments. 
Like Percent, Yieldstreet caters mostly to accredited investors with its alternative investments. However, non-accredited investors can invest with Yieldstreet through the Prism Fund, which requires a $2,500 minimum investment. 
That's about where the similarities between Yieldstreet and Percent end. Unlike Percent, Yieldstreet offers its own self-directed IRA account so you don't have to involve a third party and meet their requirements. 
Though Yieldstreet can't match the 14% in returns that Percent boasts, it does have a larger platform that has funded over $2.5 million to date. Yieldstreet also offers a broader selection of investment types, not just private credit. 
When it comes to fees, Yieldstreet does charge an annual management fee. Short-term investments incur a 0% fee, while longer-term opportunities incur up to 3% in fees. 
If you're looking to invest in real estate, EquityMultiple offers several perks. While you'll need at least $5,000 to invest in short-term loans and $10,000 or more for equity-based investments, EquityMultiple charges less than 2% in fees. 
Similar to Percent, EquityMultiple only works with accredited investors. While you'll get more variety in terms of investments to choose from than you would with Fundrise, the fee structure can get a bit confusing until you gain some experience with the platform. 
EquityMultiple allows you to choose between three different options for investing: fund investing, direct investing, and savings alternatives. Assets vary from a single property to multiple properties and diversified notes. 
While EquityMultiple doesn't necessarily offer alternative investments, real estate continues to be a profitable investment for many investors. If you're new to the real estate investment game and don't qualify for accredited standing, you can find other apps that provide real estate crowdfunding for non-accredited investors. 
Do you have $10,000 burning a hole in your pocket? AcreTrader can help you make the most of your investment funds by choosing farmland as your asset. 
Investors earn money with farmland in two ways: rental payments and land appreciation. Farmers either pay rent to use the land they're on or pay off investors when that farmland is sold. 
Fees on AcreTrader are around 0.75%, with the average annual return coming in at around 11%. While farmland is a less volatile investment than other high-risk ventures, it's not as liquid either. 
In fact, AcreTrader doesn't have an established secondary market yet. Keep this in mind if you decide to invest in farmland and choose your terms accordingly. 
Many investors enjoy working with Republic, especially because it offers a user-friendly interface that makes investing easy and enjoyable. Republic opened in 2012 and has been helping investors find equity crowdfunding opportunities ever since. 
You don't have to be accredited to work with Republic. Plus, the platform is free to use as Republic makes money from the startups you invest in, rather than you. 
With Republic's Autopilot function, you can robo-invest in equities for free. On the flip side, investments through Republic are less liquid than other types of investments. 
The good news for investors is that Republic only accepts about 5% or less of their loan applicants. This competitiveness also weeds out those opportunities that aren't as qualified as others. 
FAQs
What fees does Percent charge? 
Percent charges a 1% management fee on Blended Notes and will charge 10% of the interest on private credit notes in the future, but not currently. There are no other fees to worry about currently. 
Is investing in private credit with Percent safe?
Investing in private credit does come with the same risks associated with investing in general. However, Percent is a legitimate private credit marketplace that has been in business since 2018.
How does Percent compare to other alternative investment platforms?
Percent varies from other alternative investment platforms based on what investment assets it offers and the fees associated with them. While other alternative investment platforms cater to non-accredited and accredited investors, Percent only works with accredited investors. 
Can you invest in private credit with Percent if you're not accredited?
No, you cannot invest in private credit with Percent if you're not an accredited investor. Percent requires you to submit documentation such as a CPA letter or other financial statements. 
Improve Your Finances with Percent's Private Credit
Investing in private credit can be risky, especially if you're not sure where to find qualified borrowers. With Percent, you're connected to vetted corporate borrowers through an intuitive platform. 
Percent can be used as either a standard investment platform or as support for your self-directed IRA. Though both have certain tax benefits attached, they each serve accredited investors in several ways to maximize the potential of these private credit investment opportunities. 
We hope you've learned a lot about private credit and Percent in this review. Percent offers investors alternative ways to invest without overlooking the most important aspects of an investment opportunity. 
Even if you're not an accredited investor, learning about these opportunities can help you understand what's out there. That way, when you earn your six-figure salary, you can be ahead of the game when it comes to private credit investments.