If you ever tried buying something back in the day and took advantage of layaway programs, you're already familiar with the basic concept of buy now, pay later apps, often referred to as BNPL apps. These apps are actually part of a larger market that's worth over $150 billion.
Buying something at the current moment without being able to afford it is no new concept. In fact, it's the basic premise of credit cards. 
However, BNPL apps allow you to make purchases you can't afford and set up payment plans without incurring interest. As long as you pay on-time, you can both have your cake and eat it too (financially speaking).
Perpay is one of many buy now, pay later apps you can partner with to make the larger purchases you can't afford at the moment. This app offers several benefits, but how does it compare to other BNPL apps out there? 
Our guide includes everything you need to know about Perpay, from how much it costs and how you can sign up to what features you can take advantage of. At the end of this article, you'll know whether or not Perpay is the right BNPL app for you. 
Are you ready to dive into our Perpay review? Let's get started!
What is Perpay
Making larger purchases can be hard if you don't get paid today. That's where the best buy now, pay later apps come in, including Perpay. This Philadelphia-based BNPL app was founded in 2014 but launched its buy now, pay later capabilities in 2017.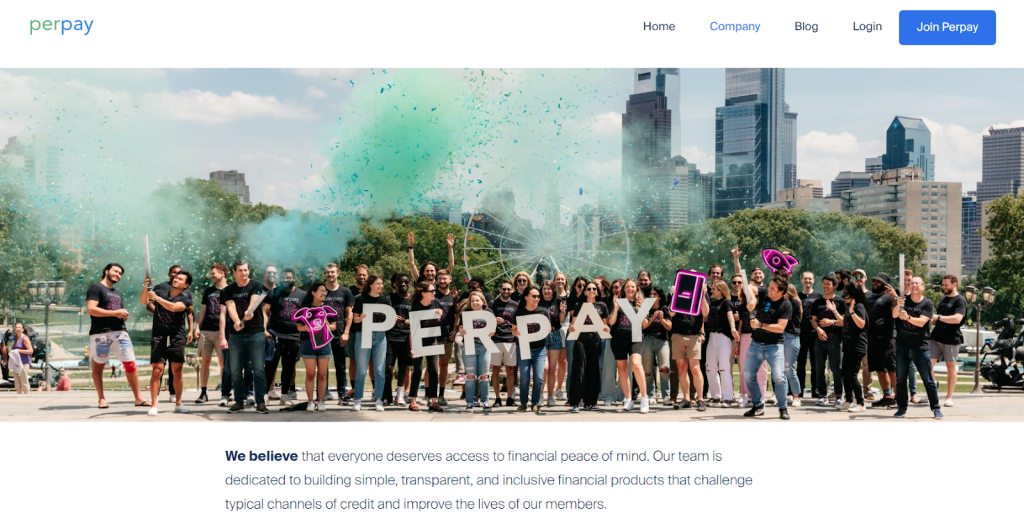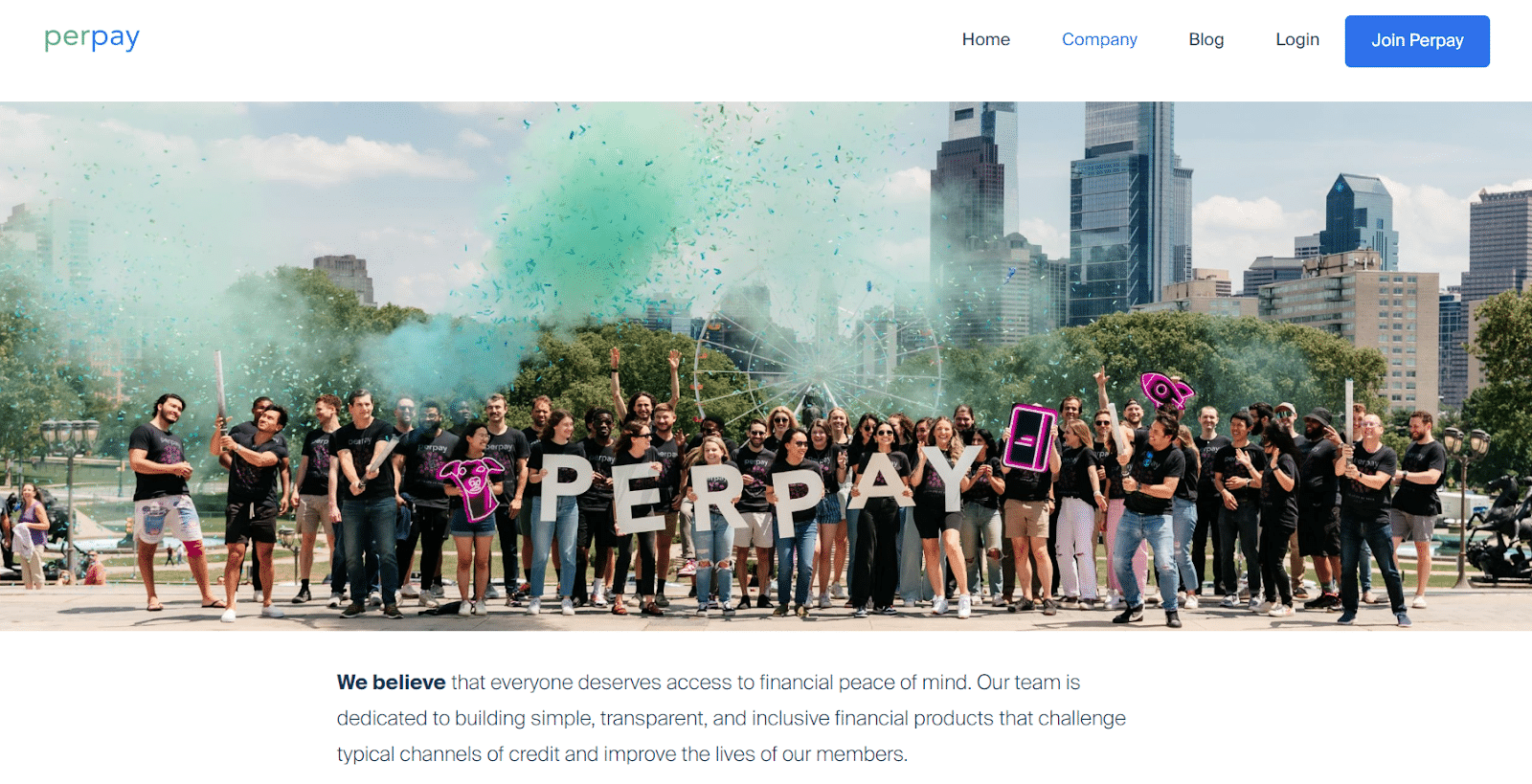 Founders Chris DiMarco and Dave Hayne created Perpay for residents of all 50 states. This user-friendly platform is available for both Android and iOS devices and lets you break up your purchases into smaller installments to help you afford more expensive purchases.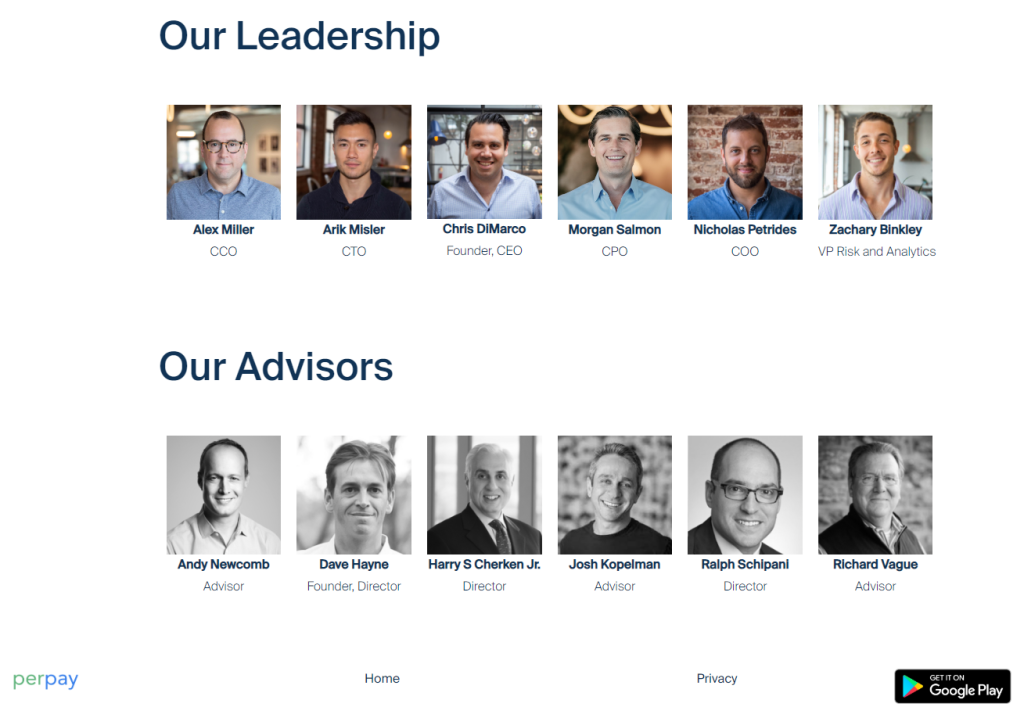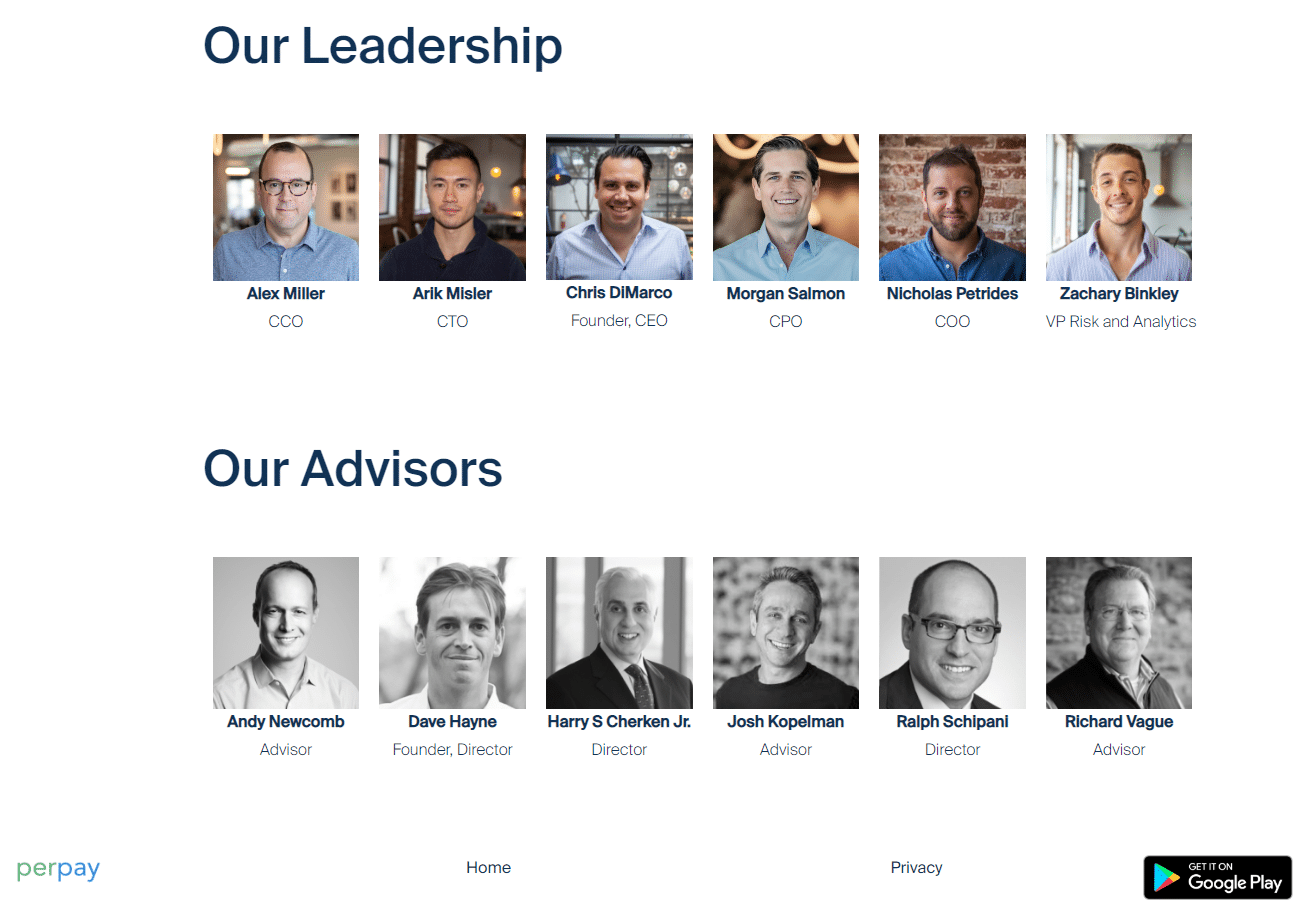 In addition to Perpay's convenient app, this BNPL service also has a website. Visit Perpay either through the App Store/Google Play Store or online to check it out. 
How Does Perpay Work
If you can't save money for a purchase in time, Perpay can help. Even if you've recently put yourself under strict money management rules, paying for the things you want is possible with Perpay. 
This BNPL app lets you divide the total cost of your purchase into more manageable payments. Plus, you don't pay interest or any extra charges and there's no credit check involved. 
If your employer allows it, you can even split your paycheck into several payments. That means you can pay off your existing Perpay debt and still deposit some savings into your chosen bank account. 
Using Your Perpay Account
So how does a Perpay account work? Here are the basic steps you can take to make a purchase with Perpay at your side:
Create an account and upload the necessary personal and banking information so Perpay can determine your spending limit. Typically, limits land between $500 and $2,000. 
Shop in the Perpay marketplace to buy the things you want. Submit your order to the Approvals Team and await a response. Most approvals come within a few minutes but they can also take up to two business days. 
Once your order is approved, you'll set up the "pay later" terms. Choose how many payments you want to make and finalize the terms. 
When Perpay receives your first payment, they will ship your order. Payments are then made according to the terms you agreed upon in the previous step. 
Enjoy your items once they arrive!  
While the whole process might feel a bit like asking your parents before they help you buy something, Perpay does make it easy to set up terms and still get what you want.
Give $100, Get $200
Perpay also runs a referral program that helps you earn a $200 credit towards your next purchase of $300 or more. All you have to do is send out your personal referral link and wait until your friends and family make their first purchase payment. 
In addition, your referrals will also earn $100 in credit toward their first order as well. Perpay lets you send an unlimited number of invites, but you can also join the affiliate program if you want to earn rewards for referring people to Perpay. 
Perpay Features
Perpay lets you choose between six and 12-month terms. You can have your payments automatically deducted from your next paycheck, whether you're paid weekly, bi-weekly, or monthly. 
You won't pay late fees or membership fees for Perpay unless you opt for the Perpay+ account (more on that in a minute). While you have to make purchases through Perpay's marketplace, you're guaranteed that those items qualify for a Perpay installment plan. 
Perpay makes money from buying the items it sells at a lower price and then marking them up for members. As you make your installment payments, Perpay may increase your spending limit and lower your payment amounts accordingly. 
Eligibility Requirements
Perpay doesn't allow just anyone to set up an installment plan. Here's a quick rundown of the basic requirements you'll need to fulfill if you want to use Perpay's services:
Three months of steady and reliable full-time income
A recent pay stub that includes your full name, employer, pay date, current total earnings, and year-to-date (YTD) earnings in a PDF, JPG, or PNG format 
Your annual earnings must exceed $15,000
You cannot currently be involved in bankruptcy proceedings  
You must be paid via direct deposit
Your additional financial obligations should be in good standing
Unfortunately, Perpay does not accept self-employed individuals, gig workers, or independent contractors. However, you can find alternative companies that do work with you if you fall into one of these categories below in our alternatives section. 
Note that Perpay does accept SSI/SSDI and VA income as long as you meet the other basic requirements. If you have any questions about what income may qualify, contact Perpay directly to discuss your options. 
Perpay+
Some of the best credit-building apps can help you figure out how to improve your credit score. However, Perpay+ lets you take advantage of a payment plan and reports to all three credit bureaus at the same time. 
In the face of rising interest rates, Perpay+ can be a valuable alternative to figuring out how to pay off credit card debt that brings with it a costly APR. It only costs $2 per month when you're carrying a balance; otherwise, it's free. 
You will need to activate Perpay+ to report your on-time payments to Experian, TransUnion, and Equifax. Perpay reports your new account as a credit line but requires you to have at least 4 months of on-time payments that exceed $200 before you're eligible for this feature. 
Perpay claims their Perpay+ service helps members improve their credit by an average of 39 points. When it comes to paying less in interest and qualifying for better loans, the more points you can get, the better. 
Perpay Credit Card
Recently, Perpay announced their new credit card, which is viable wherever Mastercard is accepted. Credit lines start at $500 and you can apply without hurting your credit score. 
While Perpay does require you to make a few payments on your installment plan before you're eligible for this credit card, you can earn 3% cash back rewards once you receive it. Make payments on your balance to keep it low and improve your score. 
Security
Perpay uses industry-standard encryption to secure your personal data and store it off-site. If you want to contact Perpay customer service, you can email them at hello@perpay.com. 
Advantages and Disadvantages of Perpay 
Before we get too deep into what other BNPL apps offer, let's take a look at how Perpay stacks up: 
Pros:
You choose the number of payments that fit your budget
Choose between six and 12-month terms
Perpay+ can improve your credit score
Website and mobile app
No credit check
No interest or hidden fees
Payments are automatically deducted from your next paycheck  
Cons:
Requires you to be employed full-time
Returned items incur a large fee, including the original shipping fee, a $10 return shipping fee, and a 5% restocking fee)
$2 monthly fee for Perpay+ account
Shopping options are limited
Perpay prices can be much higher than on other websites 
Doesn't work with self-employed, gig workers, 1099 workers 
Perpay Alternatives
When it comes to splitting up your payments for an expensive purchase, Perpay isn't the only player in the game. Here are a few other teammates you can choose to help you bring the things you want home: 
As you can see, some of these apps do a soft credit check to determine your eligibility for an installment loan. Consider this before you choose which app works best for your situation.    
FAQs
Is Perpay legitimate? 
Yes, Perpay is a legitimate buy now, pay later app you can use to split up the purchase of items you want. Perpay is one of many BNPL apps that offer similar terms. 
How can Perpay help improve your credit?
Perpay can help you improve your credit when you sign up for Perpay+. This account will report your payments to all three credit bureaus for only $2 per month when you're carrying a balance. 
How much does Perpay cost?
Perpay doesn't cost anything unless you pay the $2 monthly fee for Perpay+ to report your payments to the three credit bureaus. If you are not carrying a balance on your Perpay+ account, you're not responsible for the $2 monthly fee. 
What eligibility requirements does Perpay have?
To be eligible for Perpay installment loans, you will need to have a steady and reliable income for the past three months that's paid via direct deposit and over $15,000 per year. Your cell phone plan and financial obligations should be in order as well. 
Afford More of What You Want with Perpay
Paying for the things we want can be difficult, especially if we have to save up enough money to afford the purchase. If you need or want something now but don't have a way to come up with the funds this instant, buy now, pay later apps can provide a solution. 
Perpay is one of these BNPL apps that makes affording your bigger purchases a cinch. Simply set up an installment to avoid interest and you can still walk away with the item you wanted. 
We hope this article has helped you to find more options when it comes to making emergency purchases or simply paying for the things you want over time. When you have the right tools and knowledge at hand, you can make your financial situation work for you, rather than against you. 
Now that you know how to afford the things you might have been putting off, what will you buy? Check our Perpay to see if this buy now, pay later app can help.