An accredited investor has access to some of the best investment options that can help them increase their net worth and get richer. Once they meet requirements ⓘA accredited investor is an individual with a net worth, or joint net worth of over $1 million, or an annual income of over $200,000 ($300,00 with a spouse)., they can access certain accredited investor opportunities that can be highly lucrative.
There are a few investments geared for accredited investors such as crowdfunding, real estate syndication, convertible investments, REITs, venture capital, private equity real estate, interval funds, and hard money loans.
We've already reviewed the best real estate crowdfunding sites for non-accredited investors. Now, we'll go over the best real estate crowdfunding options for accredited investors.
What is an Accredited Investor?
Let's start by determining what an "accredited investor" is.
The majority of these internet real estate investment opportunities are only available to accredited investors.
The SEC and FINRA are two massive regulatory bodies that screen investments available. These agencies' mission is to safeguard average investors. The trouble is that these institutions are unable to review each and every investment opportunity accessible.
Some investment opportunities, in place of this rule, are only available to qualified investors. Because these investments are unsupervised, they anticipate that the individual investor will conduct their own research.
These investors have a higher income or greater net worth than most retail investors. These regulatory agencies recognize that this sort of investor has a stronger risk tolerance, implying that they can participate in these unregulated investments with greater safety.
Don't worry! The vast majority of these high-yield investments for accredited investors are entirely legitimate — we've done the vetting for you.
It's just important for you to find an option that fits your long-term investing strategy.
Income/Net Worth Requirements
To be an accredited investor, you must fulfill one of the following conditions:
Your yearly income must be $200,000 or more for single filers or $300,000 for married couples.
You must have a net worth of at least $1 million, excluding the value of your primary residence.
However, if you fulfill either of these conditions, you are deemed an accredited investor. That means you may invest in both accredited and non-accredited investment opportunities like using Fundrise alternatives.
If you meet these requirements, here are the best investments for accredited investors.
Best Investments for Accredited Investors
Want to build real wealth? Here are our favorite investments for accredited investors:
1. Yieldstreet: Best for Accredited Investors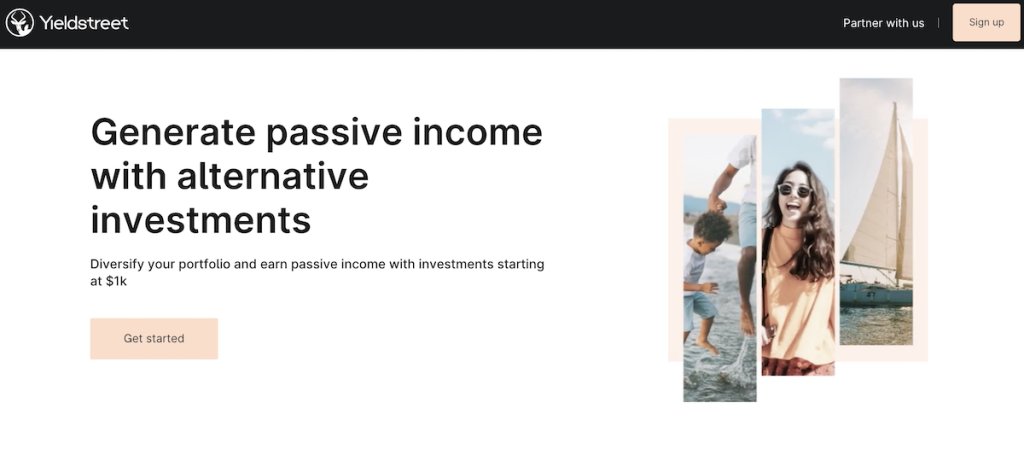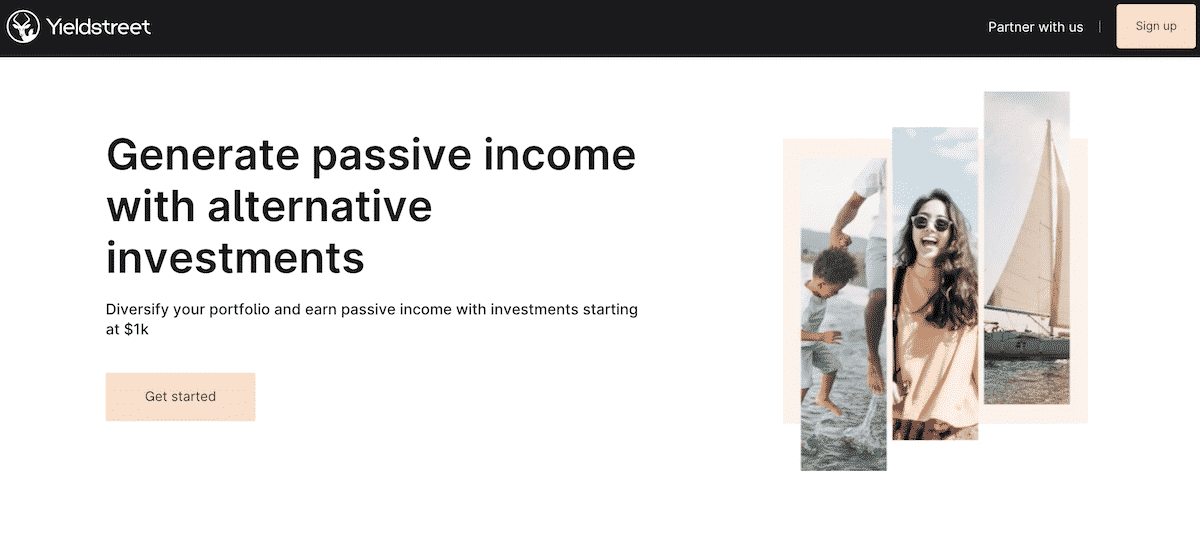 Minimum Investment: $2,500
Fees: 1% – 2.5% in management fees
Fund: Access to real estate, commercial, marine, legal and art investments.
Yieldstreet is an alternative investing marketplace that brings private investment opportunities to retail investors that have typically been dominated by hedge funds and the ultra-wealthy. There is no other platform that lets you invest in real estate, art, legal finance, and more — that is until Yieldstreet.
Yieldstreet, unlike other crowdfunded real estate platforms, funds the crowdfunding incurred to finance those projects — as well as a number of other deals.
Yieldstreet is a marketplace where individuals can invest in private structured credit deals, which are typically inaccessible to retail investors.
Although most transactions are limited to accredited investors, Yieldstreet launched the Prism Fund in August 2020, which is accessible to nonaccredited investors with a $2,500 minimum investment.
As of October 2020, $1.5 billion had been invested on the platform. Yieldstreet was placed 46th on the 2020 Inc. 5000, a list of the fastest-growing privately held businesses in the United States.
Best For
YieldStreet is the best option for most accredited investors who are looking to invest passively. Yieldstreet has been in business since 2015 and has a community of over 225,000 members who look to alternative investments as a way to diversify their investment portfolios outside of the stock market.
To date, Yieldstreet has returned over $600 million in principal and interest payments to its investors.
Pros
One of the best options for accredited investors.
Variety of investment options such as real estate, commercial, marine, legal and art financing deals
Fees can be low for certain projects
Nonaccredited investors can participate in the Prism Fund.
Cons
Highly illiquid investments.
Most investments are open only to accredited investors.
Limited offerings are available.
Yieldstreet is an alternative investment platform that connects you to income-generating investments that traditionally have been reserved for institutions and the ultra-wealthy.
These alternative investment opportunities are typically backed by collateral, and span across various asset classes such as art finance, real estate, commercial finance, legal finance, and more. These asset classes have been known to generate returns for decades, but have typically been closed off to retail investors.
Simply Click Here to Signup and get started.
2. CrowdStreet: Best for Commercial Real Estate Investing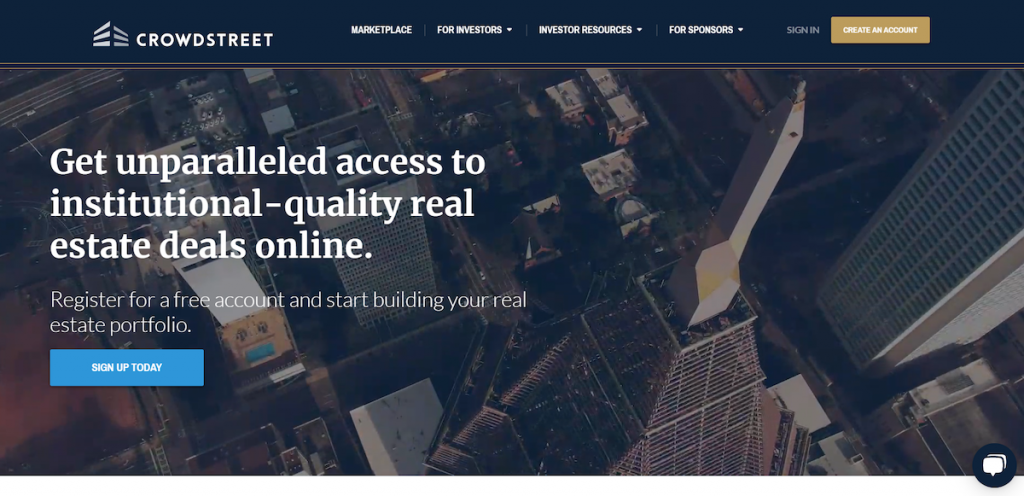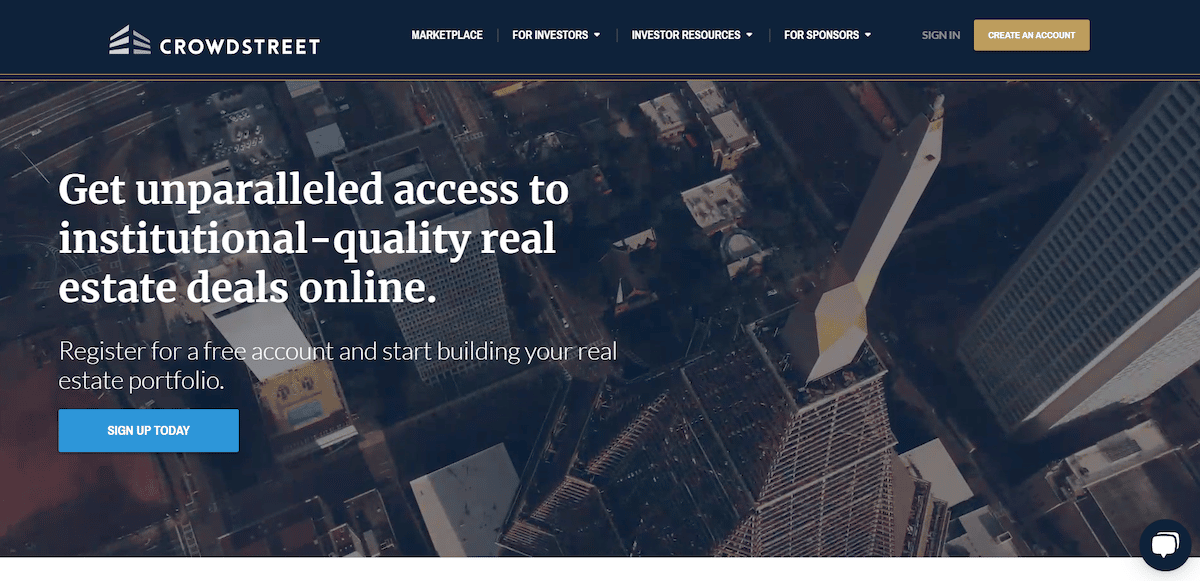 Minimum Investment: $25,000 for most marketplace listings
Fees: 0.50% to 2.5% for most investments
Fund: Offers single properties or two types of funds
Out of all the commercial real estate investing options for accredited investors, CrowdStreet is one of the largest and most flexible.
On CrowdStreet, you can invest in individual deals on commercial real estate properties, and there's usually several properties on this online marketplace. Typically, single-property investments require at least $25,000 to invest.
Alternatively, you can invest in two funds: a single-sponsor fund that's run by one real estate firm or a CrowdStreet fund that invests in a variety of properties. If you want more diversification and someone handling real estate investing for you, this is better than investing in properties on your own.
Project fees typically range from 0.50% to 2.5%. Fund fees can also reach around 3% depending on your investments.
CrowdStreet also has a Private Managed Account service that builds a real estate investment portfolio to match your goals. The advisory service requires a $250,000 minimum balance, and fees vary depending on your investments.
Best For
CrowdStreet is an ideal choice for accredited investors who want less hands-on investing in commercial real estate. If you want a personally managed account, CrowdStreet is also for you.
Pros
Variety of investment options.
Fees can be low for certain projects.
Plenty of marketplace listings at a given time.
Cons
High minimum investment amount.
CrowdStreet has a high minimum investment requirement, but this is one of the best ways for accredited investors to diversify their portfolios with commercial real estate.
3. EquityMultiple: Best for Investment Variety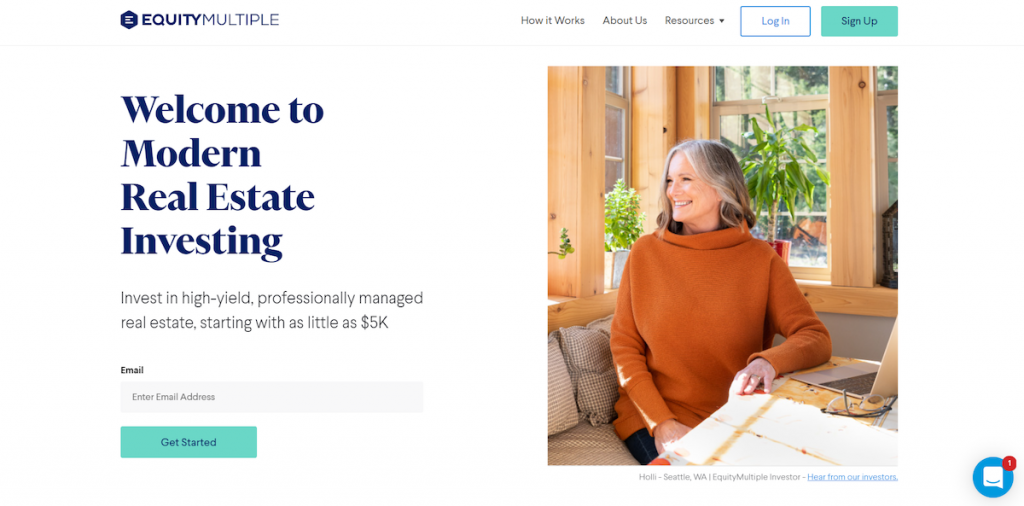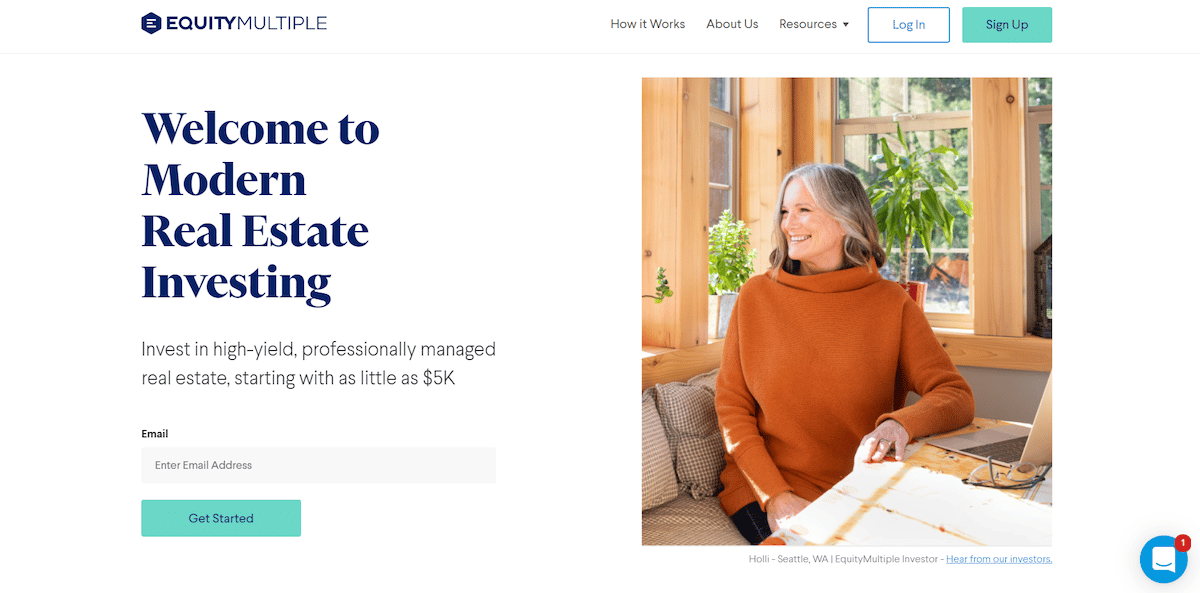 Minimum Investment: $5,000 for short-term loans and $10,000 or more for equity-based investments
Fees: Typically 0.50% to 1.5%
Fund: Variety of investment options, including debt, preferred equity, and opportunity funds,
EquityMultiple states it makes real estate investing "simple, accessible, and transparent" for accredited investors. And, with a $5,000 investment minimum and a variety of ways to build your portfolio, this claim is quite fair.
You have three options to invest with EquityMultiple:
Direct Investing: Invest in single properties with as low as $10,000 with target durations of six months to five years.
Fund Investing: Invest in multiple assets for increased diversification. The EquityMultiple fund requires a minimum investment of $20,000 and has a target duration of 1.5 to 10+ years.
Savings Alternative: Invest in diversified notes with as low as $5,000 with target durations of three to nine months.
Fees vary depending on your investment type. Equity investments usually charge 0.5% to 1.5% while debt investments charge 1% or less. 
Funds have varying origination fees and annual administrative expenses, but this is still normally under 2% in annual fees.
Best For
Accredited investors who want a variety of real estate investment options and lower minimum investments than platforms like CrowdStreet.
Pros
Variety of investment options.
Low fees.
Variety of investment properties.
Cons
Equity-based projects have higher minimum investment requirements.
Fees vary and are somewhat confusing to understand.
Overall, EquityMultiple has more variety than most Fundrise alternatives. Equity, debt, funds, and 1031 Exchanges are all available, and properties range from townhouses to commercial office spaces.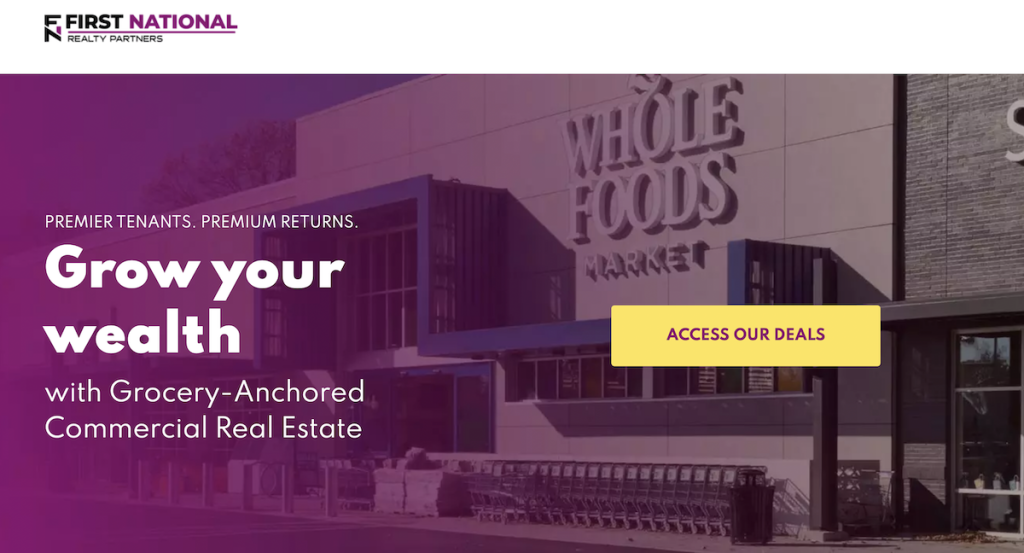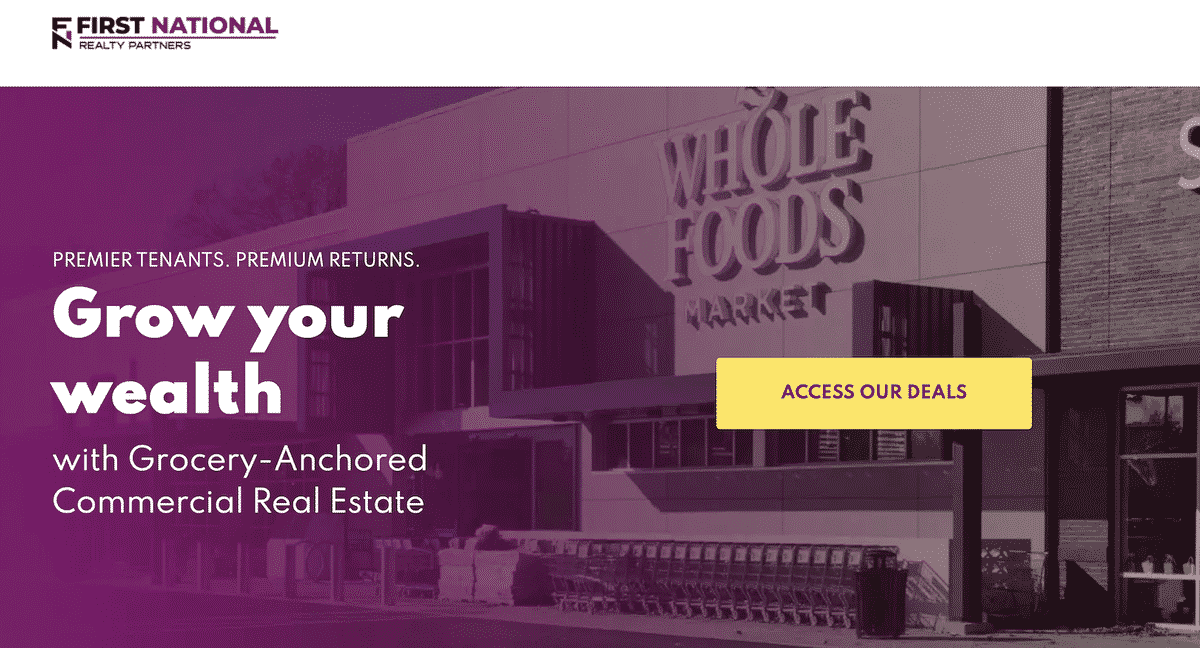 Minimum Investment: $50,000 for most marketplace listings
Fees: 0.5-1.5%+ annual asset management fee
Fund: Individual deals and opportunity fund
First National Realty Partners is a real estate crowdfunding sponsor that specializes in grocery-anchored retail properties. This means that they offer commercial real estate investments in retail shopping centers, anchored by essential needs tenants.
With FNRP, you can invest in institutional-quality commercial real estate investment opportunities both on and off-market.
By leveraging their relationships with top-tier national brand tenants, they compete directly against these institutions to provide you with deals that achieve those superior passive returns.
The process is simple, once you sign up and find a deal you love, you attend a webinar to learn more about it. You can then make your investment through a 100% secure digital process and then sit back and enjoy your quarterly distributions.
Best For
First National Realty Partners is an ideal choice for everyday accredited investors who are looking for institutional-quality investments that achieve exceptional, risk-adjusted returns. FNRP comes in at a high minimum investment, but for the quality of investments they offer, this is one of the best ways to diversify your portfolio into commercial real estate.
Pros
Strong due diligence process
Institutional quality investments
Easy process to get started
Cons
High minimum investment amount
5. Trion Properties: Best for Multifamily Property Investments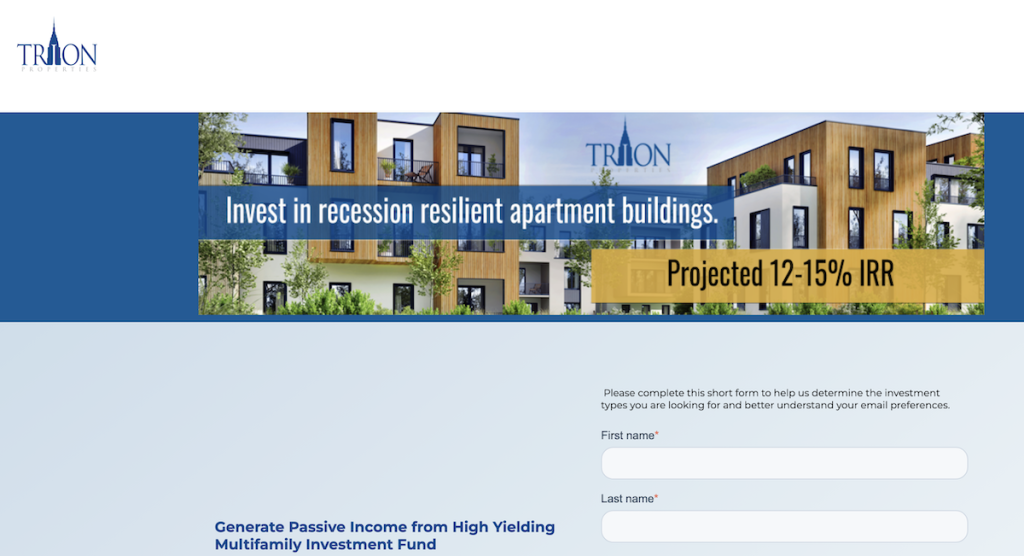 Minimum Investment: $50,000
Fees: No fees
Fund: Multifamily Properties
Trion Properties is a multifamily real estate sponsor that allows you to invest in commercial real estate without the stress of buying a whole building, making any renovations, or worrying about finding tenants. 
Traditionally, multifamily real estate can be a high barrier to entry with a ton of hands-on responsibilities – Not only do you have to purchase the property, but you also then have to tackle renovations you want to make plus juggle the current tenants. These can be multi-year projects, but Trion is here to help.
Unlike a majority of popular real estate investing companies, Trion is not a Crowdfunder. They manage private equity funds and deploy investments across the properties to execute the goals of the funds.
These guys stand out thanks to their strategy. They focus on acquiring opportunistic properties in need of moderate to heavy rehab that are in growing areas with mid- to long-term investment horizons. 
Over the past 17 years, they have generated an internal rate of return more than 25% and have successfully closed over $1.5 billion in transactions with $1 Billion AUM. 
Best For
Trion Properties is the best option for high-net-worth professionals that are looking to generate high-yielding passive income. Trion Properties has been operating since 2005 and take a rigorous investment approach that helps them meet a long-term objective of delivering outsized returns without taking outsized risks.
With Trion, you can diversify your investments, mitigate risks, and expect a hands on and personal approach from their team.
Pros
Vertical integration every step of the way 
Proven track record of safe investments since 2005
Host semi-regular webinars for their funds with live Q&A
Opportunity to invest in diversified funds and/or single properties
Cons
Only accredited investors can unlock the opportunities
Longer terms to see returns on investments
Higher minimum investment than some
Trion Properties is a multifamily real estate investment sponsor that generates high-yield passive income for savvy, accredited investors like you.
Your investment opportunities involve multifamily funds with several properties or direct properties. Currently, Trion has properties across the US in CA, CO, FL, GA, NC, OR and SC. Start investing today, and watch your long-term wealth accumulate.  
Simply Click Here and Register as an investor.
6. HoneyBricks: Best for Blockchain Crowdfunded Real Estate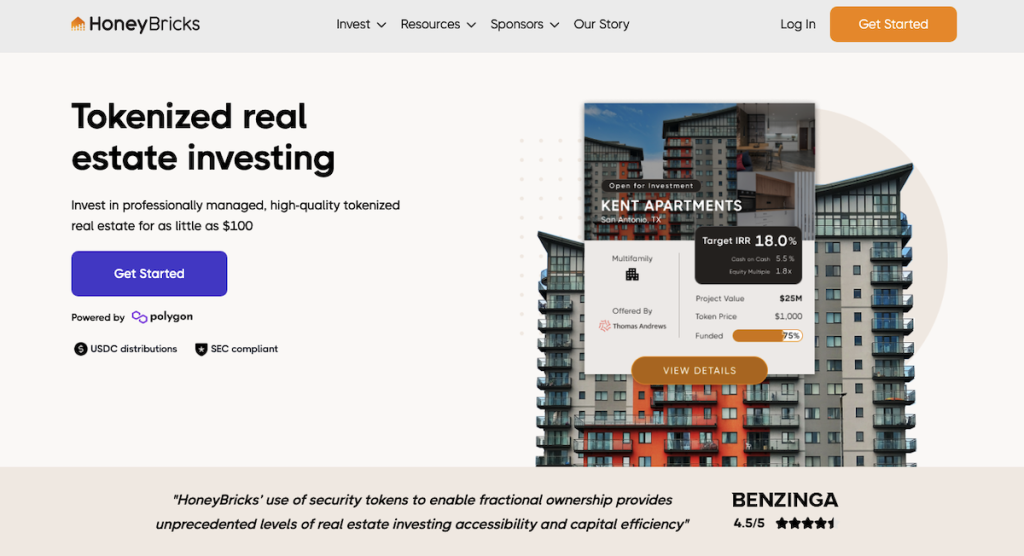 Minimum Investment: $100
Fees: 0.05% to 0.2%
Fund: HoneyBricks' REITs
HoneyBricks is the first ever crypto-crowdfunding real estate company. They invest in large projects where they act as the "master partner" with potential returns of 10-20%.
The main function of HoneyBricks is to provide a bridge between investors and stable, money-making commercial real estate ventures that are backed by security tokens.
The platform enables ownership to be fractionalized, and token holders can distribute their shares directly into their own personal crypto wallets.
After 12 or more months have passed, investors can sell the tokens instantly they purchased from HoneyBricks via the blockchain to the highest bidder on the secondary market. The fee for selling/buying tokens is only 0.05%-0.2% of all transactions.
HoneyBricks will send distributions directly to your cryptocurrency wallet, including dividends and return of principal. You can also borrow money by using your HoneyBricks tokens as collateral for a 4-12% APR.
Although there have been a few meager attempts to join digital and physical ownership, the HoneyBricks platform is one of the most prominent examples for blockchain's strength outside of the metaverse.
If you're interested in learning more you can sign up for more information from HoneyBricks here.
7. FarmTogether: Diversifying Your Portfolio With Farmland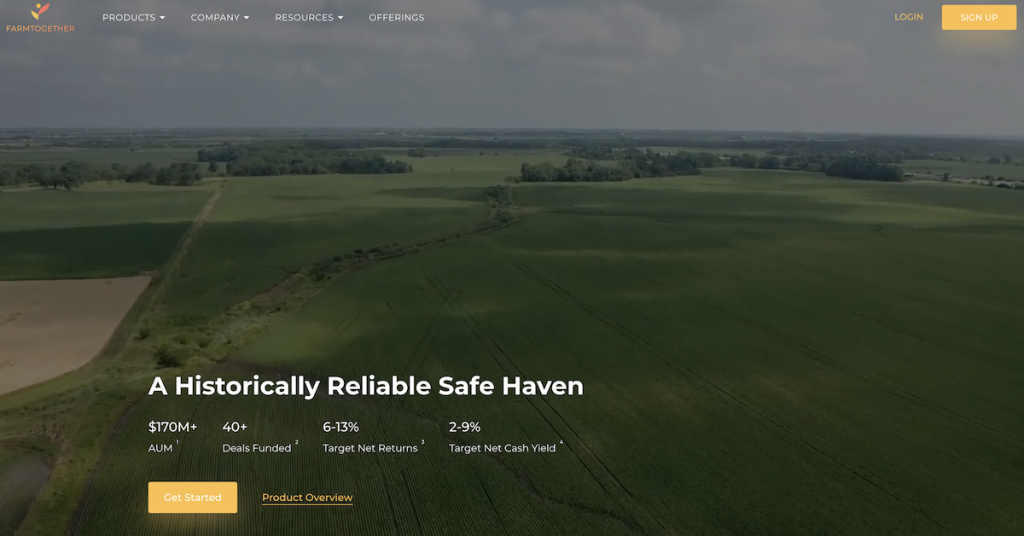 Minimum Investment: $15,000
Fees: 1.00% – 2.00%
Fund: Invest in U.S. farmland
Most accredited investments let you invest in commercial real estate, rental properties, or debt. In contrast, FarmTogether lets accredited investors take advantage of U.S. farmland.
While many investors are familiar with the benefits of adding alternative investments like commercial or residential real estate to their portfolios, few are equally familiar with farmland. 
Farmland is a real estate investment that has historically offered high, inflation-linked returns, low volatility, a lack of correlation with most asset classes, and an opportunity to drive sustainable solutions for the planet.
FarmTogether typically targets net IRRs of 6-13% with target net cash yields ranging from 2-9%, both net of fees.
At the end of the hold period, the property is often sold and investors can receive the appreciated value of the farm, assuming the land rose in value.
In general, permanent crops are held for longer than row crops because they take longer to mature.
Best For
Farmland is designed to be a longer-term investment, which is why you will see typical hold periods of 8-12 years for FarmTogether's crowdfunded and bespoke deals.
Pros
Multiple ways of investing in farmland opportunities, including crowdfunded offerings, bespoke properties, and their Sustainable Farmland Fund
Investments target net IRRS of 6-13% and net cash yields of 2-9%, both net of fees. 
Cons
Minimum investment of $15,000
Less liquid than traditional investments
Anyone can open a free account with FarmTogether to explore the platform.
After answering some basic questions, including whether or not you qualify as an accredited investor, you will be able to view the company's investment products, including any live crowdfunding deals.
8. PeerStreet: Best for Real Estate Debt Investing for Accredited Investors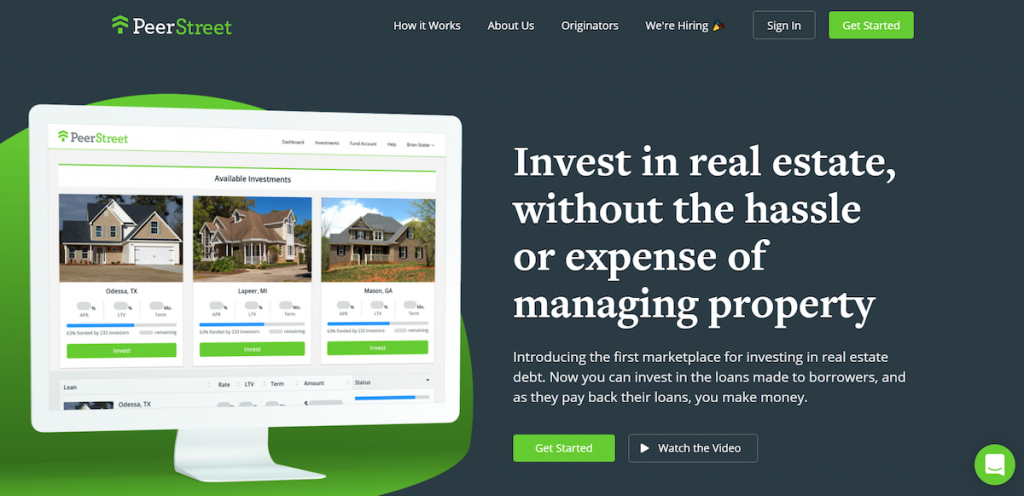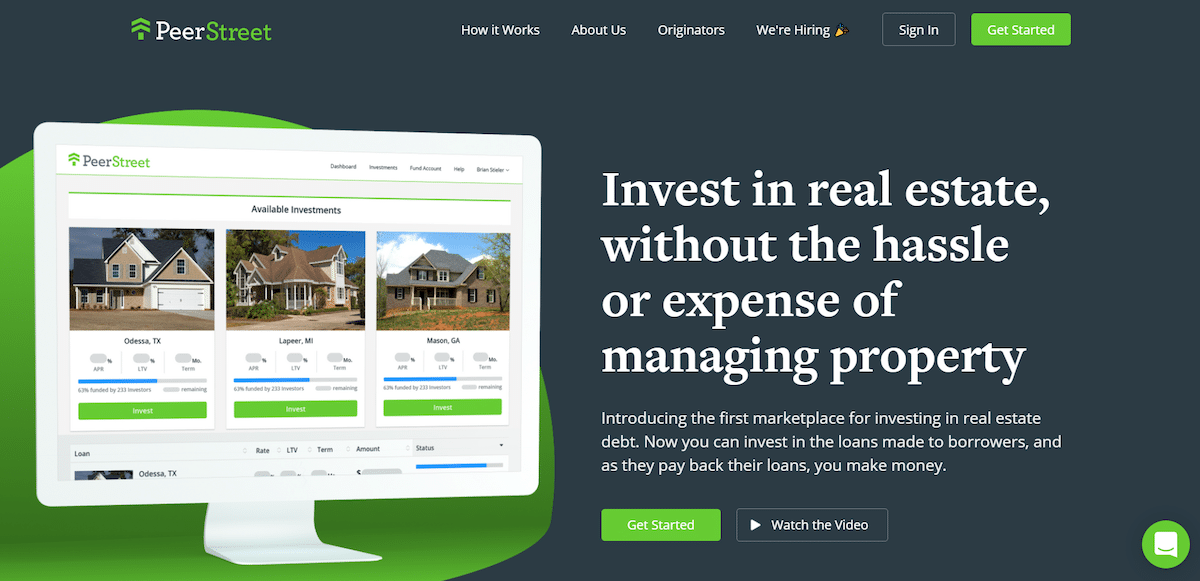 Minimum Investment: $1,000
Fees: 0.25% to 1.00%
Fund: Real estate debt investments and a Credit Opportunity Fund
PeerStreet lets you provide peer-to-peer debt financing for real estate projects to earn interest from borrowers.
When you sign up, you answer a brief questionnaire about your investing experience, goals, and risk tolerance. Afterwards, you can view dozens of listings to find the right debt investment.
PeerStreet does an excellent job at giving investors information on loans. For starters, loans show the yield, loan-to-value ratio, term, and loan amount. PeerStreet also includes borrower credit score, track record on previous PeerStreet loans, the loan strategy, and property type information.
You need at least $1,000 to start investing, and new loan opportunities appear daily. Typically, loan periods last from one to 36 months.
You earn monthly interest payments, and you can also enable Automated Investing to invest in properties that match your investing criteria. PeerStreet charges a servicing fee on loans that's a spread between borrowers and lenders that's typically 0.25% to 1.00%.
Best For
PeerStreet is best for accredited investors who want a low minimum investment amount on short-term real estate debt investments.
Pros
$1,000 minimum investment
New loans get added daily
You can automate your investing
Monthly interest payments
Cons
If you want to earn monthly interest payments on short-term real estate loans, PeerStreet is for you.
9. Cadre: Best Real Estate Investing Option for Liquidity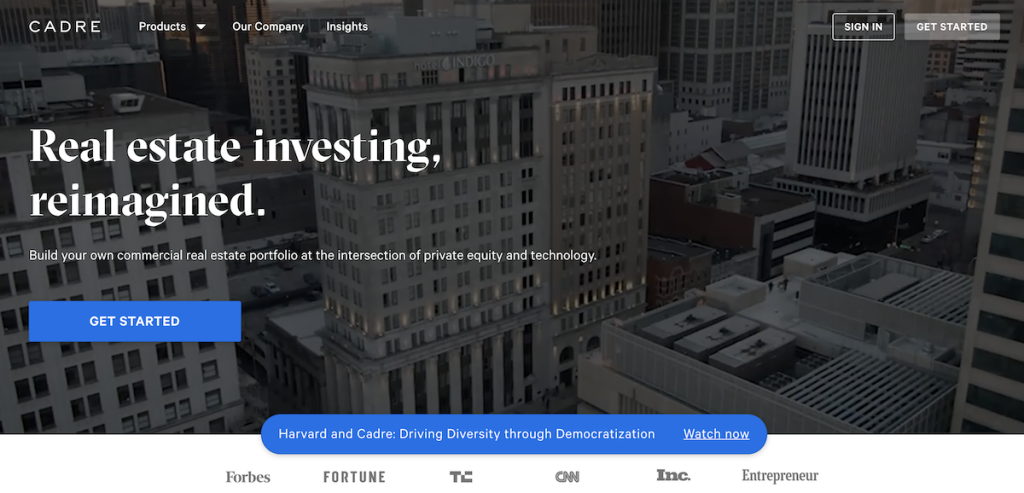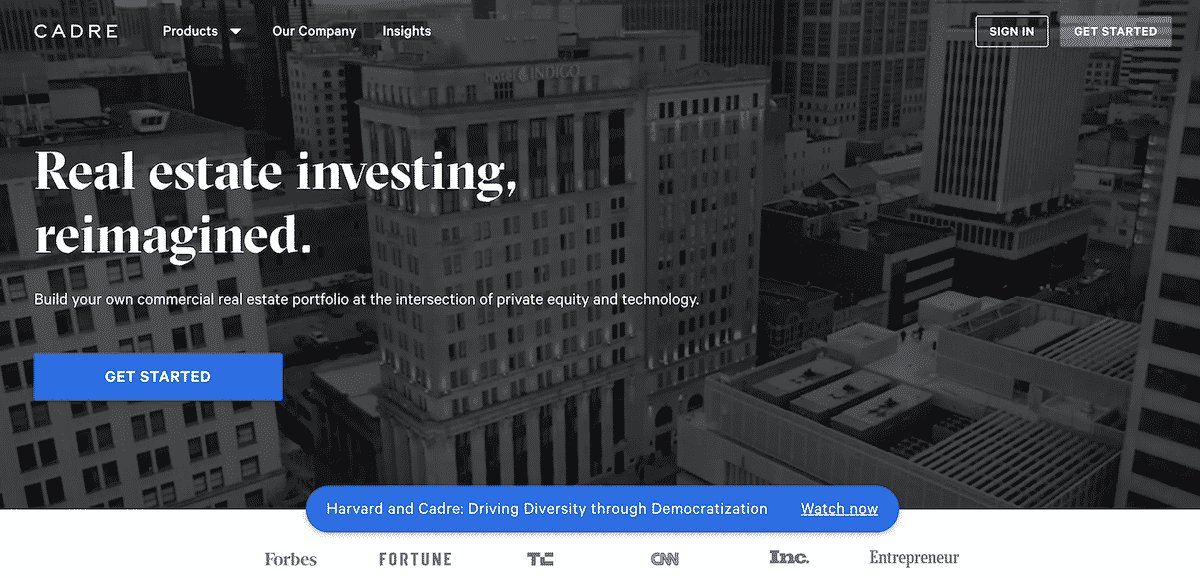 Minimum Investment: $25,000
Fees: 1% of your gross invested dollars upfront per transaction and a 1.5% of net asset value recurring annual management fee.
Fund: Access Fund
Cadre offers real estate investing for accredited investors. They have a high 18.2% historical rate of return and it is a great option for investors who want to diversify with real estate.
Over the past six years, Cadre has developed an innovative platform that gives you direct access to highly curated commercial real estate investments alongside some of the largest financial institutions in the world.
Cadre members benefit from its rigorous technology-driven, experience-led investment selection process with greater transparency and low fees.
Best For
Overall, Cadre appears to be a good platform for qualified investors seeking for value over quantity. While the minimum investment is high-end, the fees are modest and the performance thus far has been excellent.
Pros
Every transaction, from the company's leaders and employees to investors, Cadre stakeholders, and even contractors, is aligned with one another.
Cadre's compensation is primarily based on long-term contract success, not the volume of transactions conducted on its platform.
Its secondary market has the potential for liquidity.
Cons
There are no non-accredited investment opportunities.
A high $25,000 minimum investment is required.
There are no real estate investment trusts or other highly diversified funds offered by Cadre.
Not a lot of deal flow, only about one new deal every month, which means you may miss out on an excellent real estate investment opportunity.
10. AcreTrader: Passive Income With Farmland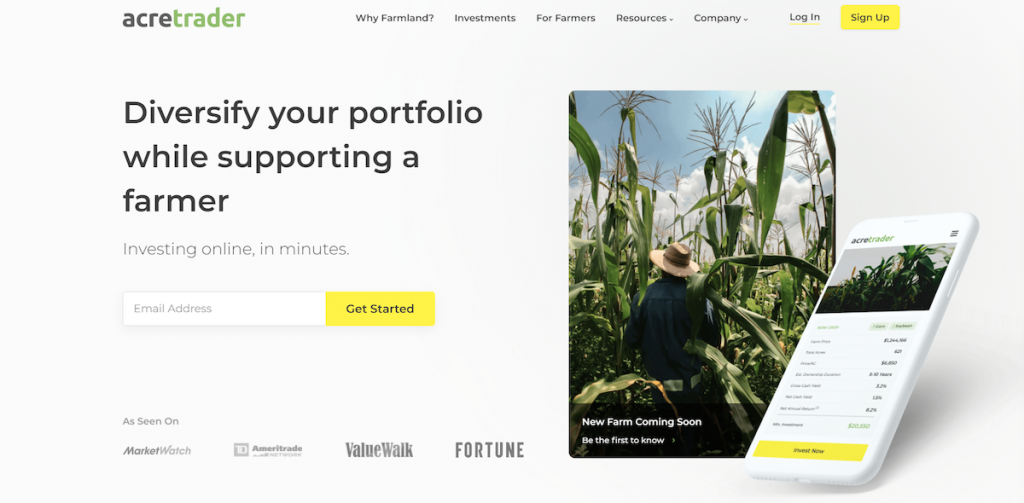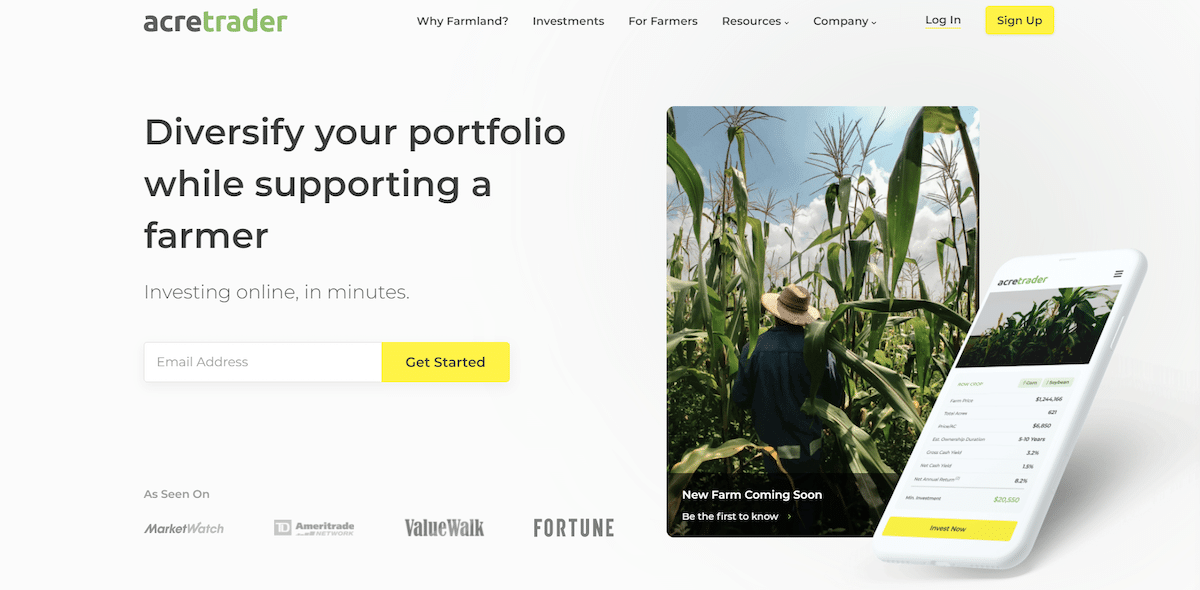 Minimum Investment: $10,000
Fees: 0.75%
Fund: Invest in U.S. farmland
Most accredited investments let you invest in commercial real estate, rental properties, or debt. In contrast, AcreTrader lets accredited investors take advantage of U.S. farmland.
According to AcreTrader, farmland delivers an average annual return of 11.0% and has low volatility. Farmland investing also lets you generate returns in two ways: land appreciation and rental payments from farmers.
AcreTrader has an intense vetting process, so there aren't always listings. But new farms appear every week, with the minimum investment amount usually ranging from $10,000 to $40,000.
Listings include the type of crop that's being grown, gross cash yield, and net annual return. According to AcreTrader, a yield of 3% to 5% is typical for lower-risk properties.
One downside of investing in farmland versus traditional real estate is that it's even less liquid. They are diligently working on the secondary marketplace for investors so you can sell your shares, but it is not available to investors yet.
Best For
AcreTrader is best for accredited investors who want to diversify their portfolio with income-generating farmland.
Pros
Earn through appreciation and rental payments
AcreTrader has a thorough vetting process for listings
Cons
Potentially lower annual returns than traditional real estate investing
Less liquid than traditional investments
AcreTrader is one of the most reputable platforms for investing in farmland.
Real Estate Investing FAQs
Ready to build real wealth? If you're ready to rack up returns like 13.4%, 14.1%, and 16.7% per year – Real Estate Winners can help. You can benefit from real estate's supposedly unfair advantages like almost unbelievable tax breaks, government-mandated payouts, and limited supply without ever becoming a landlord and swinging a hammer!
Armed with investment alerts, you can create a real estate portfolio with just a few clicks and start building real wealth today. Priced at $149 per year, Real Estate Winners teaches subscribers how to build a real estate portfolio and develop real wealth.
Unlike the other Millionacres subscription service, Mogul ($3,000 per year), Real Estate Winners is an affordable way for investors to dip their toes into the space, learn more, and get started – even if they have limited or zero real estate investing experience.
The Bottom Line: Greater Rewards Can Come With Greater Risks
Accredited investors have access to a wider range of potential investment possibilities than those with less ready access to money. While capable of delivering greater profits than traditional investments, many of these opportunities also carry more risk.
If you'd like to try a more aggressive investment approach with the potential for greater returns, these real estate crowdfunding investments are the best for accredited investors. Readers who wish to diversify their portfolios may look into other real estate opportunities in addition to this.
In summary, we recommend using Yieldstreet as it is the best option, with the best track record, for both accredited investors and nonaccredited investors alike. And your money deserves high target yields, at Yieldstreet.