Layered up as we sail on to summer.
The Barbour x J.Crew Bedale is currently on discount for Memorial Day and view our full list of Memorial Day sales which includes an $11 shirt jacket.
As we mark the unofficial end of summer, many parts still have to contend with several weeks of spring weather hanging in the air. Layering is a foundational part of men's intentional style, but those dreary days of spring can be more challenging that the second half of the year. Spring layering for windy and rainy days is an often overlooked concept, and is as distinct from its autumn and winter counterparts as seersucker is from corduroy. Just ask Daniel Z. Baraka, a Primer contributor and style aficionado who recently shared his secret tools of spring layering: the concept of hierarchies.
You might be asking, what's the big fuss about spring layering? Well, as Daniel puts it, "Springtime is peak rain time, and so layering with a raincoat is very, very important." It's clear that Daniel doesn't just see a raincoat as a shield against showers. He sees it as a key piece in your style arsenal – a statement piece that can set the tone for your entire spring wardrobe. "Investing in a good piece is very important," Daniel emphasized, "And so for this particular contribution, I went with a jacket that is new, but feels old, like a classic."
The jacket in question? A collaboration between Barbour and J.Crew, a take on their classic Bedale design in a vibrant red. Equally retro and futuristic, the jacket also sports stripes which gives it a distinctive flair. Unlined and hip length, it's an example of a piece that's not only practical but can serve as a signature item. Daniel suggests that a good raincoat should do more than just protect you from the rain – it should also elevate your overall style.
The roots of the Barbour x J.Crew Bedale raincoat trace back to the frequently inclement weather of England, home to Barbour. Since 1894, they have been pioneers in merging functionality with style. Their Bedale jacket, which sits on our list of the Best Waxed Cotton Jackets, was originally designed with equestrians in mind. Now, it is reborn in a vibrant, nautical-inspired collaboration with J.Crew. Made from water-resistant, lightweight waxed cotton, this piece embodies the best of seaside tradition and practical design. This limited-edition jacket features handy pockets, snap button closures, an iconic corduroy collar, and a unique enamel sailboat lapel pin. It serves as a testament to Barbour's rich heritage, skillfully refreshed for contemporary style.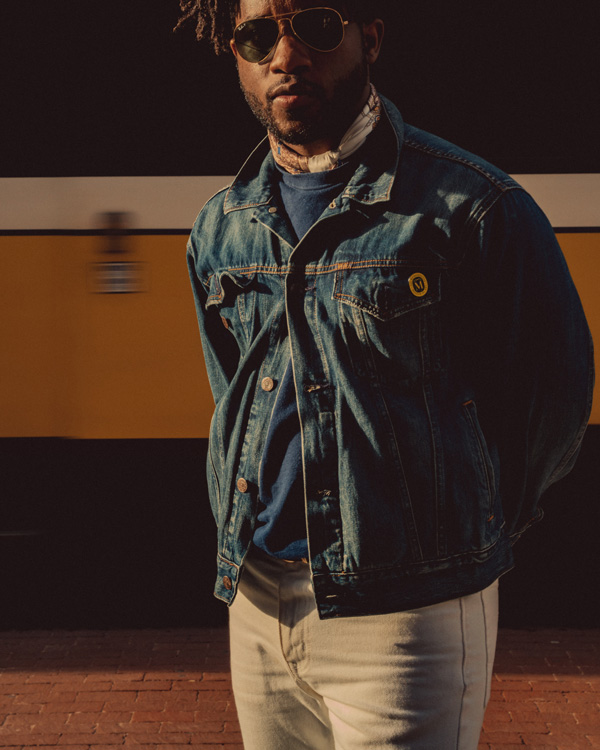 Layering, of course, isn't only about the raincoat. Daniel wears his Bedale over a classic denim vintage Polo Ralph Lauren jacket, topped off with a knit t-shirt from Mango. Daniel's outfit also includes jeans originally from Spier and Mackay (similar option here).
One particularly fun style move Daniel highlights is the use of a neckerchief. As well as adding interest and a pop of color around the neck, it can also provide a bit of a shield on chillier spring days. It's all part of Daniel's approach to style – pushing boundaries, experimenting, and discovering what works. In fact, he encourages this in others, saying, "My advice for people who are trying to develop or adopt new things, at first it might not feel natural, but after a few trials it will start to become just what you do."
Another first for Daniel this spring was his choice of footwear. "This is one of my first times actually wearing boots outside of hiking boots and winter boots," he revealed, "These are the first ones I've ever gotten for casual wear or dress boots. I really love them." The boots in question are a pair of Jodhpur boots from Beckett Simonon, completing his outfit and adding a touch of sophisticated ruggedness to his look.
Spring layering isn't just about weather protection, it's about crafting a look that reflects who you are and how you want to be seen. It's about expressing yourself, your moods, and your attitudes through clothing. It's about the adventure of trying new combinations and pushing your comfort zone just a little further each time. And with spring layering, it's also about enjoying the diversity of textures and colors this season offers – from the pale hues of early spring to the vibrant tones of late spring.
Daniel's approach to layering is all about creativity and personal expression. This is evident in his choice of colors, textures, and pieces, as well as in his willingness to experiment with different combinations. He seamlessly blends classic and modern styles, creating looks that are unique and effortlessly stylish. As we edge closer to the warmth of summer, Daniel's unique take on spring layering serves as an inspiration to all of us.
→ Read Next: