Balancing cool and classy in high temperatures.
Look, let's be honest. Summer fashion can be a minefield. There's heat to deal with, and then the undeniable fact that we can't layer up like our favorite dark and brooding winter looks. We've got fewer pieces to work with and the temptation to just pull on a pair of shorts and an old t-shirt every-single-day can be real. But I'm here to help you navigate this tricky territory and emerge on the other side looking both cool and, well, cool.
I recently pieced together one of my new favorite summer outfits during a vacation to Palm Springs. The goal? Smart casual with a hint of the retro, a dash of the modern, and an undercurrent of desert bohemian.
Our summer concoction has got old-school accents like texture, pattern, material and footwear choice, meshed with modish items like gold jewelry. What you get is an outfit that screams intention, perfect for summer, and refreshingly modern.
Desert Camp Shirt – The Key to Vintage Cool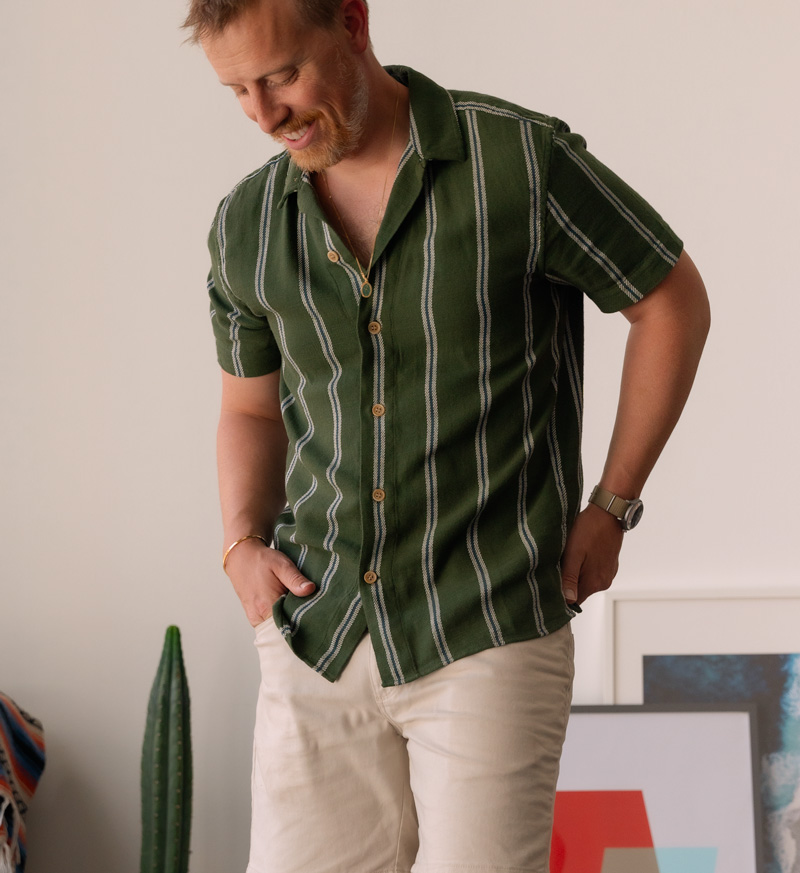 Per usual, I left some things a little too last minute and I needed some new pieces for the trip. On our sunny journey to Palm Springs, I took a quick detour off the highway and rolled into a Banana Republic Factory. I spotted this green, white and blue striped Desert Camp Shirt and dug it before I even put it on. This Factory store exclusive has a texture made for summer — cotton but with a visual texture kind of like linen. The green stripes, the camp collar, and the vibe of the 50s and 60s — it was a checkmate move for Palm Springs. The shirt can be your chameleon, from poolside lounging to a stylish evening dinner, with just a switcheroo of what you pair it with.
Amazon Essentials Stretch 5-Pocket Shorts – Style and Function Unite
The stone color is the perfect mid-point between white and tan – I don't feel like I'm wearing white shorts when I wear them, more like a light khaki. These shorts come in a 5 pocket cut like your favorite jeans — no more phone belly flops out of chino pockets. They've got a slim fit and a 7″ inseam for a streamlined look, minus the squeeze. At under $20, they're a steal that'll leave you looking sharp without emptying your wallet.
Field Watch – Enduring Elegance
Amazon (similar)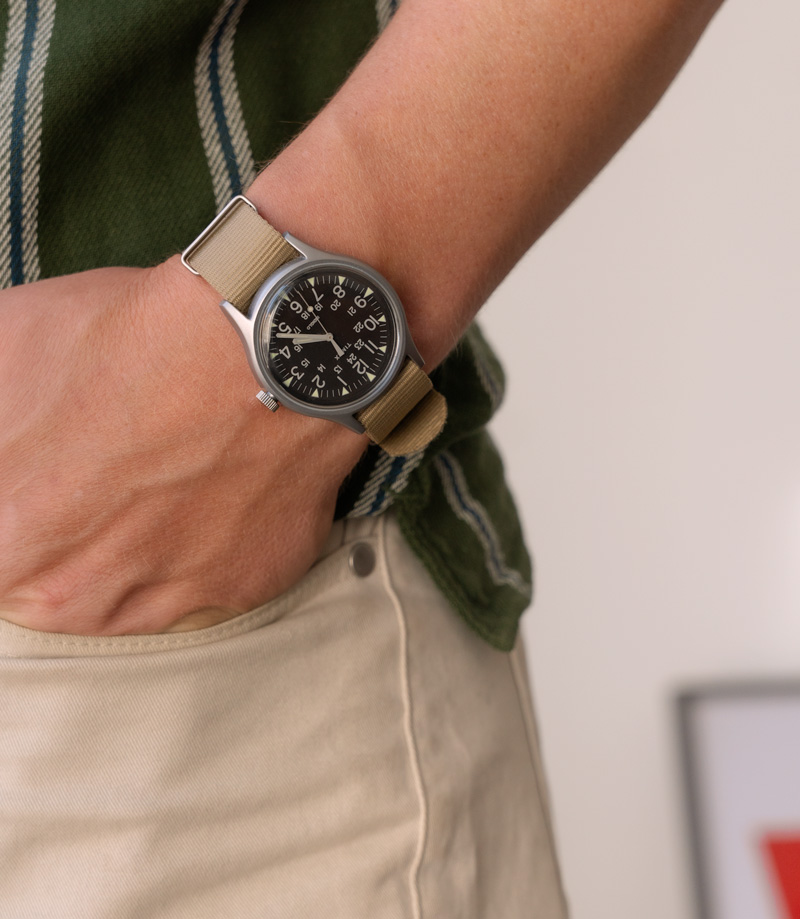 We have a field watch, a simple-faced watch with a NATO-style strap. My out-of-production Timex version that I got a few years ago was a bargain, similar to the Bertucci A1-R. The field watch has been a constant since Connery was ordering martinis shaken. The Bertucci brings to the table a 36 mm fiber-reinforced polycarbonate case and 50 M water resistance, and more — it's a solid wrist choice for under $100.
Miansai Mini Dove Necklace – A Little Something Extra
Miansai (similar)
I know, gold necklaces can feel a bit out there, but I was surprised how much they contributed to a summer outfit once I tried them. I like how this pendant necklace pairs perfectly with storied designs like the camp shirt and loafers. It's a subtle way to elevate your summer style.
Miabella Cuff
Amazon (similar)
On the same note, I like to throw on a sleek, simple bracelet. This one is similar to mine and made in Italy. It's gold, it's minimalist. It's there for no other reason than because you thought about it.
Florsheim Berkley Penny Loafer – Classic Meets Contemporary
The penny loafer has been a versatile staple since the early 20th century. In a rich burgundy hue it offers an intentional alternative to the boat shoe. It completes the outfit with a polished and relaxed vibe that perfectly encapsulates the smart casual aesthetic. It grounds this evening outfit in something a little dressier.
Alternative Footwear – Birkenstock Boston Mule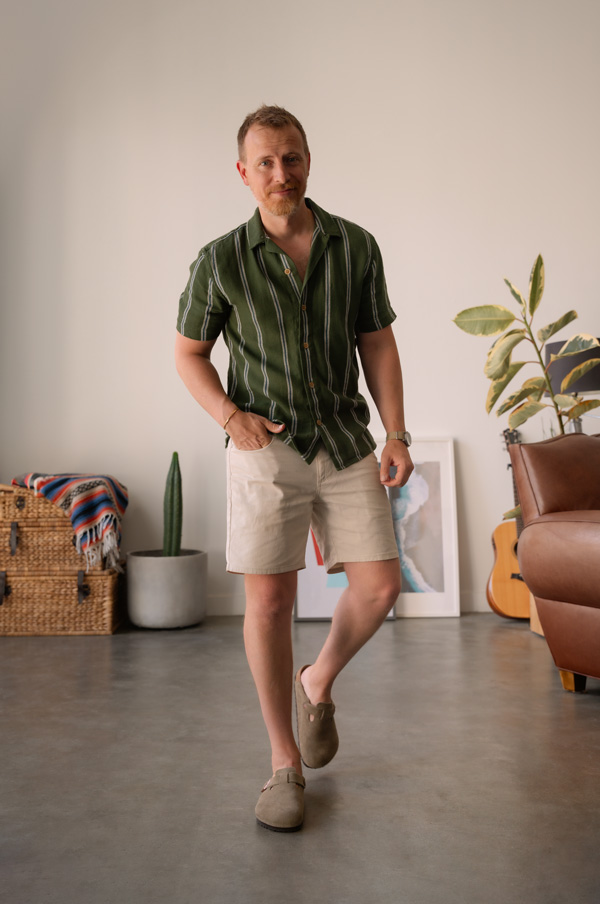 In case loafers aren't your thing, the Birkenstock Boston Mule offers a boho alternative that still fits within the color scheme and is a little more daytime.