Creating passive income streams in your life is a crucial way to increase your income. The average millionaire has seven different streams of income, after all. Why? Passive income gives you freedom and you can make money on autopilot.
The best thing you can do is have your money make you money. So even if you're on vacation, you don't have to lift a finger — and you're still earning. The best path to financial independence is by creating passive income streams. Heck, your passive income streams can get you closer to quitting your 9-5 too.
If you are up for learning new passive income ideas and passive income apps so that you can make money and build your wealth, then this is it. Ready to get started?
What is passive income?
Passive income involves putting the work upfront in order to get regular earnings from sources of income. Passive income is income resulting from cash flow received on a regular basis, requiring minimal to no effort by the recipient to maintain it. The best part? It's not that difficult to make passive income in the digital era.
And in this article, I'll walk you through the step-by-step process so that you can make passive income and show you the best passive income websites that you can use to try for yourself.
Passive Income Investments that Require Cash
This section involves investing your money to create passive income streams. These generally involve stocks and other alternative ways to invest money.
1. Dividend stocks
It's been said that the average millionaire has seven streams of income. Dividend stocks are usually always in the mix. Dividend stocks are similar to regular shares of stock, but they pay you a small portion of the companies earnings monthly or quarterly.
So it's wise to build a portfolio of dividend-paying stocks that will give you passive income, or give you passive income while you're sleeping. If you ready to get knowledgeable about dividend investing, check out Robinhood.
Robinhood is a free investing app for your phone. I really mean free all around – free to join and they don't charge any fees to buy or sell stock. You can get a share of stock like Apple, Ford, or Sprint for free when you join through this link. You can buy dividend stocks with Robinhood and get a paycheck quarterly or monthly.
Be sure to track your dividend payments by using a dividend tracker no matter what brokerage you end up using.
2. Real estate investing apps
Wouldn't it be great if you could invest in commercial real estate and apartments without dealing with all the hassle of buying, improving, and re-selling real estate? You don't have to be a millionaire to invest in these types of properties. You can now invest in large-scale real estate for as little as $10 with Fundrise.
Through their real estate investment products, investors earned an average of 8 – 11 percent on their money last year, and all without painting a wall or dealing with unruly tenants. There is a reason why they currently have over 200,000+ users, this app really pays you.
It's recommended to learn about your options and research other real estate investing apps, in case you are interested in getting passive income through real estate investing.
It's really that simple. These companies can be found on main stock exchanges and invested in that way or brokers can help investors find REIT mutual funds or ETFs too. You can get access to real estate investments by using apps like Fundrise that let you invest in REITs and can get started with only $10.
Best for REITs

Fundrise

5.0
Fundrise is a very easy-to-use app that allows individuals to access crowd-funded real estate investing. This option is best for users who want to make money consistently and let their money make them money.
Real estate investing not your thing? Other smart ways to invest include:
Acorns: Open a new Acorns account and earn a $20 credit. It's that simple. You'll receive the sign-up bonus credit after completing your account registration and setting up recurring investing.
Yieldstreet: Yieldstreet is a very easy-to-use app that allows individuals to access alternative investments to build passive income. This option is best for users who want to make money consistently and let their money make them money.
Masterworks: You own shares of Apple, Amazon, and Tesla. Why not Banksy or Andy Warhol? Their works' value doesn't rise and fall with the stock market. And they're a lot cooler than Jeff Bezos.
3. Index funds
Index funds are mutual funds that are tied to a certain market index. These types of funds mirror the ups and downs of the index they track. They are generally a cheaper alternative for investors who want lower management costs and lower turnover rates. It's a great tax-efficient vehicle than other investments.
One of the best online brokers that'll help you invest in index funds is SoFi Invest. It's easy for beginners, it's fee-free, and it's a bright idea. Typically, fees are frustrating and they can keep people from investing. This brokerage charges $0 in transaction and management fees. So there's no reason not to start investing in index funds to build a passive income investment.
Become an investor— without commission fees. You can make your first trade or your next trade with active investing. Learn the market as you do-it-yourself and even get access to hot IPO's before they are sold to the public.
Even if you don't have a bunch of money to start investing — you can get started with stock bits on SoFi. Stock bits are fractional shares that let you buy a part of a stock from your favorite companies. That means you can invest as much or as little as you want, starting at $1. You don't have to be a pro to invest like one, so get trading.
Get $25 bonus

SoFi Invest

4.8
SoFi Invest is one of the best investment apps, especially for beginners in the US. It offers an intuitive trading experience, active or automated investing, and options like cryptocurrencies. SoFi Invest offers a variety of investment options, including stocks, bonds, fractional shares, ETFs, options, IPOs, crypto trading, retirement accounts, and robo-advising. 
4. Retirement accounts
We do not all need 1 million dollars to be happy and isn't this the ultimate goal, to be happy? At some point, your savings will be enough to support your basic expenses many options will come to you.
Let's say you live a nice middle-class lifestyle with a few frugal tricks here and there and you are able to live off $40,000 per year. The traditional amount to safely retire off your investments, according to the Trinity study, would be $1,000,000 invested in a 75% stocks and 25% bonds portfolio.
Even going back a century and testing your portfolio with the Monte Carlo simulation offered in Empower's retirement tool will give you a high rate of success with such a nest egg. However, you might not want to work that long and would prefer to stop before the million.
Whatever your number is — you need to make sure that your retirement accounts are invested in the right assets for the long term. You can earn better passive income returns by optimizing your retirement plan, for free by using retirement planning tools.

Empower

5.0
Take control of your finances with Empower's personal finance tools. Get access to wealth management services and free financial management tools.
5. Money saving apps
Managing personal finances is a painstaking task, but that doesn't mean you shouldn't pay attention to budgeting. Managing your money is the best thing you can do for yourself in today's unpredictable economy. And, there are several money-saving apps that can help you achieve your goal.
One app that will help you save hundreds of dollars is Rocket Money, according to Forbes.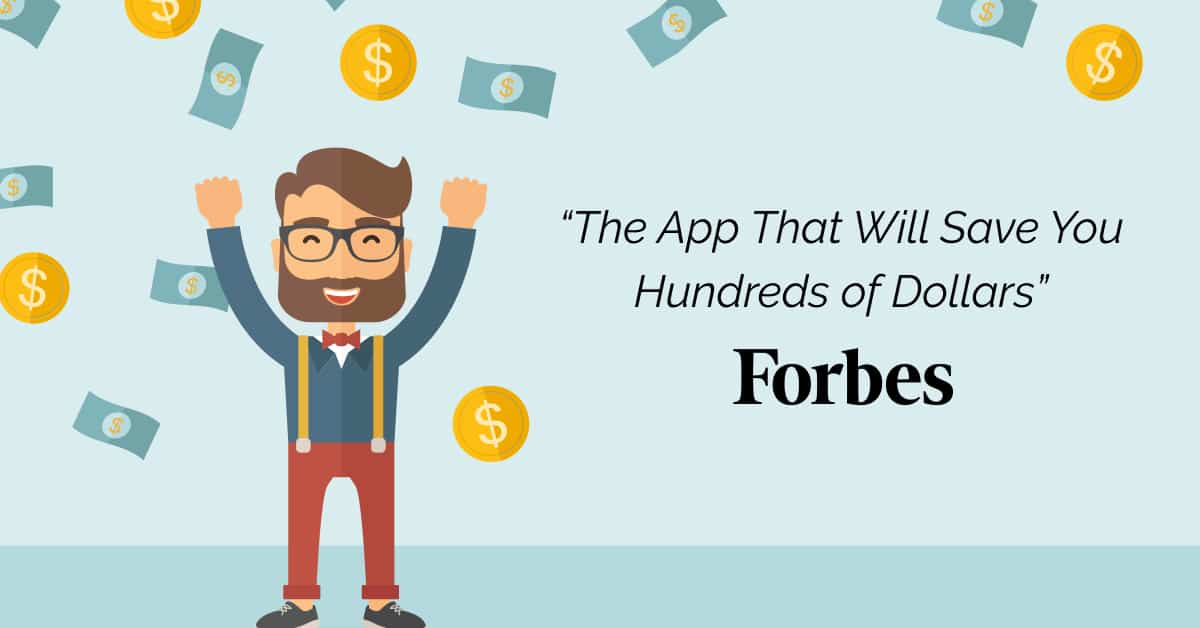 Rocket Money is a real, much better and desirable alternative to all the other money saving apps on the market. With Rocket Money, they have saved over $15M for its users on their bills (think cable or cell phone bills) and canceling forgotten subscriptions.
Have a cable bill that has been increasing over the years? You can now simply download a free app, and they will negotiate it down for you. Rocket Money will help you take control of your money, users have saved over $15M to date, and all without being a financial expert or dealing with staying on top of your bills, which can be a full-time job.
There is a reason why they currently have over 50,000+ users, this app really gets you back free money. If you're interested, I recommend you sign up for more information from Rocket Money by clicking here.
Our Pick

Rocket Money

4.5
Navigating your finances can be challenging. Why tackle it solo? A staggering 80% of individuals have discovered savings by utilizing Rocket Money to identify and eliminate unnecessary subscriptions. More than just subscription management, Rocket Money equips you with the tools to maximize savings, minimize spending, gain a comprehensive view of your finances, and reclaim mastery over your financial well-being.
6. Digital currency
Bitcoin has been in the news a lot recently, as El Salvador becomes the first country to approve Bitcoin as legal tender. My personal opinion is that more countries will follow and at some point, Bitcoin surpasses $100k.
Investing in digital currency is not new, and this passive income idea is one that a lot of people have already done. In fact, I was in my Uber the other day and my driver was talking about Bitcoin. He told me he deposited $50 into Coinbase and it's now at $150 in a few weeks. That's a 33% return!
If you wanted to try something this volatile, it's at your own risk but only put up money your willing to lose. The risk is high, but the reward is high too. But there is a chance to literally make double your money while you sleep as the markets are 24/7.
If you wanted to get in on the action, you can do it with Coinbase. If you sign up through this link you can earn up to $28 in free crypto with Coinbase Earn.
Passive Income Ideas with Your Assets
This section has everything you need to know about ways to create passive income with stuff you already own so you can earn money from home. The best part?
You won't need to invest any money or much time to start making passive income. Where are you reading this post? If it's from the couch or kitchen table in your home, take a look around you. You might be surrounded by money-making assets without even realizing it.
Well, you can take a good look at your possessions and see if you can use any of them to make passive income. Chances are, you have a lot of the assets on this list. And in this section, I'll walk you through the step-by-step process to start making residual passive income.
7. Rent out a spare room
Airbnb has gained massive popularity worldwide for its comfortable and affordable alternative to hotels. You can be an Airbnb host if you have an empty room or leave your home for an extended period of time.
Hosts have complete control over pricing, availability, and the way you interact with guests. You can make $1,000+ fast each month, and you get to keep 97% of the earnings.
8. Sports equipment
Do you have a bike you don't use every day, skis that aren't always hitting the slopes, or a surfboard collecting dust? Your sports equipment could be collecting cash, not dust. You can rent any of those items out on Spinlister.
The site is popular with travelers from out of town or people who aren't quite ready to purchase their own equipment. Listers are covered by damage and theft protection and Spinlister only takes a 17..5% fee when an item is rented.
9. Power tools
Don't have a bike? You can rent out almost anything on Zilok. Their categories include auto, tools, parts, electronics, leisure, luxury, at home, and vacation. Signing up is free, and as an owner, you get to choose your desired payment method.
The website just takes 5-10% of each transaction. Go through your home and see what you have that people might want to borrow!
10. Deliver food
If you're free on nights and weekends, you can earn passive income delivering food for fellow citizens around your city. It's easy to deliver food with DoorDash or Instacart – if you have a car, it's a perfect way to make a good amount of extra cash whenever it's convenient for you.
A lot of people do this full time, so you can imagine that's it definitely possible to do this on the side and make extra money by delivering food with food delivery apps, and be on your own schedule. Or you can check other gig economy jobs if delivering food is not your cup of tea.
These gig economy apps can boost your income and are the fastest ways to start a legit side hustle:
11. Sell your photographs
Are you known for having the most aesthetically pleasing Instagram posts? Are pictures taking up the majority of the storage on your phone? Try selling your pictures for passive income with Foap.
Upload your pictures and any time someone decides to purchase one, Foap splits the money with you 50/50. To earn a little more money, you can enter one of the contests in Foap's "missions" and make $100+ if your photo is selected as the winner.
12. Wrap your car
You don't have to work for a company to advertise for them with your car. If you don't mind having your car wrapped in an ad, you can make a lot of money passively on Wrapify. Companies will pay anywhere from $400-$900 to put their company on your car. It's easy to get started on their website and is one of the best returns on this list.
13. Rent out your parking space
Parking can be stressful and expensive. AirGarage offers a solution. If you have an extra spot in your driveway, carport, or garage, you can rent it out to drivers looking for affordable parking, especially if you live near a college campus or popular venue.
Spot owners have the freedom to choose their prices and approve requests from drivers. Spots can range from $30-$70 passively a month depending on location and availability, and AirGarage only takes a small 3% processing fee.
14. Sell your used clothes
Sometimes lugging your old clothes to the local thrift store seems like a lot of work, and uploading individual pictures of each article of clothing to consignment sites seems even worse. thredUp is the easiest way to sell old clothes.
They'll send you a free "clean out kit," take photos of your clothes and sell them for you. Anything they decide not to sell gets recycled, and you get a portion of the earnings.
15. Sell DVDs
My parents have hundreds of DVDs and CDs at home, and I've realized we almost never use them anymore. With music and video streaming adding new content every day, CDs and DVDs have become outdated and take up a lot of space. You can look to sell used DVDs with Decluttr who will buy DVDs, CDs, Blue-rays, books, and even old technology like cell phones, laptops and game consoles. Plus, you get paid the day after your stuff is sold!
16. List your car
Did you know that you can rent out your car when you're not using it? And that this could be a very lucrative way to bring in extra cash in your wallet. Do you drive to work and just let your car sit in the parking lot for 8 hours? Do you plan on heading on a vacation soon while your car sits unused at your home?
If so, renting out your car while you're not using could be an easy way to make money with your car. If you don't feel up to driving but still have a car doing a whole lot of nothing in the driveway, then consider renting it out via Turo. Less work, same reward!
Turo lets you rent out your car for free. Listing your car is simple and takes less than 10 minutes. According to Turo review, they listed their car for 5 days every month and made $3,496 in a year. Sounds pretty good to me. Oh, and they also protect your car against physical damage, so you're fully covered. Sounds good? You can sign up here and start making money with your car.
17. Rent out your car
Let your car pay for itself passively!  Similar to Turo, Getaround lets you turn your car into a second paycheck with no driving necessary. You're paid monthly. Earn $10,000 per year actively sharing your parked car.
It's great and you can set up your own schedule. Listing your car is free and managing rentals is easy. You can choose how and when to rent your car or rent your motorcycle out. Rentals are managed through the app and smart car technology. Don't worry, every trip includes $1,000,000 insurance and 24/7 roadside assistance. Drivers are screened to ensure they have a safe driving record.
18. Sell on Amazon
This one is simple. Do you have old textbooks from college lying around? You should consider selling them on Amazon. In addition to textbooks, you can probably sell old books, DVDs, cell phones, or other electronics you may have lying around.
You would be surprised how much you can get for your unwanted items. Just list your items for sale and you'll start generating sales and making some passive income. If you love Amazon, I also recommend checking out our recent post on how to earn free Amazon gift cards.
19. Advertise on your car
This is some seriously passive income. Companies such as Carvertise will pay to put a wrap on your car, and then pay you to simply drive your regular routes with the advertisements on your car.
You can get the right to say "no" to a particular ad you're uncomfortable with the content of the ad. Most companies pay you between $100-$400 a month to advertise on your car. Not too bad.
20. Sell your textbooks
One of the most common college student struggles is spending hundreds of dollars on textbooks that you only use for a semester. If you're interested in selling old textbooks but don't know where to start, Slugbooks can help.
All you have to do is put in the ISBN number of your textbook and Slugbooks will compare how much various sellback sites will be willing to pay and send you quotes. You don't need to waste unnecessary time comparing websites!
Get Passive Income for Things You Already Do
Get passive income for the things you already do like exercising, paying bills, shopping and more.
21. Exercising
HealthyWage offers people the opportunity to earn cash for losing weight. Earn cash for losing weight? Sounds too good to be true, but Healthywage's mission is to help people lose weight by offering cash prizes to make weight loss more fun and effective.
You start by using the free calculator to find out how much you can win for hitting your weight loss goals. Once you determine your goal, you can sign up and start your HealthyWager.
If you hit your goal, you win the cash prize! Weight verification is done simply (from your own home!) through the HealthyWage app and payouts are handled quickly and efficiently through check or free Paypal money.

HealthyWage
HealthyWage is a program for people who want to start dieting in a way that is fun, competitive, and potentially rewarding. As a member, you and your friends, family, and coworkers can bet against yourselves and potentially walk away with hundreds or even thousands of dollars in your pocket.
22. Paying bills
Saving money should be easy. Automate it with Trim. Trim users saved over $1,000,000 in the last month. I love that you can get your savings results in less than a minute. I effortlessly linked my financial accounts and Trim went to work and I saved $200 easily.
It found ways to lower my bills and cancel subscriptions. It was able to save me some money. If you are at all interested in saving money, you should be using Trim.
Did I mention there's no fee for this? Because there's no fee for this!
23. Cash back on purchases
You'd be silly not to get cash-back for items you would have bought anyway. You can do this by shopping online with Rakuten. Rakuten is my favorite way to make money when I shop online and right now they are offering a $10 sign up bonus through this link.
Every time I shop online, I start at Rakuten and then I get cash back deposited into my PayPal account. Hello, free money!

Rakuten

5.0
Get cash back and coupons at 2,500+ stores. You can save up to 40% in just one tap.
24. Cash back on groceries
The app you should know about is Ibotta. This cell phone app actually gives you cash back on Alcohol. You heard me right, you can make money for the booze you buy at groceries and restaurants.
Ibotta is a fun rebate app that lets you get cash back on drink deals. It's available all over the country, and you'll get a $10 sign-up bonus after uploading your first receipt. Download the app and start a free account to browse drink deals in your area.
Got friends? Invite 3 friends and they'll credit you with $100.00. After that, get $10 for every person you refer. However, you do have to be 21 or older to take advantage of these deals!

Ibotta

4.5
Ibotta pays you cash back for shopping at over 500,000 retailers, which you have to do every month. So why not get paid for it? Get started saving today.
Passive Income Ideas that Require Time & Effort Investment
These passive income ideas will require time and investment.
25. Blogging
I've tried over 100+ creative side hustles to make money and found that blogging is #1 in making passive income.
It's very rewarding to share my passion (personal finance) with my readers, but I also rake in thousands of dollars a month from it — and it's so easy to do!
I put everything I learned in the past 8 years of blogging and experience from running 4 different profitable blogs in an easy-to-digest 7-day FREE email blogging course. Don't worry it's totally free, I just wanted to share my experience on how to start a blog.
If you would like additional information about setting up a profitable blog as well as making money from it (in the first 30 days), I recommend that you sign up for my free blogging e-course below.
Though slow-paced and demanding, the growth potential for a blog is immense, making it a viable long-term side hustle option.
To get started: Bluehost is $2.95/month and that's all it takes to start a blog.
Earn around $1,000 for every 30,000 page visits

BlueHost
You can start a blog for as cheap as $2.95 per month when you choose to host your blog on Bluehost which is the best web hosting provider if you want to start a self-hosted WordPress blog or site. Bluehost is one of the few web hosting companies recommended by WordPress.org to host self-hosted WordPress blogs.
26. Get paid for your data
By using the internet as you do every day, Nielsen invites you to make a difference – and you can make money too. I downloaded this app and make around $50-100 passively… it's a legit app. You don't really have to do anything other than initially registering your computer or phone.
This company will pay you $50 a year to keep their app on your favorite internet browsing device and they also give away $10,000 each month. So you can possibly make more than $100. Sign up through here for a registration bonus.
Get $50 for installing app

Nielsen Mobile Panel

5.0
This company will pay you $50 a year to keep their app on your favorite internet browsing device and they also give away $10,000 each month. You don't have to do anything other than initially registering your computer or phone.
27. Online surveys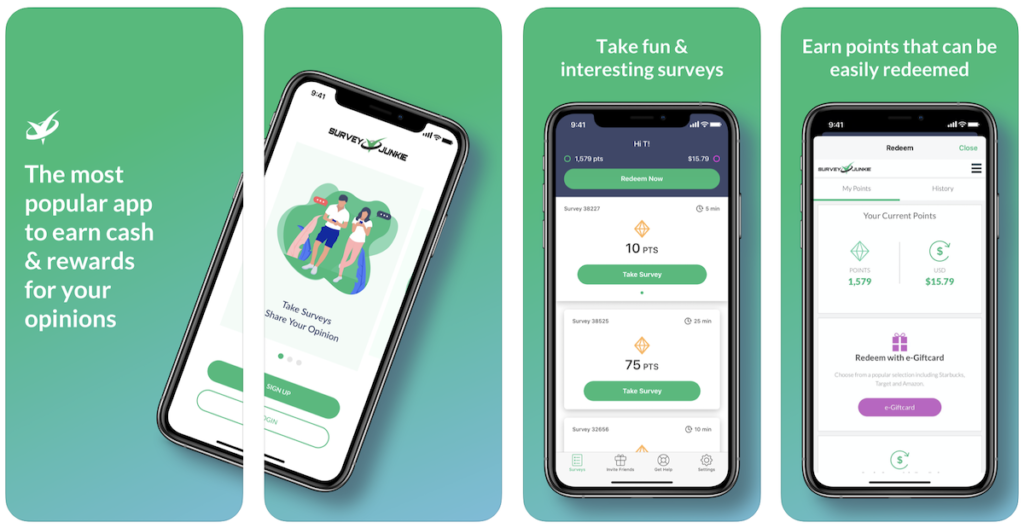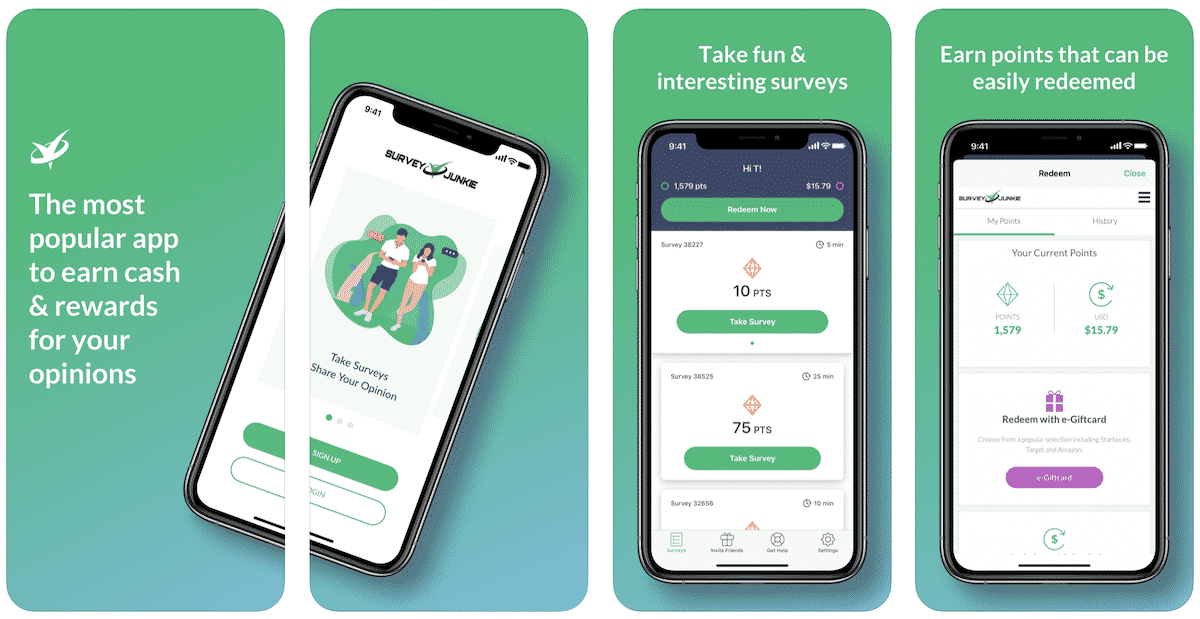 Yes, you do get paid to give your opinion! Taking online surveys to make extra money is a no-brainer.
You definitely won't get rich or make hundreds of dollars per day with surveys alone, but you won't waste much time, and you can make some money the easy way.
There are quite a lot of survey sites out there. Survey Junkie just happens to be one of the more reputable ones that is legit.
$1.6M+ monthly payout to its members

Survey Junkie

4.5

Over $55,000 Paid to Survey Junkie members daily
Survey Junkie is one of the highest-paying survey sites available. Complete three or more surveys a day, and you can earn as much as $100 monthly. With $76 Million paid out to date, Survey Junkie is one of the best survey sites available.
As always, be wary of handing out your information to random survey sites. I recommend using an entirely separate email address for online paid survey sites so you don't clutter your inbox.
28. Teach online
Still wondering, how to make passive income? Well, have you considered teaching English online (pick your own hours too)? All that is required is that you are fluent in English, have a bachelor's degree, and have some tutoring experience. This a great way to earn money from home and already 30,000+ use VIPKID to teach English from home.
You'll make $12-$22 an hour, and Forbes ranked this company #1 on it's 2017 "Top 100 Places Work From Home Companies" Since this is a legitimate way to make extra money, the application process pretty detailed.
With an opportunity to make $650 a month, just from one hour out of your day, may be worth looking at it. You can learn more about teaching English online on VIPKID's website.
29. Credit Karma
This can definitely lead to more passive income. By checking your credit score and working to fix any discrepancies or building it higher you can pay less in interest, which will increase your net worth.
If you don't know your credit score, you can use free services that Credit Karma that gives you your score for free. You can find out your score in under a minute!
30. Passive income apps
You're not going to get rich by downloading mobile apps that pay you, but you can use these to earn a passive income every month and even make $200 fast.
Passive income apps can be a simple way to pad your bank account in your free time. Companies have massive marketing campaigns and are trying to promote their app. By downloading these apps you pocket easy money.
Might as well click a few buttons on your phone, sign up for a few newsletters or download some apps and make some money while you're at it. If you wanted to give passive income apps a shot, I have you covered with my list of best sign up freebies.
31. Shopify store
Oberlo allows you to easily import products from AliExpress directly into your Shopify store and ship directly to your customers – in only a few clicks. It's very simple to open a shop on Shopify and drop ship items in order to create a business without too much risk.
You can literally start and set up a drop shipping business without any type of product in one afternoon with minimal risk as Shopify has a 14-day free trial and Oberlo is completely free through this link.
32. Cash back on gas
Upside saves you money on things you need – like gas & groceries – and restaurants you love. Getting paid for getting gas sounds like a dream. But this free cash back app for gas is saving users an average of $124 in a year. There is no minimum for cash outs, but a $1 fee will be made on withdrawals under $15.
How does it work? To score the best gas prices, grocery prices, and restaurant offers with Upside, all you need is your phone and your receipt. There's no limit on how much you can earn, and you can even use it with other coupons, discounts, and loyalty programs!
Claim your offer for the best gas price, restaurant or grocery offer
Snap a photo of your receipt or receipts
Profit! Earn cash back, and cash out whenever you want via PayPal, gift card or check. A truly passive income app, if you ever needed one.

Upside
Are you always looking for cheap gas in your neighborhood — but end up going to the same place every time? You can find gas stations and other participating businesses near you that offer cash back with Upside.
33. Refinancing student loans
Refinance your student loans, like now. Sometimes you can make extra money just by finding new ways to save. A big one that many people fail to remember is that you can save around $300/month just by refinancing your student loan debt.
Interested in refinancing your student loans right now?
Below are the top lenders (get estimated savings in under 2 minutes):
Description:

$300 bonus
Get your rate in 60 seconds
Instant credit decision
No fees to apply

Description:

Easy online application
0.25% APR discount with autopay
No hard credit pull required

Description:

Customized loan terms
Instant interest rate estimate
Incomplete degrees are accepted
34. Freelancing
Fiverr is one of the best sites in the world. The basic premise is "what would you do for $5?" You'll find everything from hilariously weird and useless gags to legitimate and genuinely helpful micro-business tasks.
Fiverr can work for you as both a seller and a buyer. It is a great way to make money and also you can find millions of services. If you want to try Fiverr, sign up through here for 20% off your first order at Fiverr.
35. Declutter
Do you have an old phone lying around? I know most of my friends and family do. They don't really care to try and sell them or are too busy. Not me, I usually upgrade my phone once every two years and sell my old one online. I try not to wait too long after upgrading to sell the old phone because as each year passes, the fair market value of the phone, are losing value.
They lose value and can be sold for less as the technology becomes obsolete. Your best bet is to sell it immediately. You can try listing them on eBay or Craigslist, but this can prove to be quite the hassle. You can easily sell it on Decluttr for cash. This is the easiest way to sell it quickly. If you'd like to get an extra 3% bonus on your trade-in, use my Decluttr 3% bonus link by clicking here.
36. Open class action lawsuits
If you use a product that's involved in a class-action lawsuit, a little online legwork could get you a cash payout. The rules of each settlement are different, but in most cases, you'll have to provide proof of purchase or product use, like a serial number or a receipt. Once you fill out your online claim form, you may have to wait a few weeks or months before receiving your payment.
36. High-yield savings accounts
If you're looking to make money on autopilot, a high yield savings account can be a valuable option. Start by researching reputable banks or financial institutions that offer high interest rates on their savings accounts. Look for rates as high as 5% or more, as these can significantly boost your earnings.
Compare different options, taking into account any fees or minimum balance requirements they may have. Once you've selected a suitable account, open it by following the bank's account opening process.
This typically involves providing personal information and funding the account with an initial deposit. Make sure to read and understand the terms and conditions of the account, including any limitations or withdrawal restrictions.
Enjoy Your Passive Income
There you have it. If you've finished the list of best passive income ideas, you should have found a passive income idea that makes sense for you.
Because I get it, making money isn't easy but this list takes some of the load off and should have helped you find some good side business ideas.
Feel free to take the weekend off.