One incredibly valuable lesson you can teach your kids is how to think about money and make smart financial choices.
But your kid doesn't have to store their cash in a piggy bank to learn how to save and spend money anymore. In fact, opening a bank account and debit card for your kid is one of the simplest ways to encourage saving and teach the importance of personal finance.
Continue reading to learn more.
Best Debit Card for Kids
So, if you're looking for the best debit card for kids, you're in luck. There are plenty of companies that have kid-friendly debit cards or cards designed specifically for minors:
When picking your kid's first banking account and choosing the best debit card for kids, important factors to consider include:
Age requirements
Fees
Minimum balance requirements
Perks like free ATM withdrawals or earning interest
Spending limits
Real-time notifications
Security features like EMV chips or multi-factor authentication
Think about the factors that are most relevant to your child's financial situation when making your pick. 
You don't have to spend a fortune, or anything at all, for your kid to have access to their own debit card. But make sure you're picking a debit card that has the features you and your kid need.
Greenlight is one of the most popular debit cards for kids and teens and has over four million parents and kids on the platform.
With a Greenlight debit card, kids and parents share one account. On the parental side, parents set flexible spending controls and receive real-time spending notifications. For kids, Greenlight lets users set savings goals, check their balance, and track spending.
There isn't an age requirement or minimum account balance. Kids also earn 1% cash back if they move money to general savings or part of a savings goal.
Greenlight has three plans (Greenlight, Greenlight + Invest, Greenlight Max) and your first month is also free. The basic Greenlight debit card account costs $4.99 per month for up to five kids. You can also pay $7.98 per month for a Greenlight + Invest account or $9.98 per month for Greenlight Max.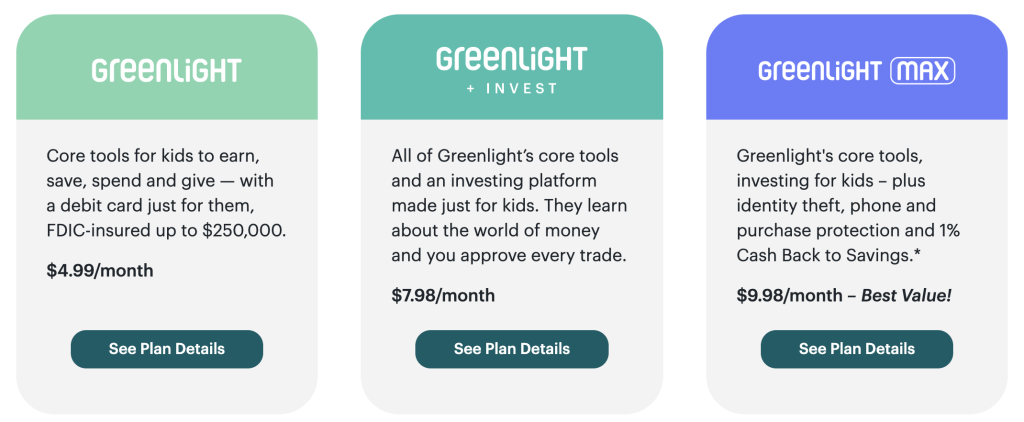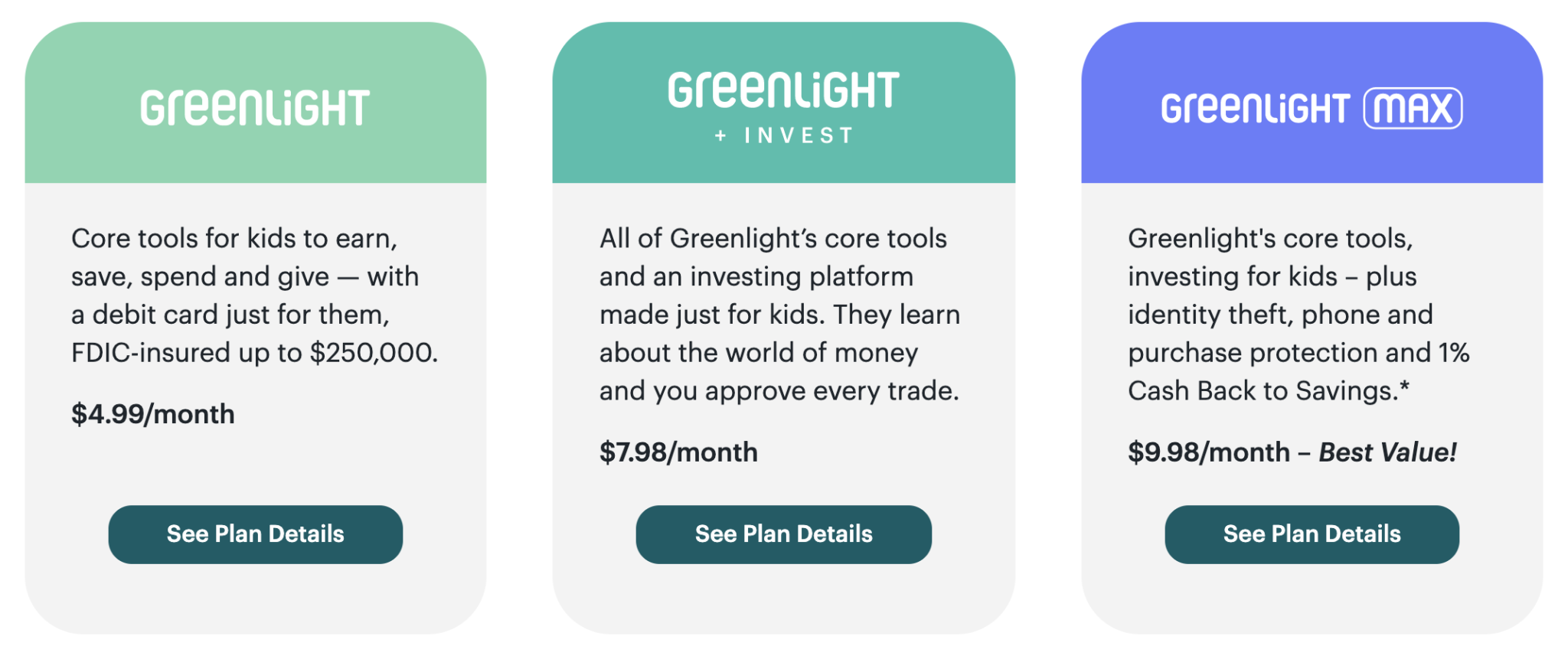 These plans unlock perks like higher interest rates and investing, but you can stick with a basic plan for your kid to learn the basics of money management. You can see the pricing page here.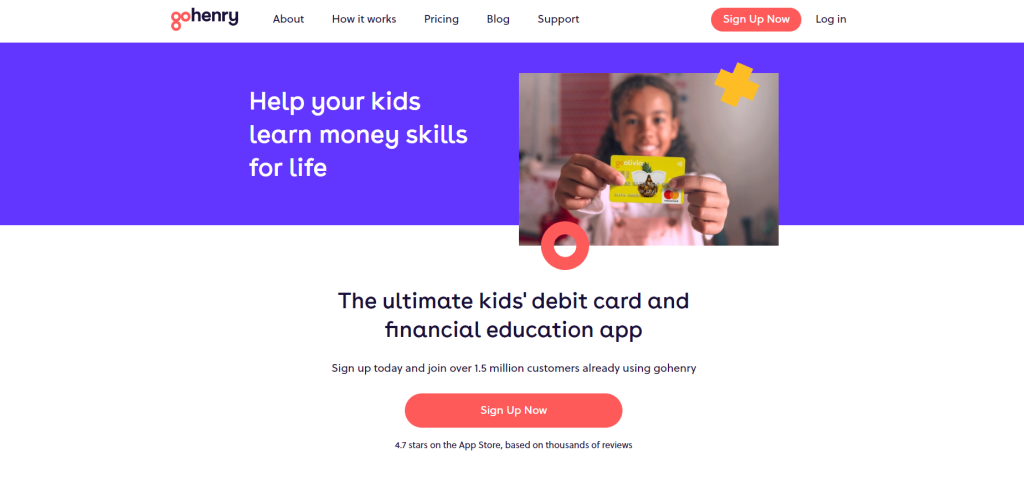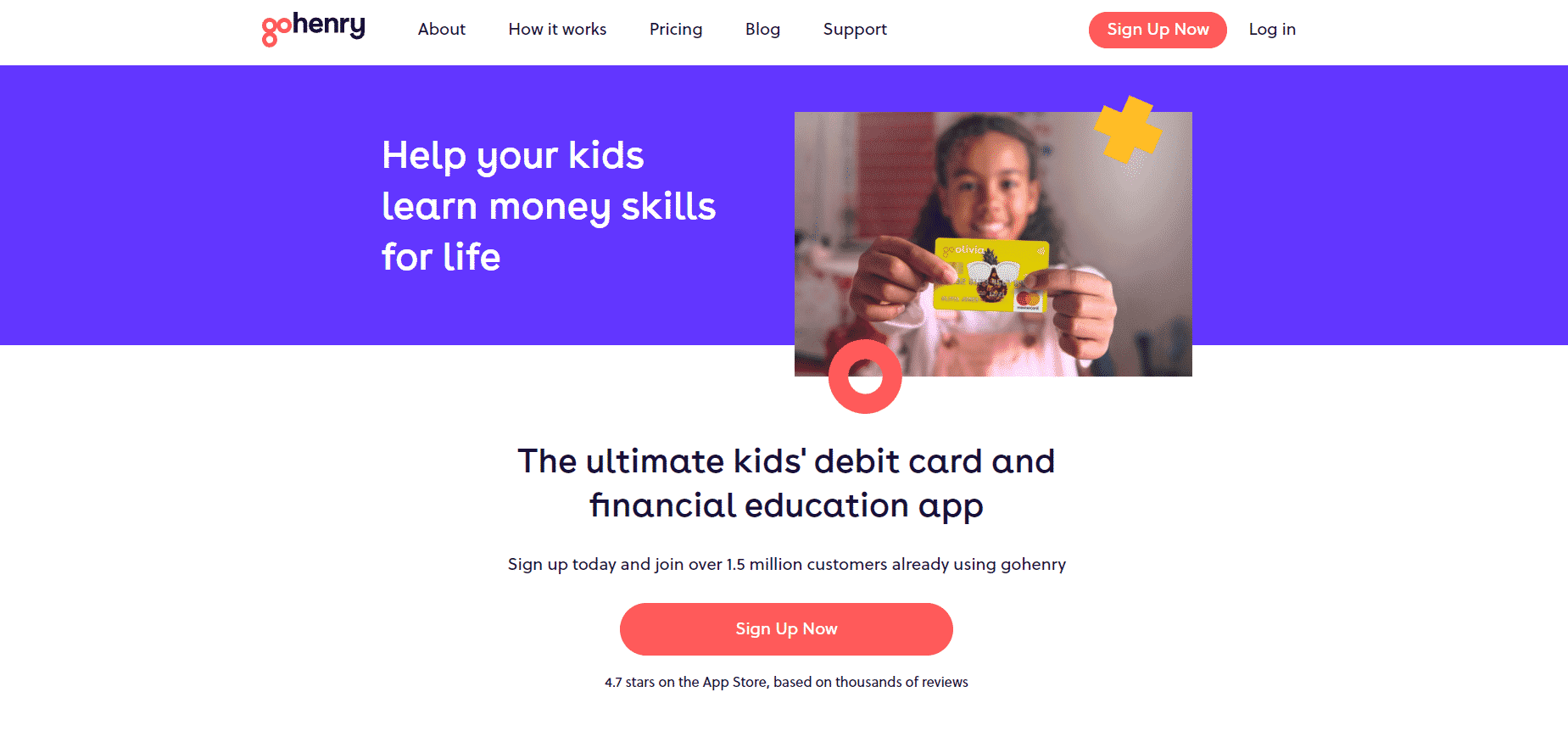 With 1.5 million members, GoHenry is another popular debit card for kids ages 6 to 18 years old. With the GoHenry debit card, parents transfer money into their kids' accounts, so everything functions like a prepaid debit card.
Parents can set up recurring allowance transfers, send one-time payments, and create chore lists and automatically send money once chores are done. Parents can also set single and weekly spending limits, receive real-time spending alerts, and choose where the GoHenry card can and can't be used.
If you want more insight and control over your kid's spending, GoHenry has you covered and can help instill good financial habits. As such, it is a good debit card for kids since kids can create savings goals and track their progress towards them.
Your first month is free, and GoHenry costs $4.99 per month per child afterward. You can also get the family plan which is $9.98 per month, for up to 4 children.
The parental control side of the platform supports up to four kids. Kids can't go into overdraft and there aren't any fees or minimum balance requirements. The only fee is a $1.50 ATM withdrawal fee.
Overall, our GoHenry review found it to be a slightly cheaper alternative to Greenlight which also has in-depth parental controls.
3. Chase First Banking℠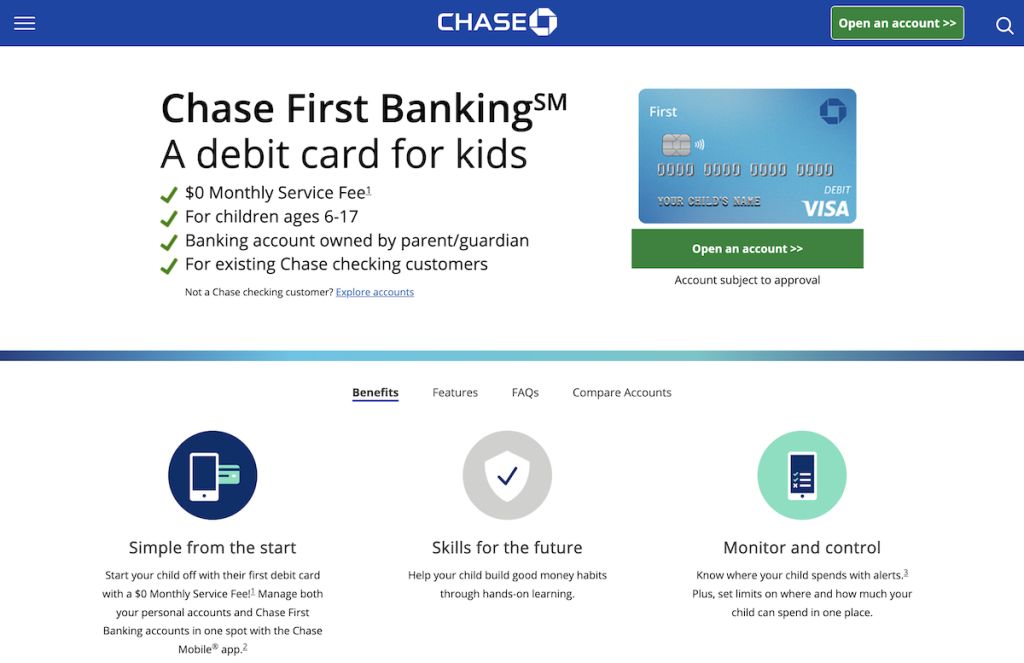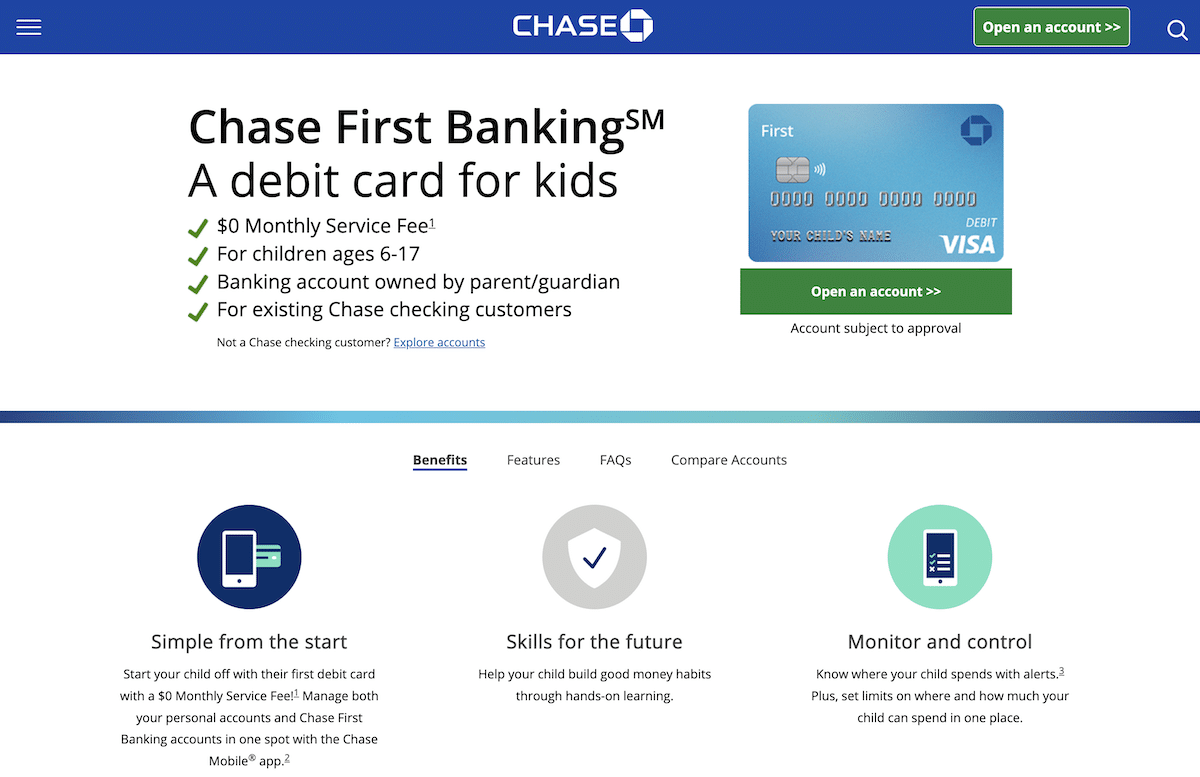 Chase First Banking℠ is unique for its one-of-a-kind checking account for kids that includes chores and allowance functions, as well as the opportunity to open an account as young as 6 years old.
Exclusively for Chase checking customers, this bank account and debit card gives you control over how much your kids can spend, and gives them the opportunity to learn the fundamentals of saving, spending and even earning. And there are no monthly service fees or no fees at 16,000 Chase ATMs. 
Not a Chase checking customer? You'll first need to have a qualifying Chase checking account before you can add a Chase First Banking℠ account. You can explore the latest Chase promotions here to see available sign-up offers.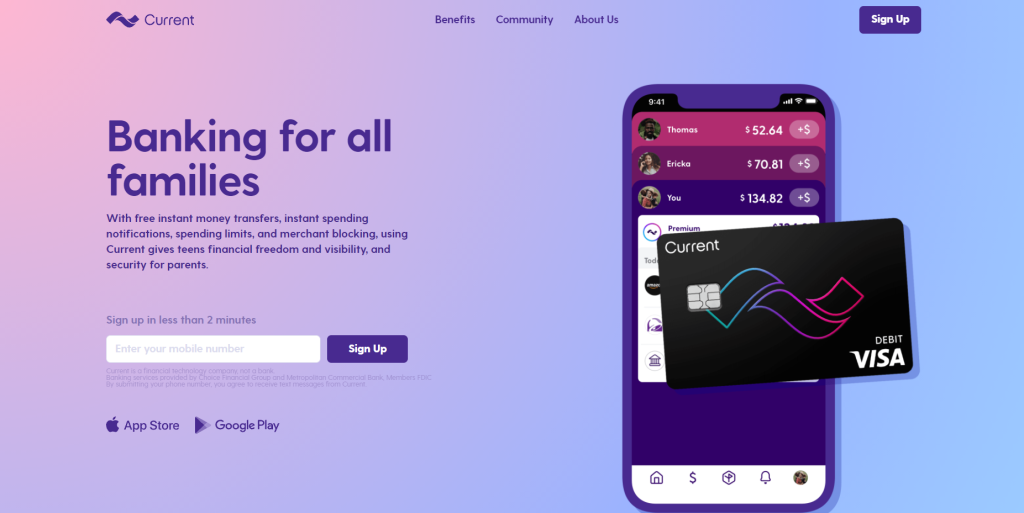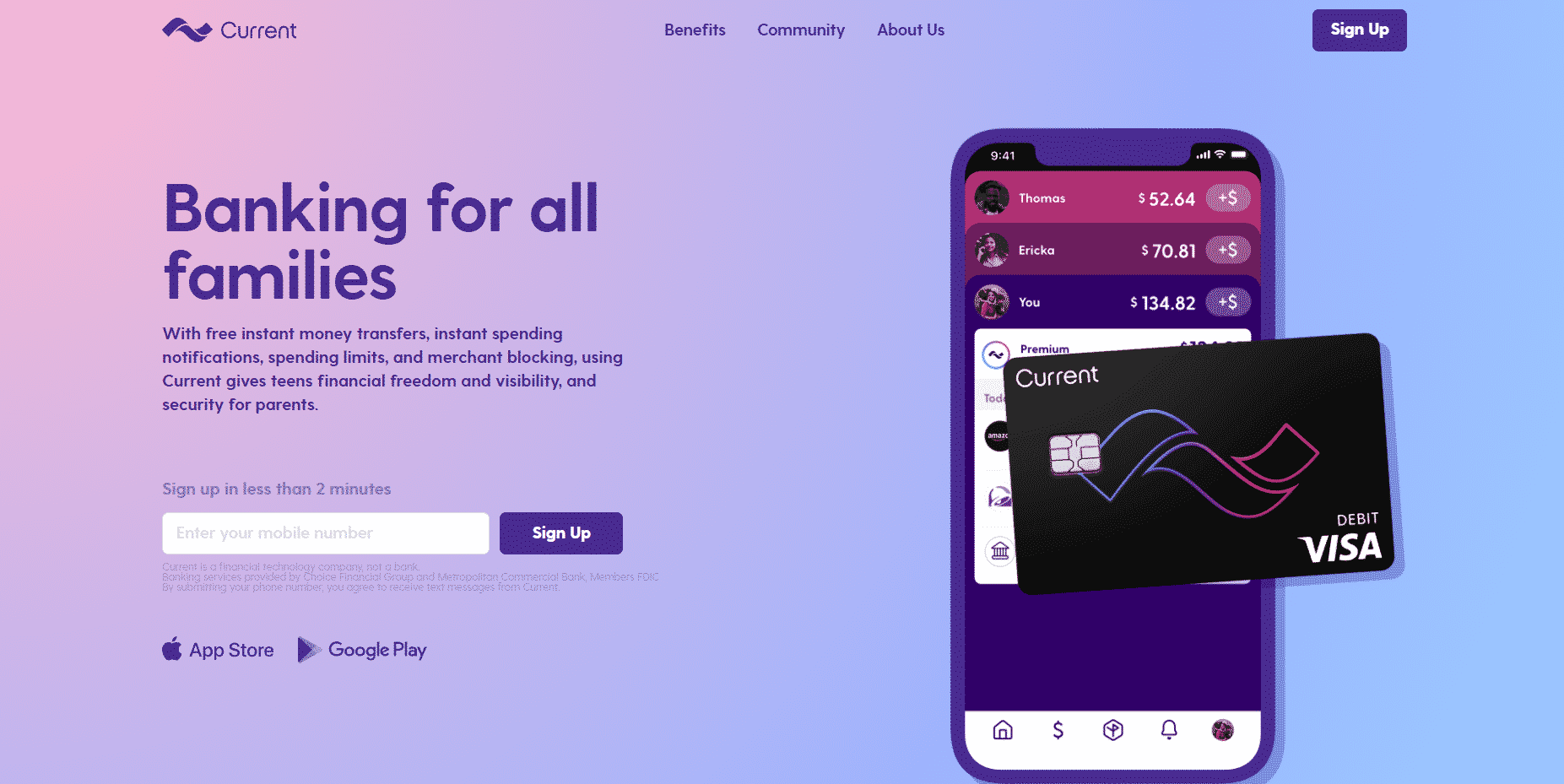 If you want a comprehensive debit card for kids and teens that offers a range of parental control and saving goals for kids, the Current debit card for teens is worth considering.
Like other leading cards, Current lets parents send one-time transfers, set up allowance payments, and create a chore list so kids work for their money. Parents also get instant spending notifications and can create spending limits or block certain merchants.
For teens, Current helps teach financial management by letting cardholders create a budget. Teens also create savings goals and can save automatically by rounding up spare change after making a purchase.
Current doesn't have a minimum balance requirement. There aren't transfer or overdraft fees either. The account costs $36 per teen per year, which is $3 per month.
While Current markets the card for teens, you can open an account as long as the primary account holder is 18 or older, so younger kids can try out the Current debit card to learn how to save and spend wisely.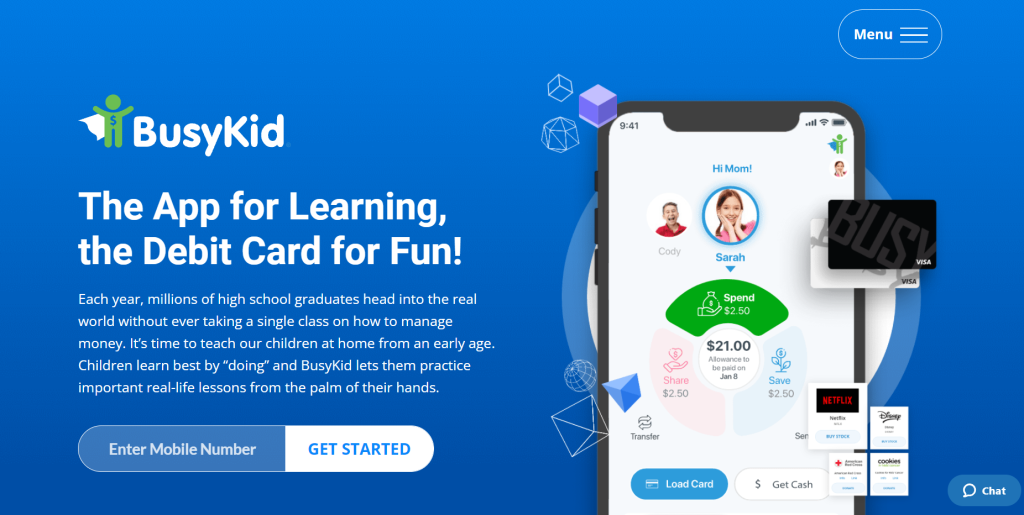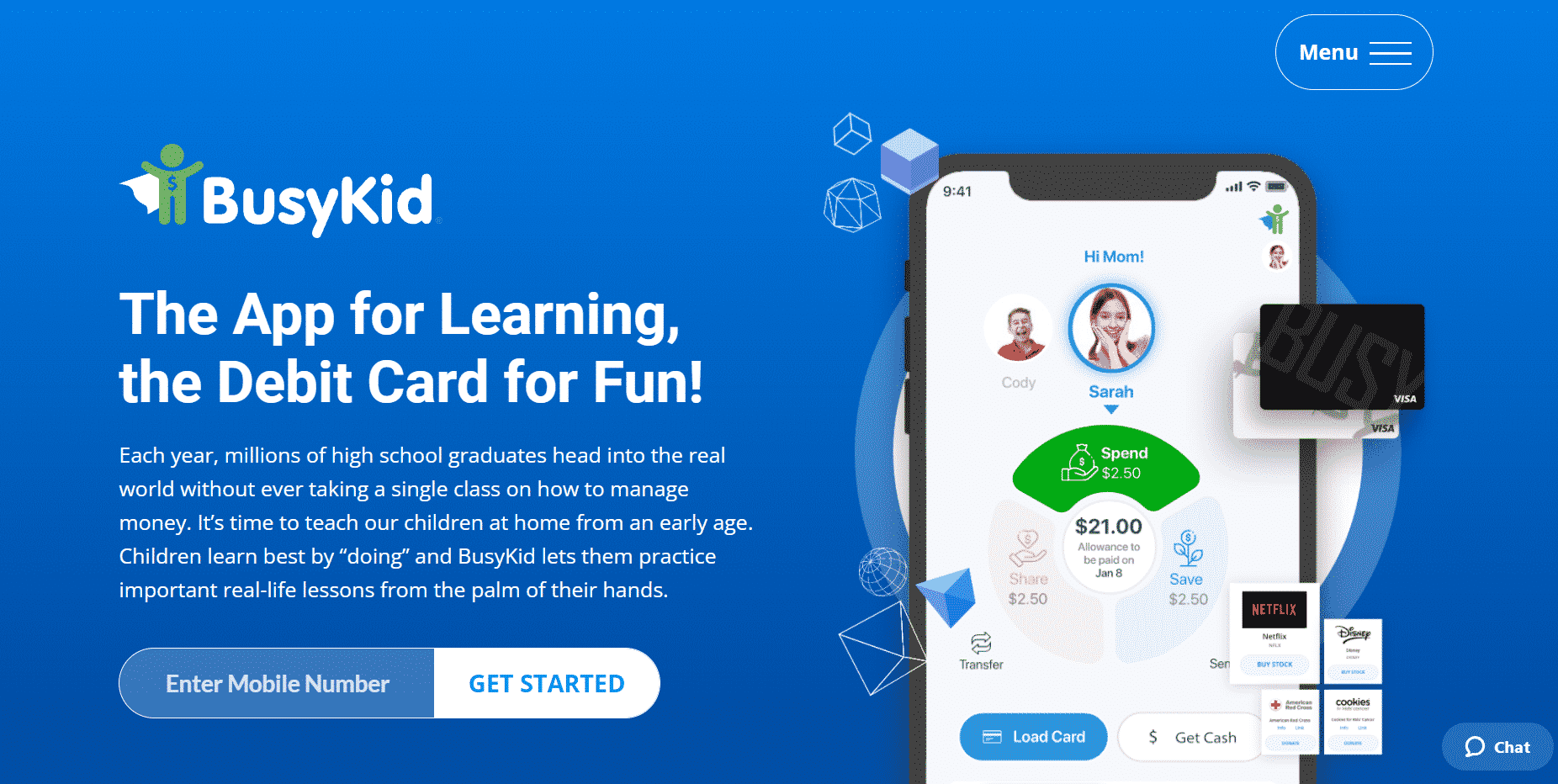 On the surface, BusyKid looks like a simple app that lets parents pay their kids for completing chores or a weekly allowance. And, while these are two main reasons to try this debit card for kids, BusyKid offers much more.
With BusyKid, a portion of the money you pay your kid gets automatically put into savings every week. Parents can also lock spending or set certain saving requirements to ensure kids are saving enough money. From there, kids spend their money with their BusyKid Visa Prepaid Spend card. This card can be used at ATMs and with Google Pay and Apple Pay.
Additionally, BusyKid lets kids donate to various charities or invest in stocks with as little as $10. Kids don't pay fees on trades either, so it's the perfect way for kids to learn the basics of investing. As a parent, you can also set up controls so you have to approve investing, donation, and saving changes.
BusyKid costs $3.99 per month or $38.99 per year, which includes up to 5 BusyKid Prepaid Visa Spend Cards and no fees on stock transactions. This makes BusyKid one of the cheaper debit cards for kids, and the fact your kid can invest without paying commissions is a unique feature worth noting.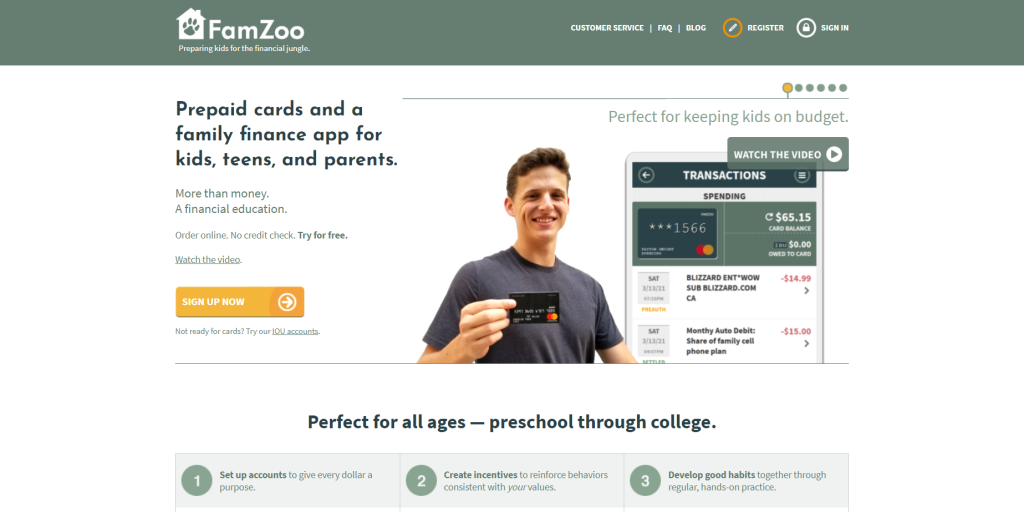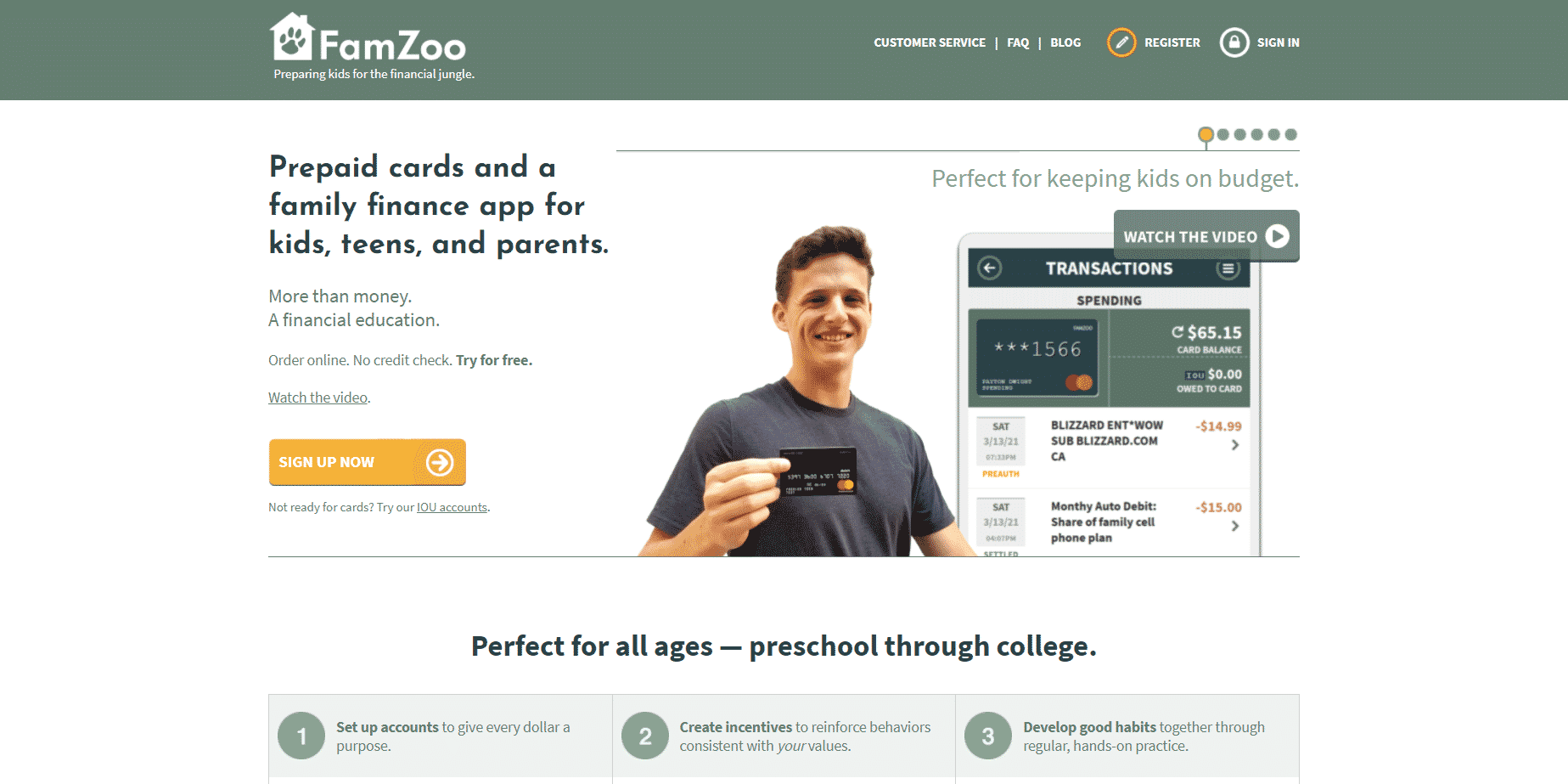 FamZoo aims to "prepare kids for the financial jungle," and its prepaid card certainly helps accomplish this goal and it's easy to sign up through here and get a free trial.
From there, parents can open a prepaid FamZoo card for kids of any age as there is no minimum age limit. It's simple for parents to set up allowance transfers or quickly approve money requests from their kid. Parents can also send split payments to multiple accounts which is useful if you want to pay several of your kids at once.
FamZoo also has numerous parental controls, including payment notifications, card locking, and spending limits. Furthermore, you can create save, spend, or give accounts and create savings goals for each account type. This helps teach your kid how to budget and allocate money for different purposes.
FamZoo doesn't pay interest, but parents can create automatic interest payments to teach the power of compounding. Additionally, you can create family billing to charge kids a portion of family bills, like a Netflix subscription or their phone plan.
Overall, FamZoo has more in-depth controls than most debit cards for kids. There aren't minimum account requirements or hidden fees. However, FamZoo costs $5.99 per month after a free first month. This monthly fee covers any number of family members. You also save up to 58% for prepaying for 24 months, so FamZoo can become more affordable — check out the pricing here.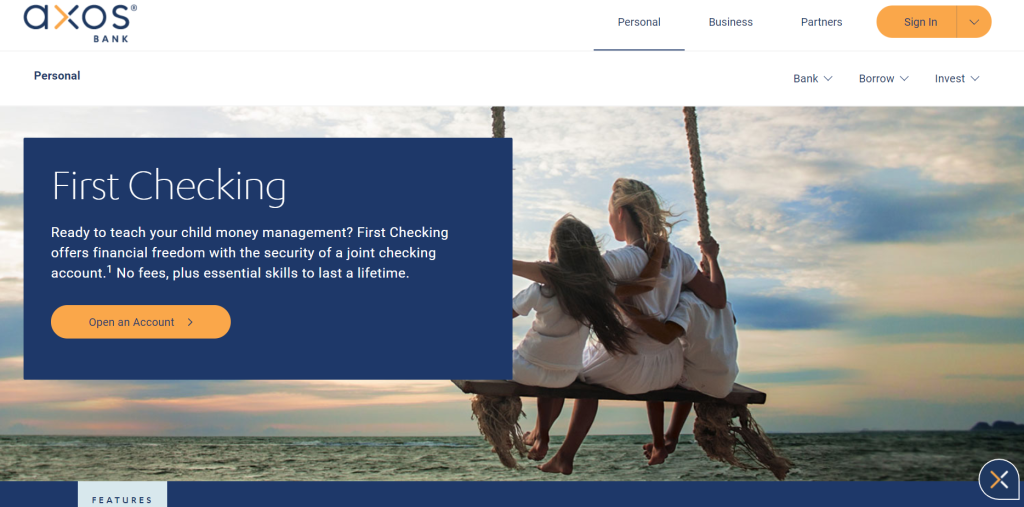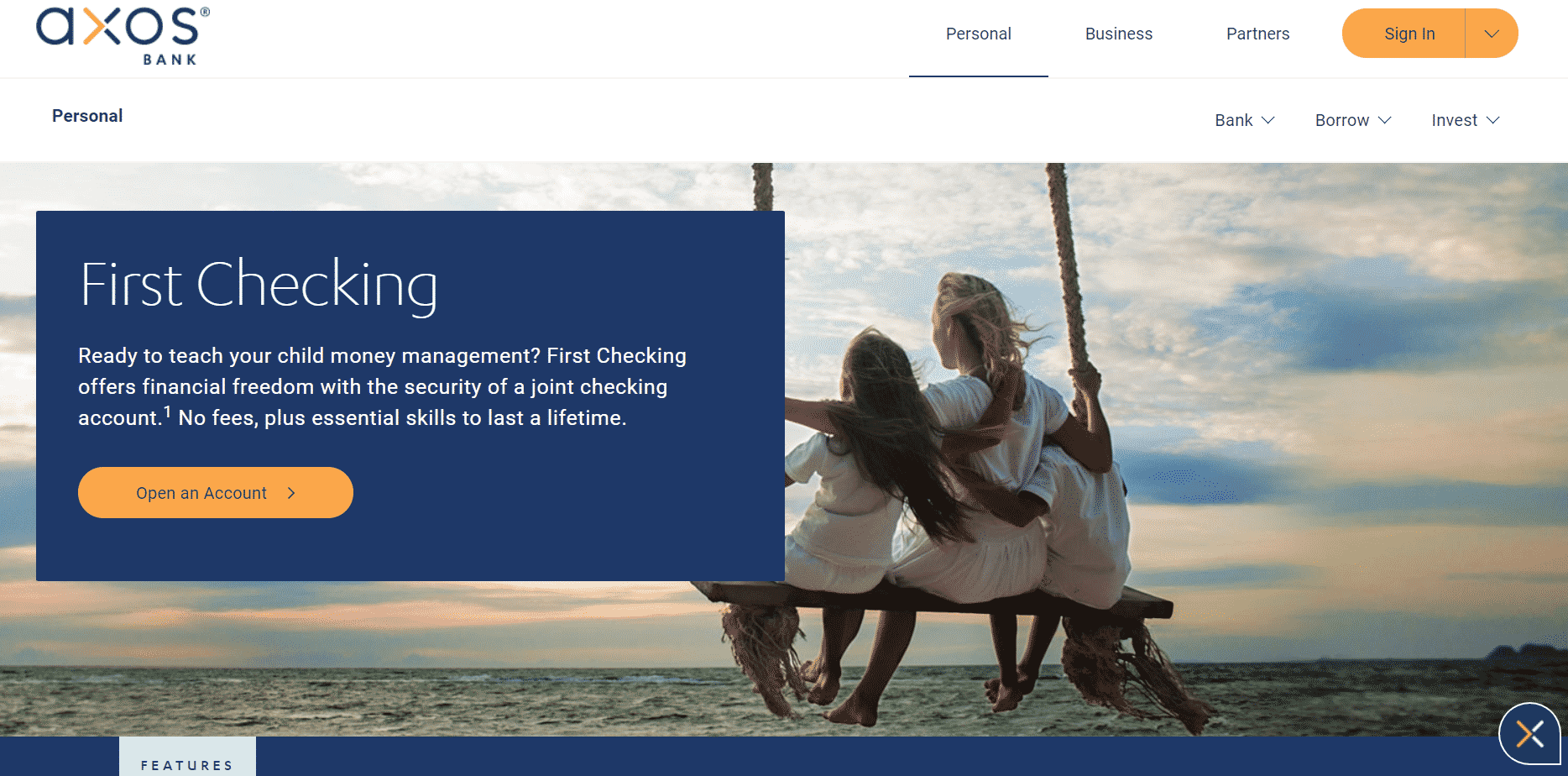 Axos is an online-only bank that provides services like checking accounts, high-interest savings accounts, and even personal loans.
And, Axos also has one of the best debit cards for teens with its Axos First Checking account. This checking account is for kids and teens ages 13 to 17. It's also a joint checking account, so parents can monitor spending and get real-time spending alerts. There's also daily transaction limits to prevent overspending.
Axos is built for safety and security, as the account has great security features such as fingerprint readers, voiceprints and facial recognition through smartphones. If you want in-depth parental controls and education modules for your kid, Axos isn't for you. But if you want a no-fee card that's similar to managing an adult checking account, Axos First Checking is the perfect choice.
Plus, teens earn 0.10% APY and get up to $12 in monthly ATM withdrawal reimbursements. Ultimately, Axos First Checking is the best debit card for kids and teens if you need less parental oversight and don't want monthly fees.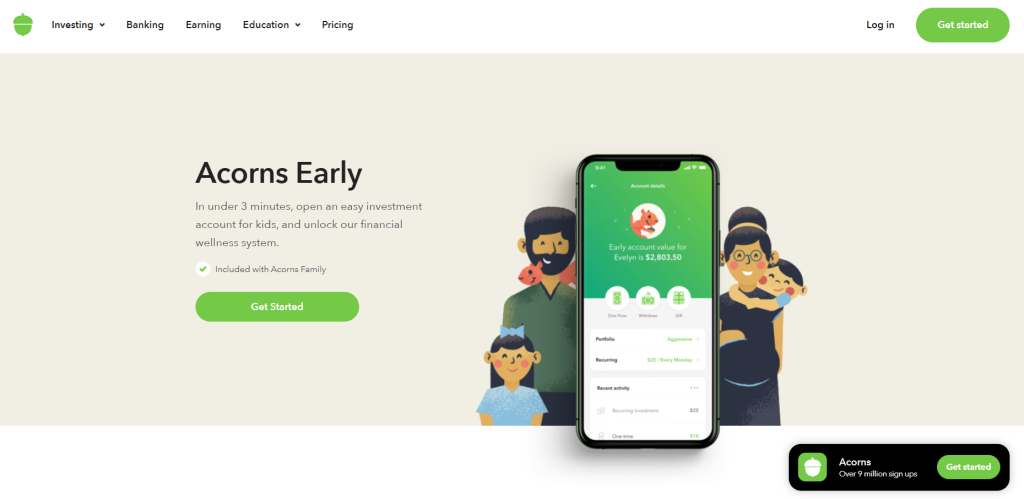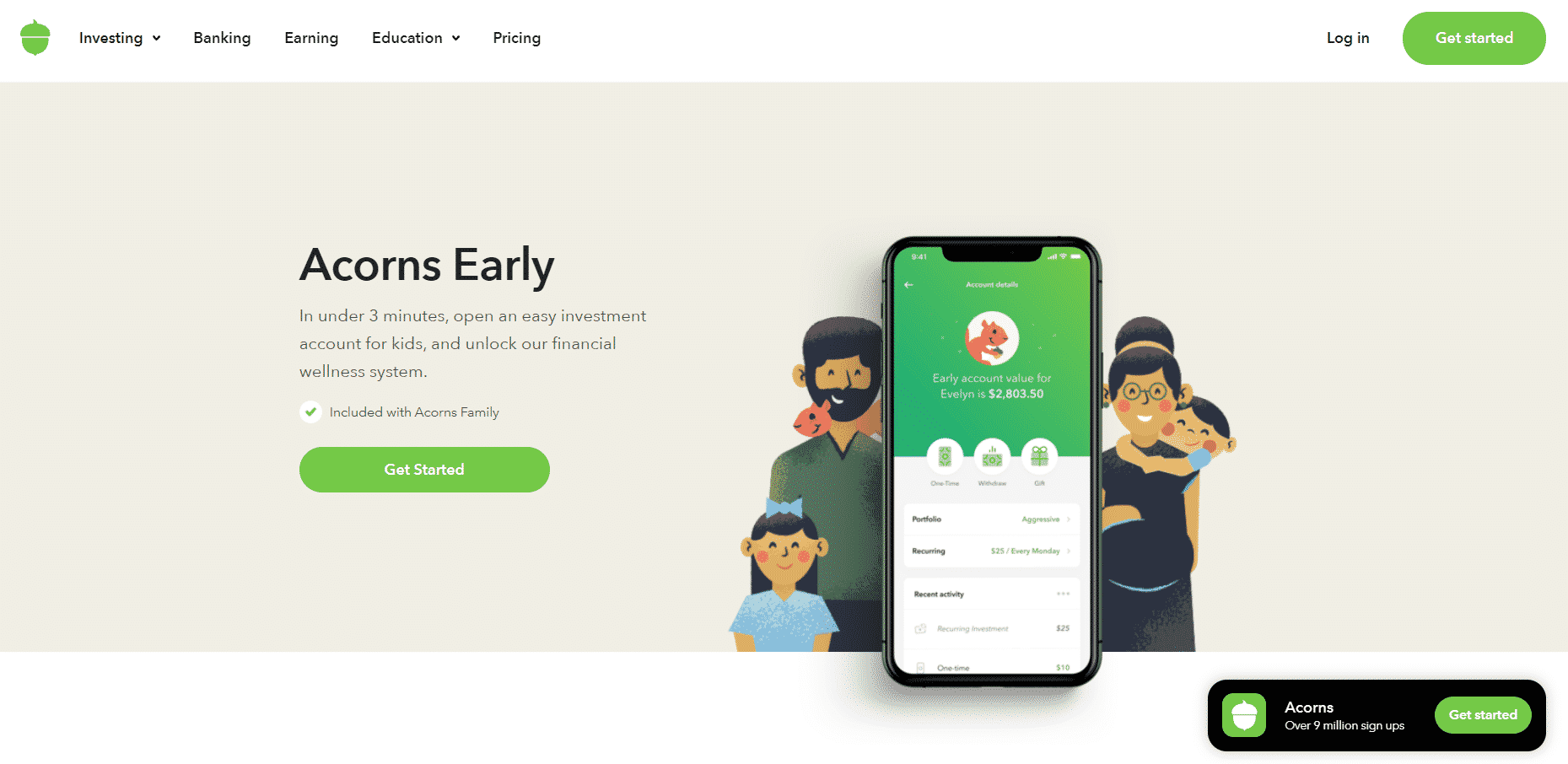 If you want your kid to learn basic money management and how to invest, Acorns Early is for you.
Like the regular Acorns app, Acorns Early lets kids under 17 learn basic financial management and the value of consistent investing. Parents and kids set up recurring micro investments starting at $5 per day, week, or month. Acorns invests money in stocks and ETFs to suit your level of risk tolerance and goals.
Users also get a debit card and can choose to round-up and invest spare change when they spend. With no minimum balance requirement or overdraft fees plus free ATM withdrawals from 55,000 plus ATMs, it's also relatively low-fee.
Acorns Early is part of Acorns Family, which costs $5 per month. However, you can add multiple kids at no extra cost, so Acorns Early is potentially cheaper than debit cards like Greenlight or goHenry if you have several kids.
Overall, Acorns Early is one of the best debit cards for kids since it helps teach kids about the value of long-term investing. A lack of parental controls is a downside, but the focus with Acorns is certainly investment education.
Promo: For a limited time, the service also offers a $10 sign up bonus for people who open an account and a $75 bonus for establishing direct deposit and meeting certain conditions.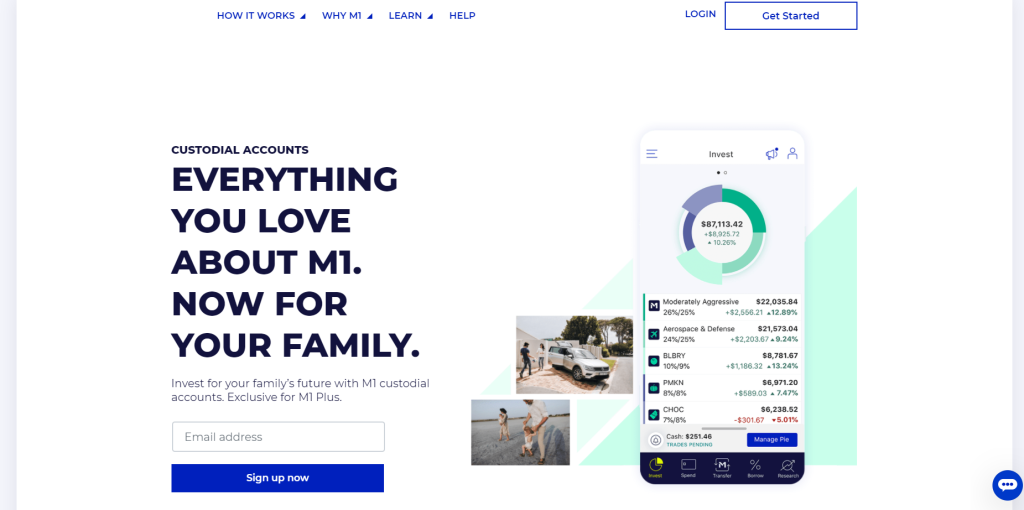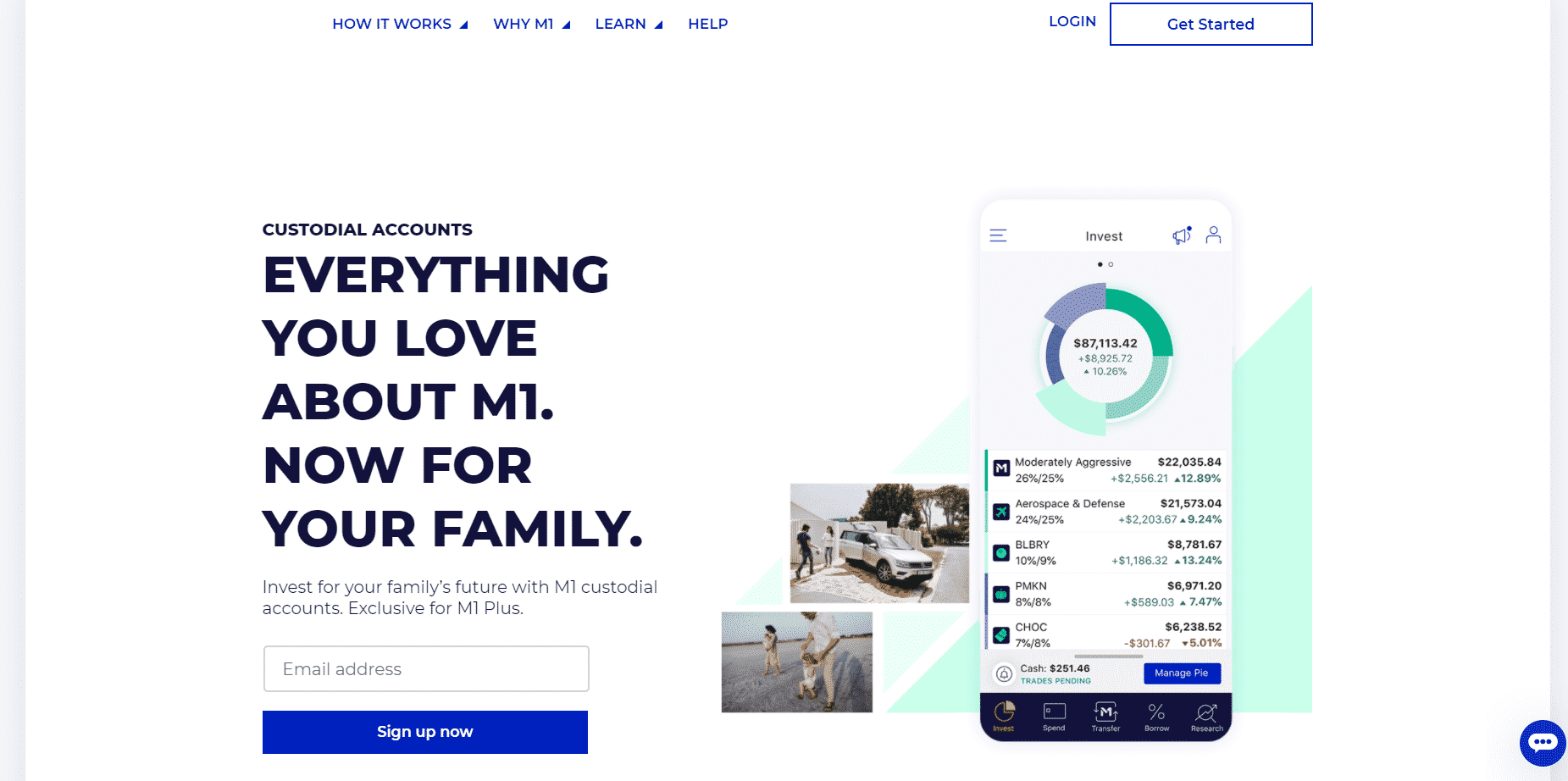 M1 Finance is a leading online brokerage account that lets you invest on your own or through its robo-advisor service. The company also offers an online checking account, personal loans, and a rewards credit card.
M1 Finance doesn't have a standalone debit card for kids. However, if you open a custodial account, you can teach your child about the importance of investing and how to properly manage their money.
M1 custodial accounts are part of M1 Family, which is free for your first year and then costs $125 annually. Perks of M1 Family include:
$0 trading commissions
1% APY on your checking account balance
Four free ATM withdrawals per month
You also get several credit card and borrowing perks, but for parents who want to educate their kids, the custodial account is the main draw.
M1 Finance is pricier than Acorns Family. But if you want more control over your child's investment choices and a robust debit card, M1 Finance is the better pick. Just note that accounts with $20 or more that are inactive for 90 days or more pay a $20 inactivity fee, so make sure your child regularly uses their card.
10. Copper Banking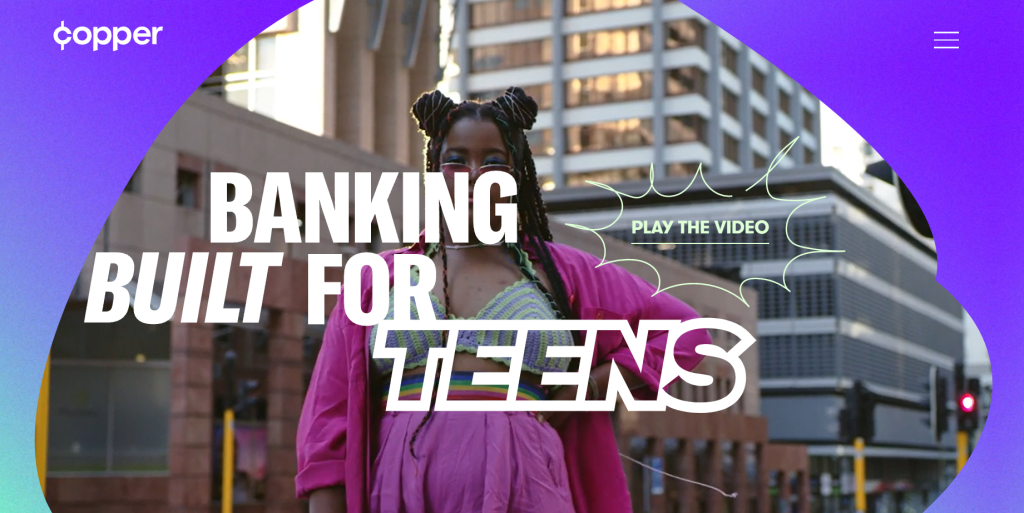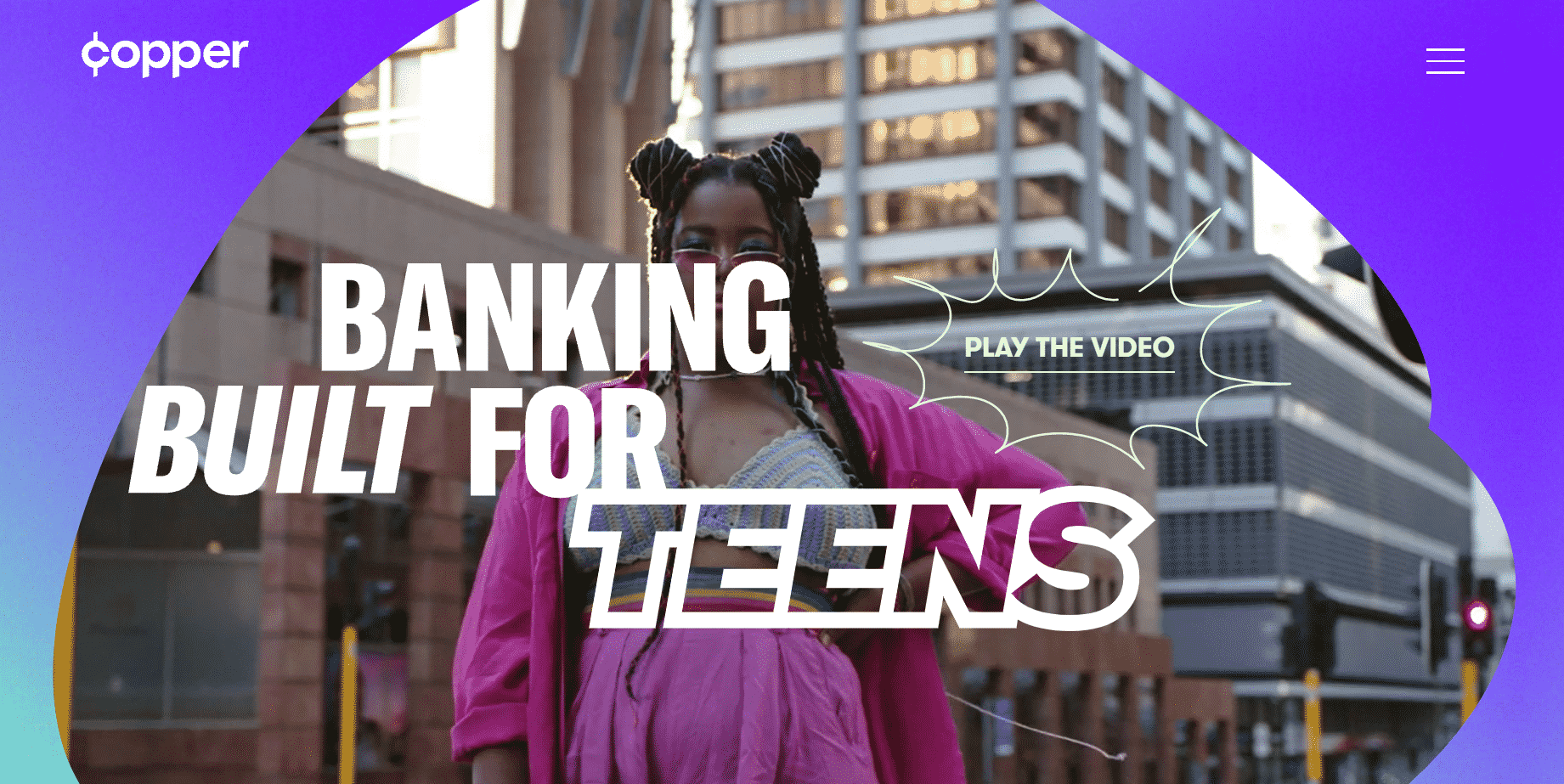 Copper Banking is an online bank that's specifically for teens 13 or older. If you want your teen to learn basic financial literacy and to manage their money through an intuitive mobile app, Copper Banking is the right choice.
With the Copper Banking app, parents monitor how much their teen is spending, automate allowance payments, and easily send one-time payments. For teens, the app is a sleek way to track spending, and Copper Banking also provides financial literacy tips to help teens learn about money.
Teens also get a Copper debit card alongside the app. There isn't a minimum balance requirement or hidden fees. You don't pay monthly fees either, and Copper has no ATM fees, this account lets you withdraw cash for free at over 50,000 ATMs.
Overall, Copper Banking is one of the most affordable debit cards for teens, and the user-friendly mobile app and financial literacy tips are also perks.
11. RoosterMoney
RoosterMoney is an allowance and chores app that helps kids and teens between the ages of four and 17 learn financial literacy.
With the free plan, RoosterMoney provides a virtual allowance and spending tracker. This helps parents track how much money their kids have earned for completing chores or from their allowances. From there, parents can subtract money from their balance if their kid wants to make a purchase or put money into savings.
This is all virtual, and your kid doesn't have an online checking account to actually receive money. But you can give your kid cash and keep track of everything within the RoosterMoney app.
The Rooster Plus plan, which costs $18.99 per year, adds perks like setting interest rates on savings and a more comprehensive chore management system. For UK families, you can pay £24.99 per year to get a prepaid debit card for kids ages six and up. They currently are not offering any sign up bonuses for new users.
FAQs for Parents
Debit Card for Kids Comparisons
Below, we'll compare some of the most popular debit cards for kids for those families having a tough time deciding.
Famzoo vs. Greenlight
Greenlight vs. FamZoo prepaid debit card, which one is better?
FamZoo is a more affordable option than Greenlight, even more so if you pay semi-annually, yearly, or buy a two-year subscription.
Both Greenlight and FamZoo have a lot to offer when it comes to educating your children about money.
Both services allow you to terminate your account at any time, and both provide free trials of at least 30 days.
In the end, it's up to you and your family to decide which debit card is ideal for your kids.
Our take? If you want the benefits of an app that won an award as a family finance app but without paying a ton of fees for a prepaid debit card, FamZoo IOU Accounts are your best option.
Do you want your children to begin investing? If that's the case, a Greenlight + Invest account may be useful. It's up to you whether or not you keep it – it's always good to know your alternatives!
GoHenry vs Greenlight
Which is better, Gohenry or Greenlight?
The best alternative between GoHenry and Greenlight is determined by your family's circumstances and needs, as with any of these debit cards for kids.
GoHenry is best if you only have one child that works to learn basic money management and wants a debit card for spending.
While Greenlight is a better option if you have multiple kids or want more features such as investing or cell phone protection.
The main difference between goHenry and Greenlight is this: both goHenry and Greenlight can teach your youngster the fundamentals of money management. If you're searching for an app with more features and services, such as investment accounts, Greenlight is likely to be a better option since it provides additional services overall.
BusyKid vs GreenLight
Which is better Greenlight or BusyKid?
Both of these kids' debit cards have great ratings on TrustPilot and both allow you to invest money in stocks. The main difference between BusyKid vs. Greenlight is this: BusyKid is more affordable at $3.99 per month as opposed to Greenlight, which is $4.99 per month.
Debit Cards for Kids Summary
There's an unfortunate lack of financial education in schools. But, this doesn't mean you can't build a family financial plan by teaching kids the value of money, saving, and investing from an early age.
With a kid-friendly debit card, you help empower your kid to make their own financial decisions while still having a safety net thanks to parental controls. Plus, by teaching your kid about topics like investing, saving, and budgeting, you can build a foundation of financial literacy that will serve them for the rest of their lives.