Fundrise is one of the most popular real estate crowdfunding companies, and it lets investors diversify their portfolios with real estate starting at just $10.
However, Fundrise is just one company in the space. Additionally, there are numerous ways to benefit from real estate investing apps, like equity-based investing, earning dividends, or earning interest on real estate loans.
So, if you're looking to start investing in real estate but want to explore all of your options, this list of Fundrise alternatives is for you.
Best Fundrise Alternatives for Accredited and Non-Accredited Investors
Before picking a company like Fundrise to invest in, define your investing goals, timeframe, and how much capital you have to start with.
From there, you can pick the right Fundrise alternative to suit your investing style.
These are more details on the best Fundrise alternatives for both accredited investors and non-accredited investors:
1. Yieldstreet: Best for Alternative Investing
Minimum Investment: $2,500
Fees: 1% – 2.5% in management fees
Fund: Access to real estate, commercial, marine, legal and art investments.
Yieldstreet is an alternative investment marketplace that brings private investment opportunities to retail investors. These alternative investments have typically been dominated by hedge funds and the ultra-wealthy.
As of last year, $1.5 billion had been invested in the platform. Yieldstreet was placed 46th on the 2020 Inc. 5000, a list of the fastest-growing privately held businesses in the United States.
Although most transactions are limited to accredited investors, Yieldstreet launched the Prism Fund in August 2020, which is accessible to nonaccredited investors with a $2,500 minimum investment.
Best for
Yieldstreet provides a marketplace where individuals can invest in privately structured credit deals, which are typically inaccessible to retail investors. There is no other platform that lets you invest in real estate, art, legal finance, and more.
Pros
Investments starting at $2,500
A great way to diversify your investments
Access to real estate, commercial, marine, legal and art investments
Cons
Most investments are open only to accredited investors
Best for alternative investing

Yieldstreet

5.0
Traditional investments that were reserved for the ultra-wealthy are now available to you. Wealth professionals recommend allocating 15-20% of your portfolio to alternatives. Diversify your portfolio and earn passive income with investments starting at $10,000.
2. RealtyMogul: Best for REITs and 1031 Exchange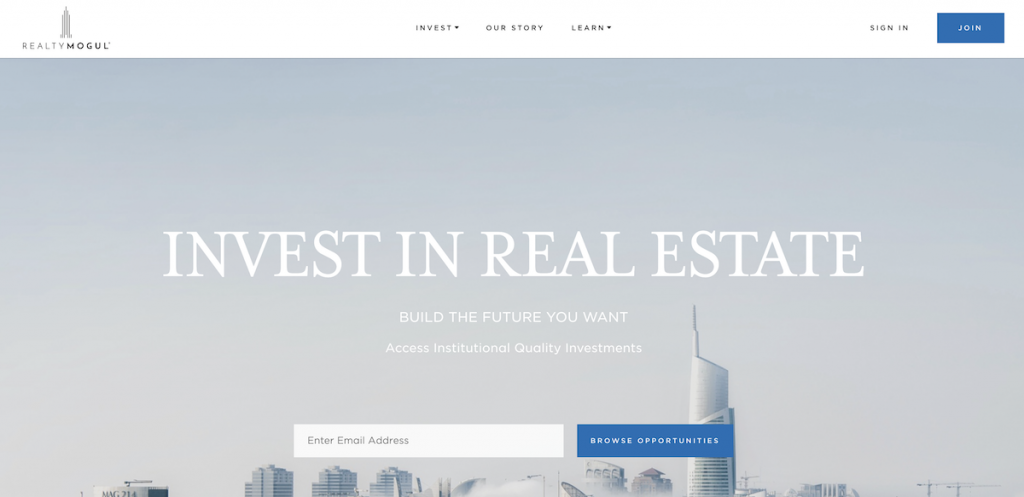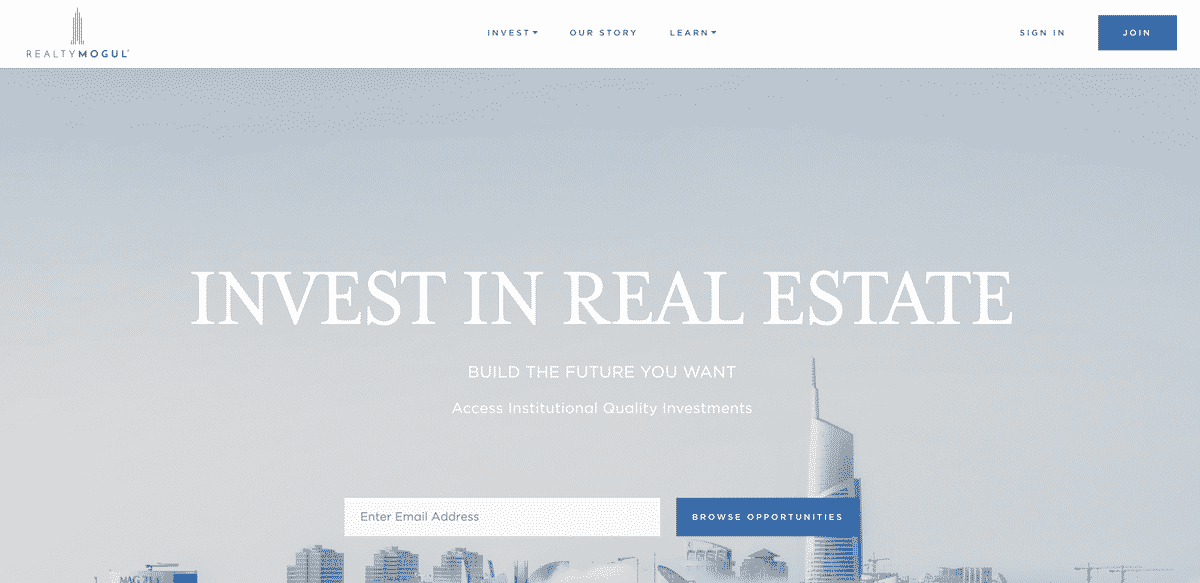 Minimum Investment: $5,000
Fees: 1%
Fund: MogulREIT I and MogulREIT II
RealtyMogul lets you can get access to private market offerings that 128,000+ investors have joined and invested over $650 million.
Both non-accredited and accredited investors can invest in real estate through RealtyMogul.
Non-accredited investors can choose from two different real estate investment trusts (REITs) that invest in a portfolio of properties.
An accredited investor can acquire a single property or take part in a 1031 Exchange, which is the trade of one investment property for another that allows capital gains to be avoided.
The 1031 Exchange is named for Section 1031 of the Internal Revenue Code, which allows you to defer capital gains taxes when you sell personal property and reinvest the proceeds within prescribed time limits in a similar kind and value property or properties.
Best for
RealtyMogul is ideal for investors who want to invest in REITs and 1031 Exchange. With a 1031 exchange, investors can defer capital gains taxes. RealtyMogul enables qualified investors to sell current properties and acquire "like-kind" properties.
Pros
Two REIT options
Private placements
1031 exchange
Cons
REITs require a minimum investment of $5,000
For the first three years, REITs have an early-redemption penalty
Getting started with RealtyMogul is a smart option for real estate investors that want a ton of diversification and private placements options. You can gain explore to more deals by signing up, over $3.5 billion in deals have been posted on the platform.
Best for public nontraded REITs

RealtyMogul

4.5
Diversify with thoroughly vetted commercial real estate with the potential to generate income and grow in value.
3. Roofstock: Best for Passive Rental Income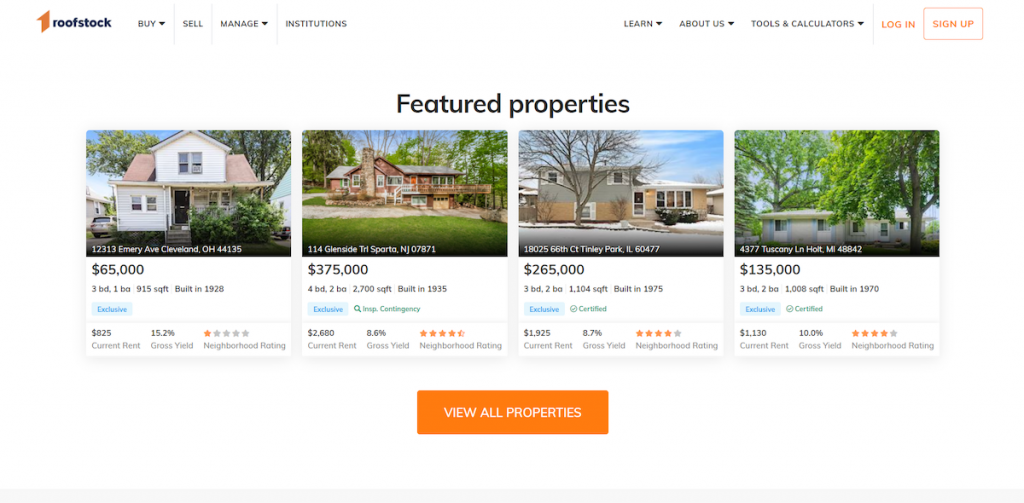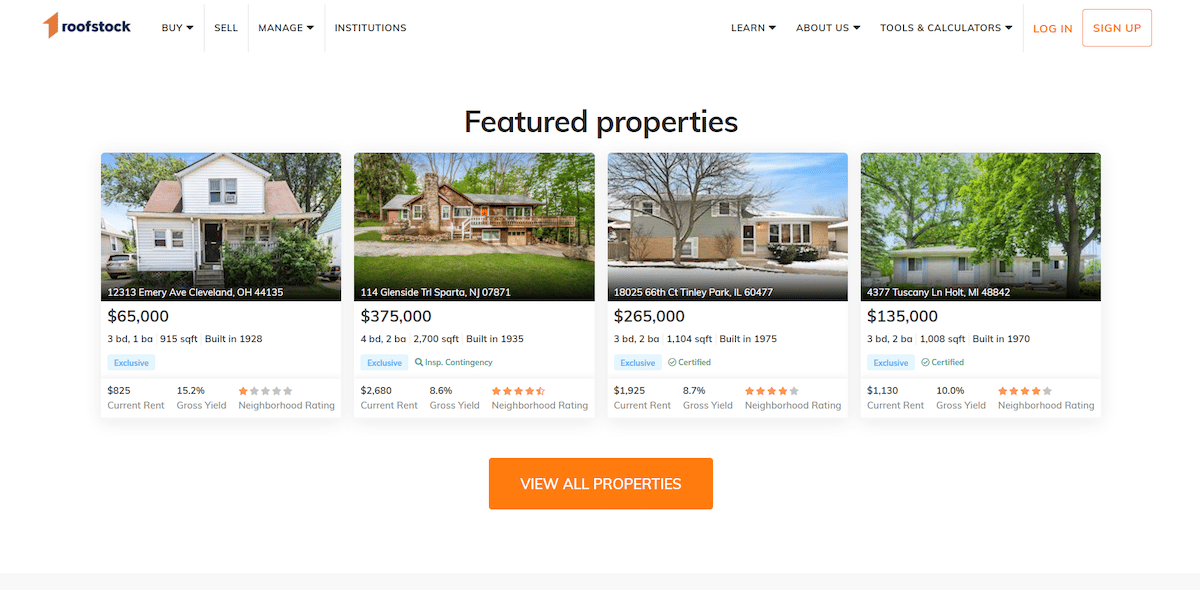 Minimum Investment: You make offers on rental units
Fees: 0.50% or $500 of contract price
Fund: Rental properties
If you want to earn passive income from rental units without having to manage tenants yourself, Roofstock is for you.
With Roofstock, you can buy rental properties across the United States. Listings include comprehensive information on expected annualized returns, appreciation, cash flow, and property taxes. Listings also share the current occupancy status, when leases end, and expected rent and expenses.
There's a healthy variety of rental properties, ranging from sub $100,000 single-family rentals to more expensive multi-family condos. Roofstock also includes information on neighborhood ratings, previous property inspections and valuations, and title report and insurance quotes so you can analyze properties properly.
Making an offer is free, and Roofstock charges a marketplace fee of 0.50% or $500 of the contract price if the offer is accepted. Following closing, Roofstock can connect you with local property managers to handle tenants and property maintenance for you.
Best For
Roofstock is ideal if you want an efficient way to acquire rental properties and outsource property management to keep things passive.
Pros
Variety of listings and home prices
In-depth property metrics
Network of local property managers
Offers IRA investing and a 1031 Exchange
Cons
You generally require significant capital to buy rental properties
Roofstock used to let you invest in rental properties shares, but this feature isn't currently available
If you want to earn passive income from managed rental units, Roofstock is the company for you.
4. Groundfloor: Best for Short-Term Debt Investments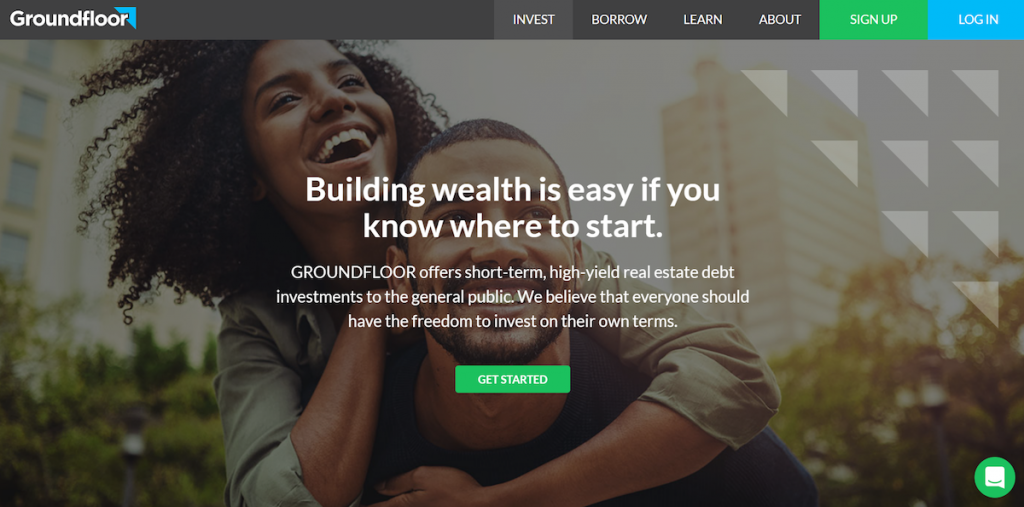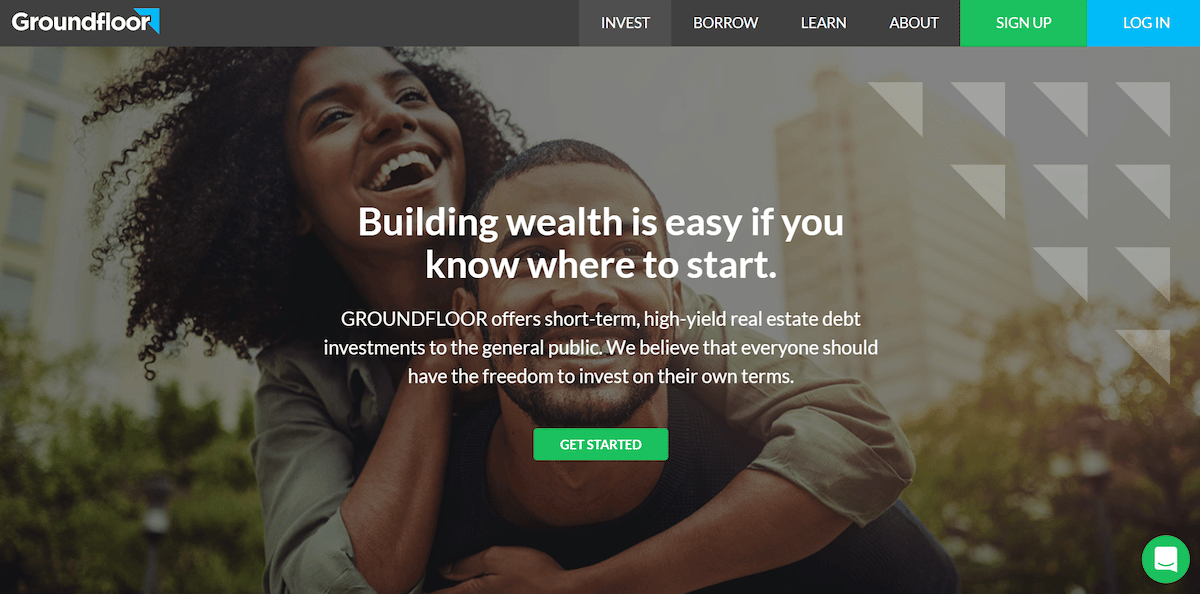 Minimum Investment: $10
Fees: Investors don't pay fees
Fund: Short-term real estate loans
Many Fundrise alternatives let you invest in real estate equity to generate returns. However, this often requires a longer investment period and more starting capital.
With Groundfloor, you invest in short-term, high-yield real estate debt instead of equity investments. There's a $10 investment minimum, and Groundfloor states it's seen 10.5% returns to date.
You can build your own debt-based portfolio as well. Groundfloor lets you browse real estate projects with various loan terms, interest rates, and loan to ARV ratios to suit your risk tolerance and investment timeframe.
Groundfloor investors typically receive payments within six to nine months, and with a $10 minimum, this is one of the most beginner-friendly investment options around.
Best For
Groundfloor is best if you want a shorter-term real estate investment option with a low investment minimum.
Pros
Investors don't pay any fees
$10 minimum initial investment amount
Short-term loans so you get repaid quickly
Cons
Loan defaults are an investment risk
Listings have a decent amount of information, but you can't dig into the nitty gritty details of a loan
Groundfloor has one of the lowest minimum investment requirements on the market and also lets you invest for the short-term.
5. Streitwise: Best for Real Estate Dividend Income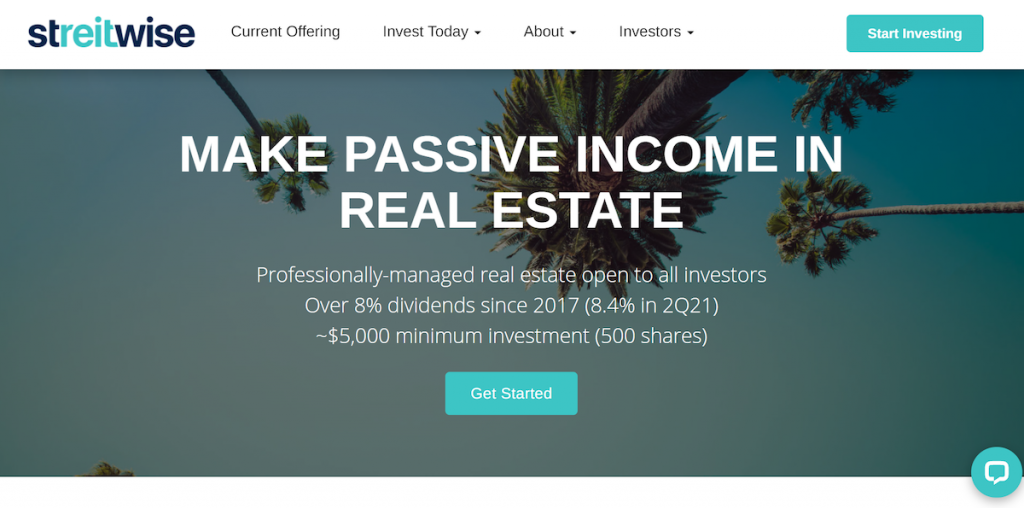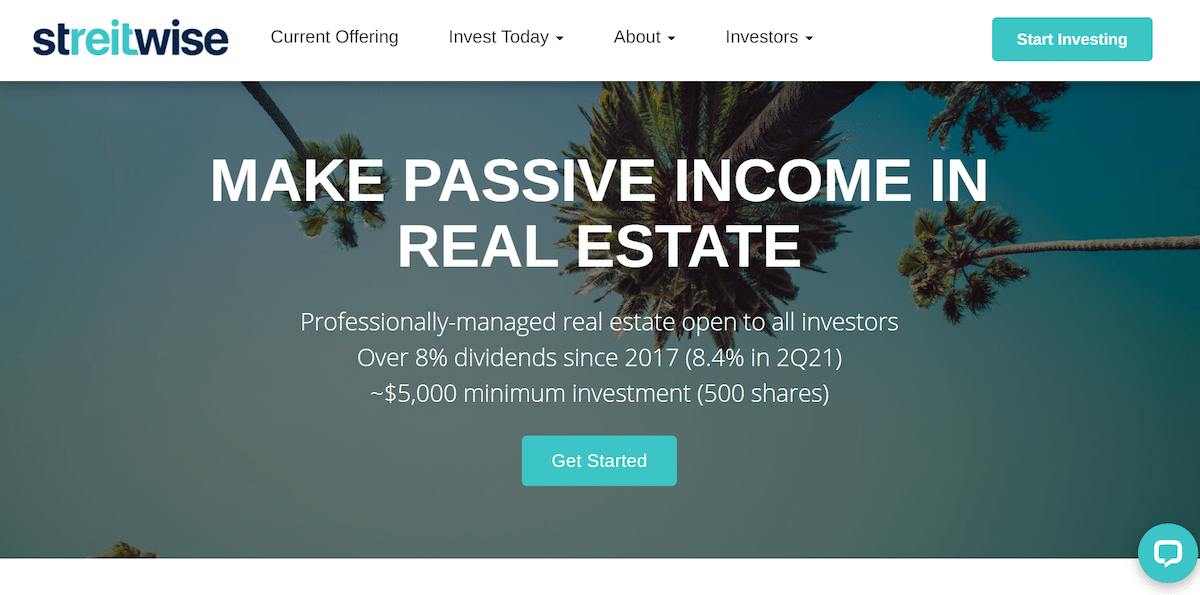 Minimum Investment: $5,000
Fees: 3% upfront and 2% annually
Fund: Commercial real estate REIT
While Streitwise requires $5,000 to begin investing, it's one of the best Fundrise alternatives if you're looking for dividend income.
Streitwise still lets you invest in commercial real estate with its REIT. The fund has paid over 8% in dividends since 2017, with the latest dividend being 8.4% in Q2 of 2022.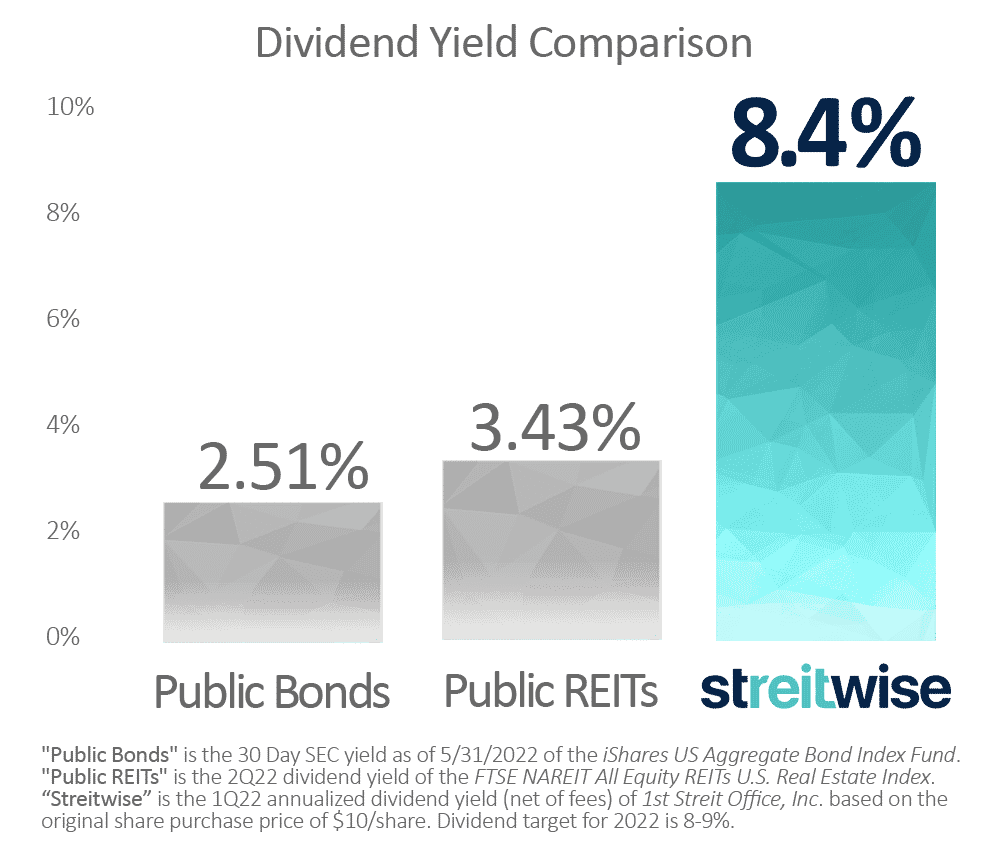 Streitwise typically has one or several investment offerings at a given time. Properties are commercial real estate, meaning the tenants are companies and the properties themselves are usually multi-million dollar office spaces or retail buildings. 
For fees, it's simple enough where you simply pay a 2% annual management fee.
Best For
Streitwise has a higher investment minimum than Fundrise, but it boasts a high quarterly dividend to let you earn passive income from real estate.
Pros
Historical dividend payments of 8% or higher
Commercial real estate properties can carry less tenant risk
You can reinvest dividends
Cons
Higher fees compared to Fundrise
Few active listings to invest in
According to Streitwise, the goal is to develop a diversified portfolio of value oriented investments with creditworthy tenants. Ultimately, this allows for a handsome quarterly dividend payment and minimal risk of rental income loss.
6. DiversyFund: Best for Long Term Investors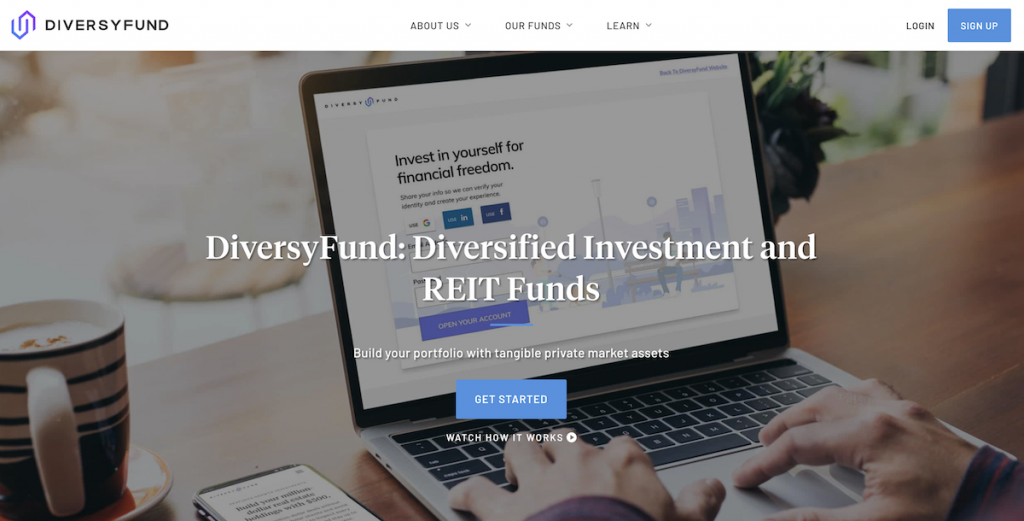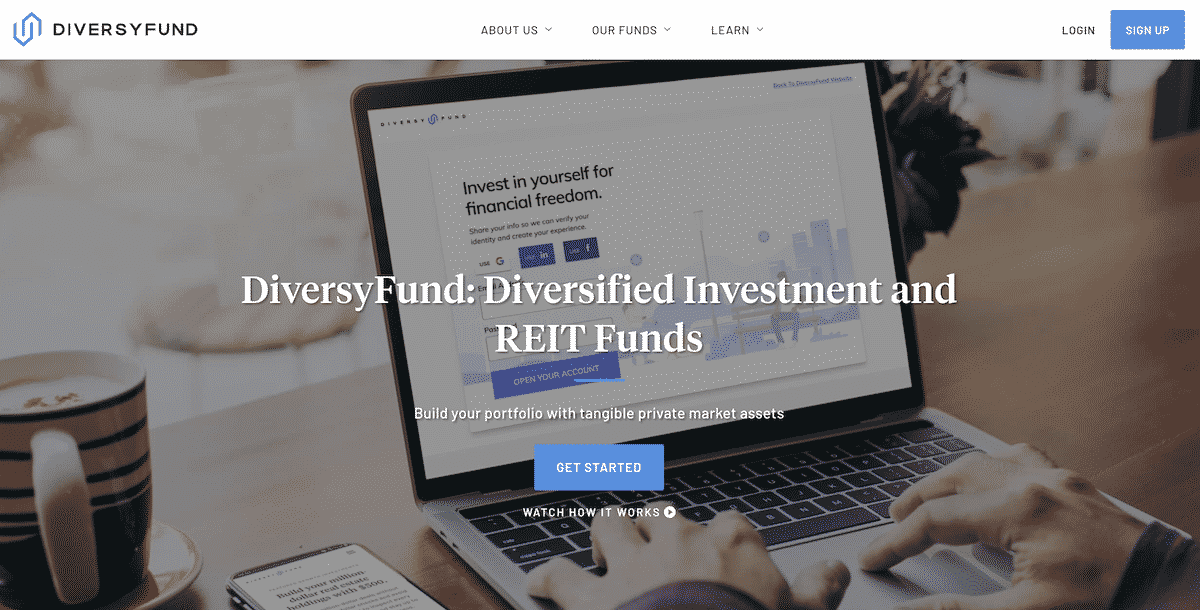 Minimum Investment: $500
Fees: No management fees
Fund: Growth REIT
At DiversyFund, they make it easy to buy shares in a portfolio of fully vetted, multifamily real estate. 
With the click of a button, you could own a piece of a real estate investment trust (REIT), across multiple properties, just like Fundrise.
DiversyFund provides only one type of investment: The Growth REIT. This real estate investment trust focuses on offering investors income by investing in residential apartment buildings.
Unlike other crowdfunding platforms, DiversyFund invests in commercial properties and owns them outright. This saves the investor from hefty commission fees that come with other crowdfunding sites.
Investing with DiversyFund is a great alternative to Fundrise. You can get started with just $500 and your small investments can reap big returns. All dividends are reinvested in properties so you don't have to worry about withdrawing gains until your property sells.
Investors don't have the option of selling their investments and must wait until the company liquidates to make a profit. The investment term may be at least five years in duration.
Best for
DiversyFund is an excellent choice for investors who want a more passive way of investing and aren't too worried about liquidity. The low investment minimum of $500 is appealing. 
Pros
The minimum investment for Diversity Fund is $500.
Investors see no management fees on their investments.
They own and manage the properties.
Cons
Only one fund to invest in.
Dividends are reinvested.
DiversyFund is an opportunity for new investors to diversify in alternative investments.
Best for long term investors

DiversyFund

4.0
DiversyFund opens opportunities for the everyday investor to access high value private real estate investing through its non-traded REIT (real estate investment trust).
Fundrise Alternatives for Accredited Investors Only
Some Fundrise competitors are only open to accredited investors. According to Investors.gov, to qualify as an accredited investor, you must either:
Have a high net worth of over $1 million, either alone or with a spouse, excluding the value of your primary residence.
Earned income over $200,000 (or $300,000 with a spouse) in each of the prior two years and anticipate earning this amount for the current year.
If you meet this criteria, the following companies like Fundrise are viable investments.
7. CrowdStreet: Best for Commercial Real Estate Investing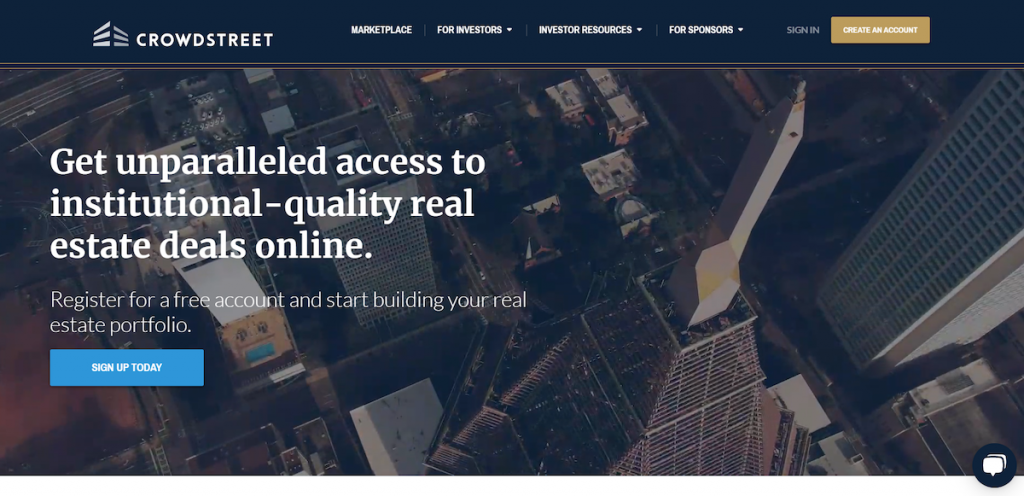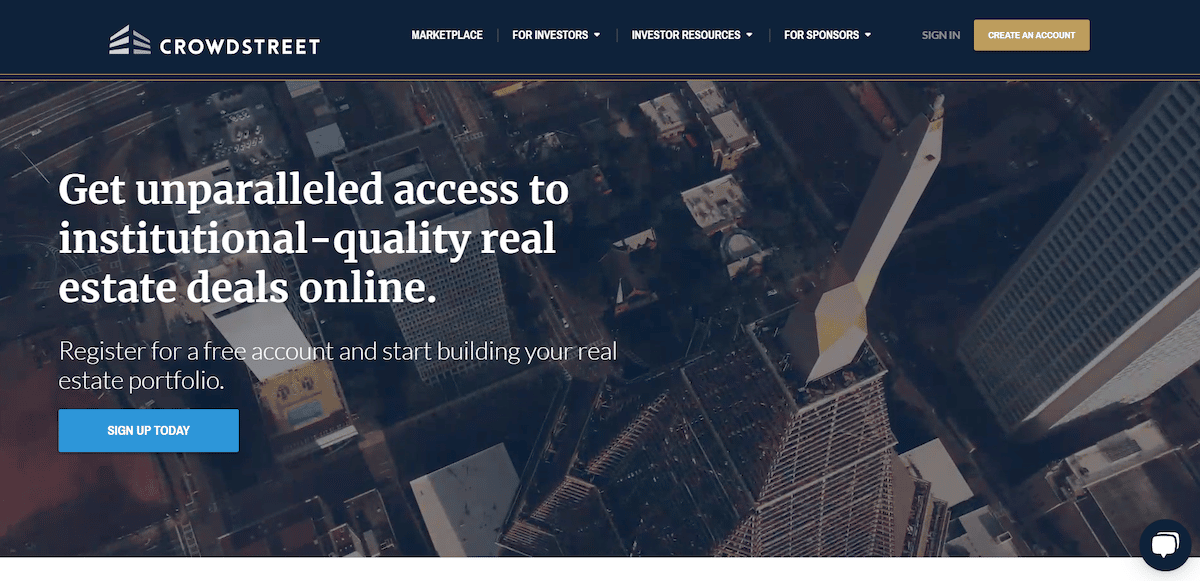 Minimum Investment: $25,000 for most marketplace listings
Fees: 0.50% to 2.5% for most investments
Fund: Offers single properties or two types of funds
Out of all the commercial real estate investing options for accredited investors, CrowdStreet is one of the largest and most flexible options we've reviewed.
On CrowdStreet, you can invest in individual deals on commercial real estate properties, and there's usually several properties on this online marketplace. Typically, single-property investments require at least $25,000 to invest.
Alternatively, you can invest in two funds: a single-sponsor fund that's run by one real estate firm or a CrowdStreet fund that invests in a variety of properties. If you want more diversification and someone handling real estate investing for you, this is better than investing in properties on your own.
Project fees typically range from 0.50% to 2.5%. Fund fees can also reach around 3% depending on your investments.
CrowdStreet also has a Private Managed Account service that builds a real estate investment portfolio to match your goals. The advisory service requires a $250,000 minimum balance, and fees vary depending on your investments.
Best For
CrowdStreet is an ideal choice for accredited investors who want less hands-on investing in commercial real estate. If you want a personally managed account, CrowdStreet is also for you.
Pros
Variety of investment options
Fees can be low for certain projects
Plenty of marketplace listings at a given time
Cons
High minimum investment amount
CrowdStreet has a high minimum investment requirement, but this is one of the best ways for accredited investors to diversify their portfolios with commercial real estate.
Best for vetted projects

CrowdStreet

4.0
Join the nation's largest online private equity real estate investing platform, ranked Best Overall Crowdfunding Site of 2023 by Investopedia. Get unparalleled access to institutional-quality real estate deals online. Register for a free account and start building your real estate portfolio today.
8. EquityMultiple: Best for Investment Variety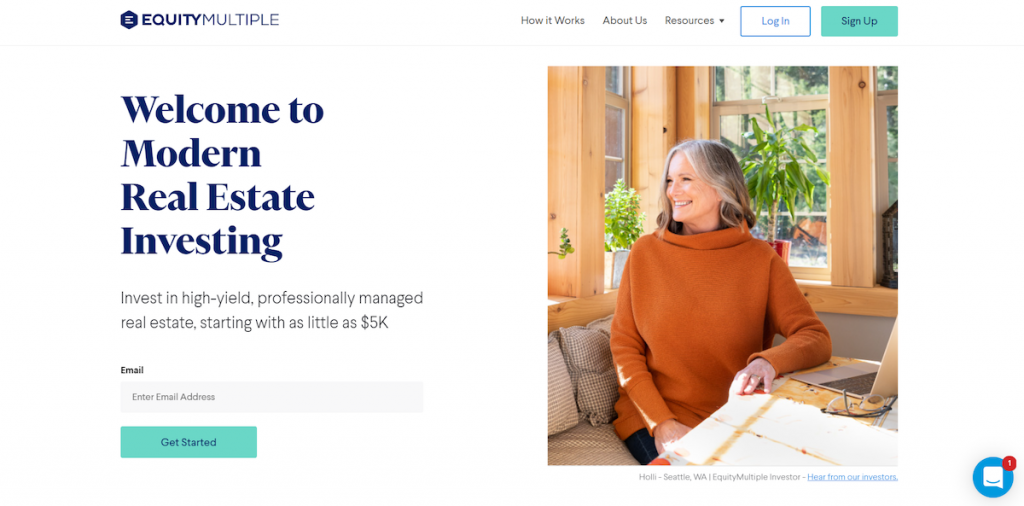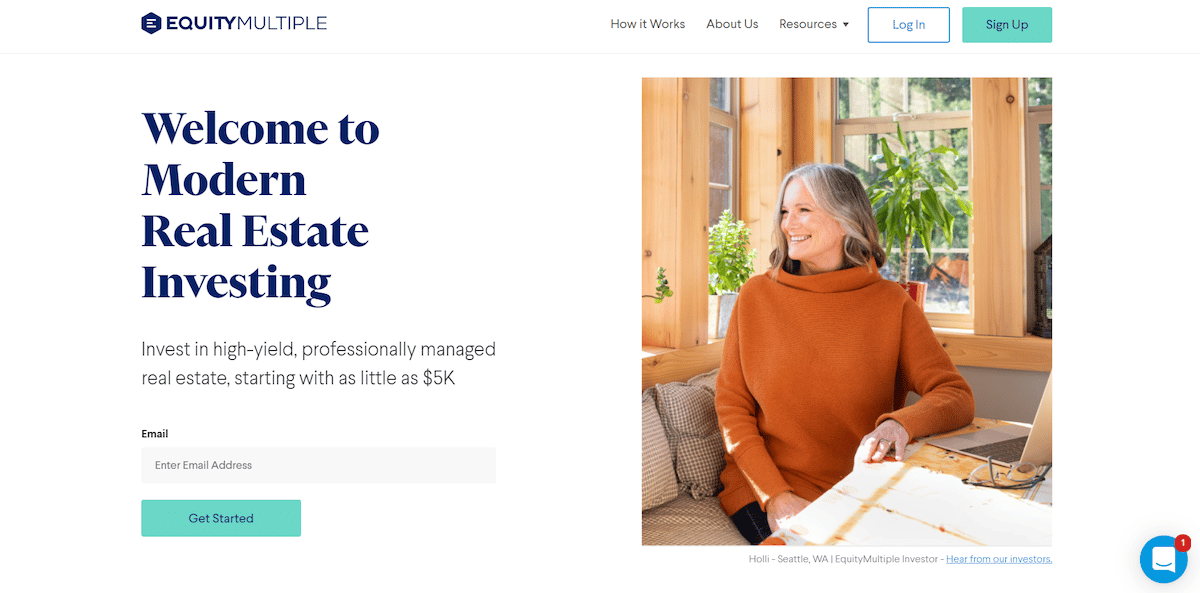 Minimum Investment: $5,000 for short-term loans and $10,000 or more for equity-based investments
Fees: Typically 0.50% to 1.5%
Fund: Variety of investment options, including debt, preferred equity, and opportunity funds,
EquityMultiple states it makes real estate investing "simple, accessible, and transparent" for accredited investors. And, with a $5,000 investment minimum and variety of ways to build your portfolio, this claim is quite fair.
You have three options to invest with EquityMultiple:
Direct Investing: Invest in single properties with as low as $10,000 with target durations of six months to five years.
Fund Investing: Invest in multiple assets for increased diversification. The EquityMultiple fund requires a minimum investment of $20,000 and has a target duration of 1.5 to 10+ years.
Savings Alternative: Invest in diversified notes with as low as $5,000 with target durations of three to nine months.
Fees vary depending on your investment type. Equity investments usually charge 0.5% to 1.5% while debt investments charge 1% or less. 
Funds have varying origination fees and annual administrative expenses, but this is still normally under 2% in annual fees.
Best For
Accredited investors who want a variety of real estate investment options and lower minimum investments than platforms like CrowdStreet.
Pros
Variety of investment options.
Low fees.
Variety of investment properties.
Cons
Equity-based projects have higher minimum investment requirements
Fees vary and are somewhat confusing to understand
Overall, EquityMultiple has more variety than most Fundrise alternatives. Equity, debt, funds, and 1031 Exchanges are all available, and properties range from townhouses to commercial office spaces.
9. PeerStreet: Best for Real Estate Debt Investing for Accredited Investors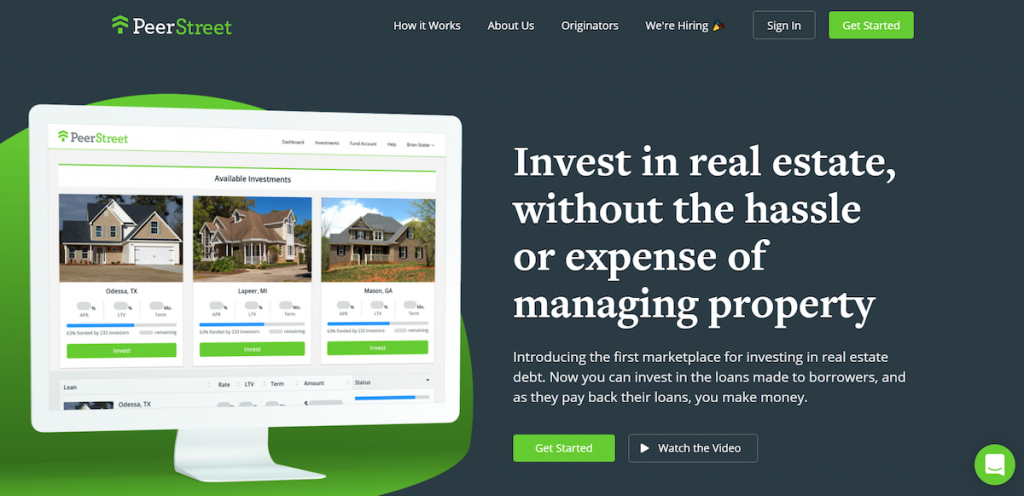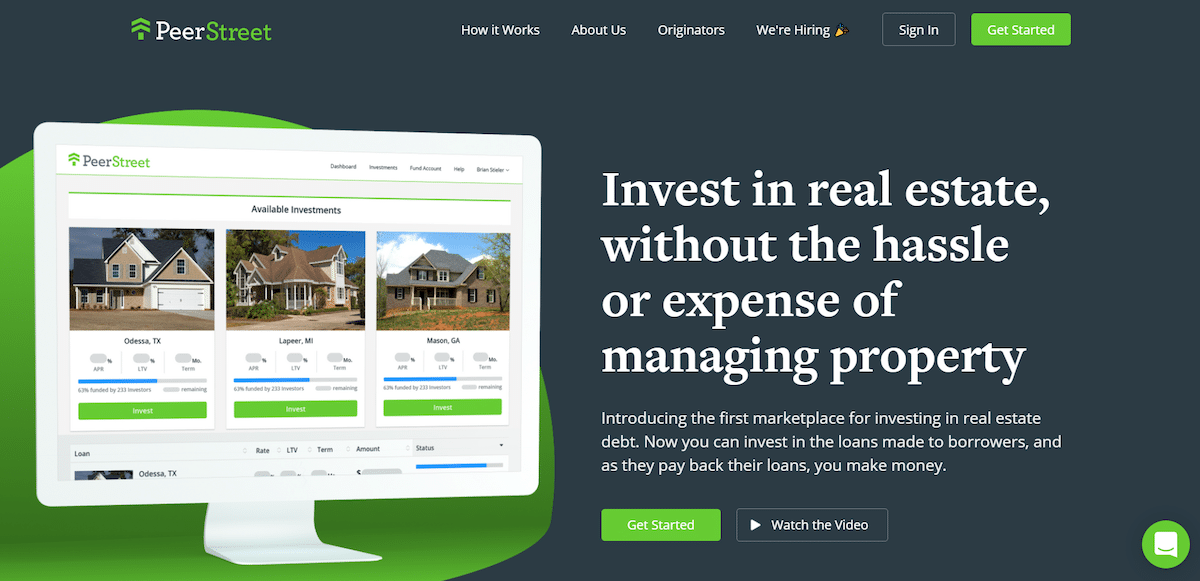 Minimum Investment: $1,000
Fees: 0.25% to 1.00%
Fund: Real estate debt investments and a Credit Opportunity Fund
Like Groundfloor, PeerStreet lets you provide peer-to-peer debt financing for real estate projects to earn interest from borrowers.
When you sign up, you answer a brief questionnaire about your investing experience, goals, and risk tolerance. Afterwards, you can view dozens of listings to find the right debt investment.
PeerStreet does an excellent job at giving investors information on loans. For starters, loans show the yield, loan-to-value ratio, term, and loan amount. PeerStreet also includes borrower credit score, track record on previous PeerStreet loans, the loan strategy, and property type information.
You need at least $1,000 to start investing, and new loan opportunities appear daily. Typically, loan periods last from one to 36 months.
You earn monthly interest payments, and you can also enable Automated Investing to invest in properties that match your investing criteria. PeerStreet charges a servicing fee on loans that's a spread between borrowers and lenders that's typically 0.25% to 1.00%.
Best For
PeerStreet is best for accredited investors who want a low minimum investment amount on short-term real estate debt investments.
Pros
$1,000 minimum investment
New loans get added daily
You can automate your investing
Monthly interest payments
Cons
If you want to earn monthly interest payments on short-term real estate loans, PeerStreet is for you.
Best for high-yields

PeerStreet

4.0
PeerStreet is an award-winning, Andreessen Horowitz-backed, platform focused on democratizing access to real estate debt. The company provides investments in high-yield, short term, real estate backed loans.
10. AcreTrader: Diversifying Your Portfolio With Farmland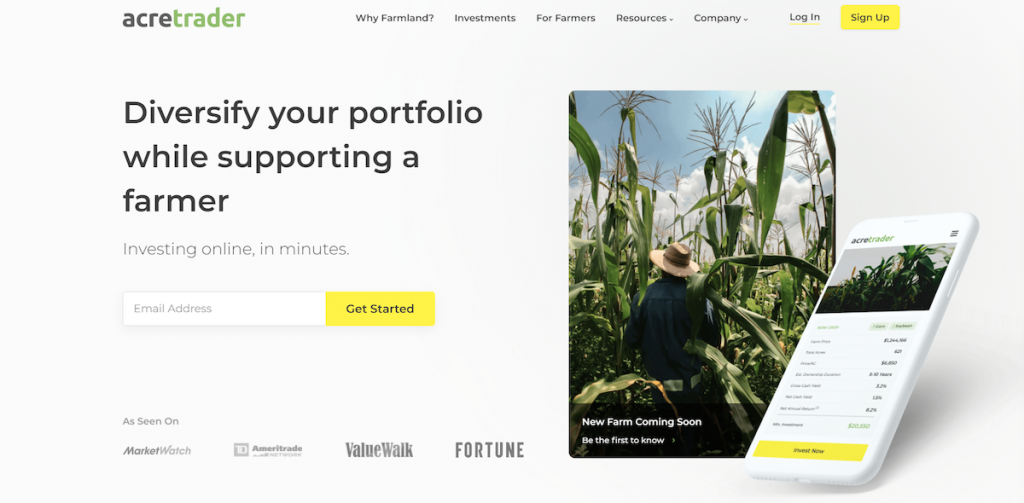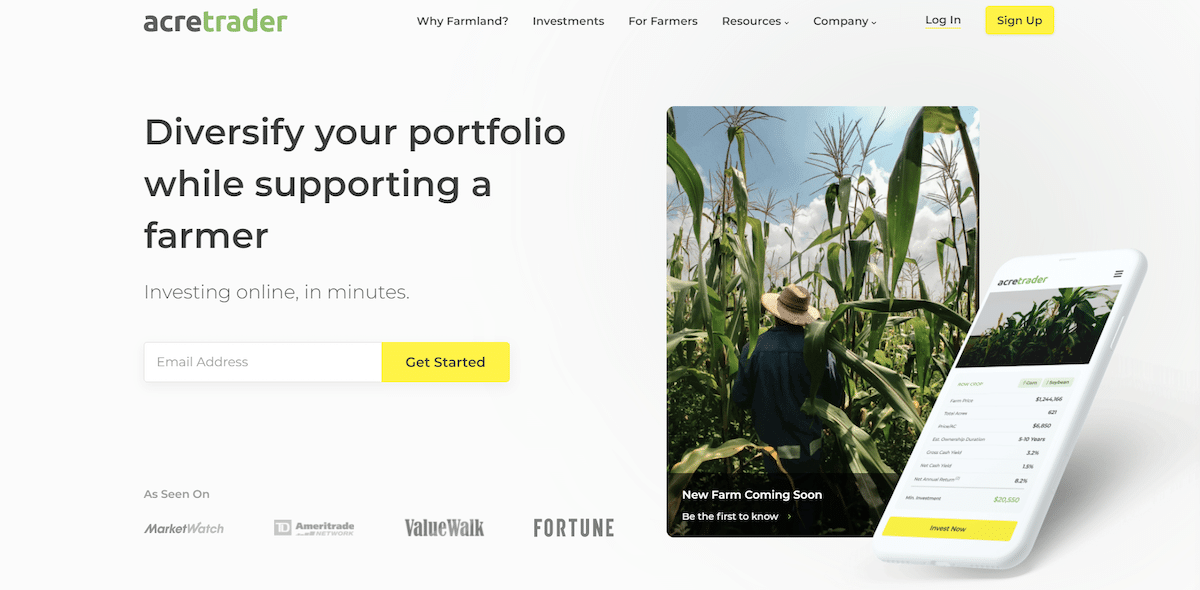 Minimum Investment: $10,000
Fees: 0.75%
Fund: Invest in U.S. farmland
Most Fundrise competitors let you invest in commercial real estate, rental properties, or debt. In contrast, AcreTrader lets accredited investors take advantage of U.S. farmland.
According to AcreTrader, farmland delivers an average annual return of 11.0% and has low volatility. Farmland investing also lets you generate returns in two ways: land appreciation and rental payments from farmers.
AcreTrader has an intense vetting process, so there aren't always listings. But new farms appear every week, with the minimum investment amount usually ranging from $10,000 to $40,000.
Listings include the type of crop that's being grown, gross cash yield, and net annual return. According to AcreTrader, a yield of 3% to 5% is typical for lower-risk properties.
One downside of investing in farmland versus traditional real estate is that it's even less liquid. They are diligently working on the secondary marketplace for investors so you can sell your shares, but it is not available to investors yet.
Best For
AcreTrader is the best Fundrise alternative if you want to diversify your portfolio with income-generating farmland.
Pros
Earn through appreciation and rental payments
AcreTrader has a thorough vetting process for listings
Cons
Potentially lower annual returns than traditional real estate investing
Less liquid than traditional investments
AcreTrader is one of the most reputable platforms for investing in farmland.
What Is Real Estate Crowdfunding And How Does It Work?
Real estate crowdfunding uses funds from a group of investors to help fund real estate investments. 
This could mean using funds to purchase properties in opportunity zones, develop existing properties into higher-value assets, or to provide loans for real estate development.
How Do You Make Money From Real Estate Crowdfunding?
Real estate crowdfunding is different than traditional real estate investing. There are four main ways to make money with real estate crowdfunding:
Capital Appreciation: This occurs when you own shares in real estate and the property appreciates.
Rental Income: Many real estate crowdfunding platforms invest in single-family rental properties or commercial real estate to generate rental income.
Dividend Payments: Some crowdfunding sites pay annual or quarterly dividends to shareholders.
Interest Payments: If you fund real estate loans, you earn interest as the borrower pays off their loan.
Which Crowdfunding Site Is The Best?
Picking the best real estate crowdfunding platform depends on your goals, starting capital, and risk tolerance.
Companies like Fundrise and DiversyFund are best for long-term, equity-based investing. In contrast, you can try companies like Groundfloor or PeerStreet for short-term, debt-based financing.
Summary
Fundrise is one of the most popular real estate crowdfunding platforms. But, you don't have to limit yourself with how many Fundrise alternatives are on the market.
As long as you pick a platform that matches your investment goals and risk tolerance, you can build your wealth with real estate investing. You can even try multiple investment platforms to diversify your portfolio with equity, debt, and other types of real estate.
We earn a commission for this endorsement of Fundrise.